I recently saw somewhere a proclamation of the return of Macchu Picchu in Peru – a timely announcement considering the next eco-chic place on my list happens to be right there.
The famous incan ruins re-opened to the public on April 1st after suffering from heavy rains and mud slides in January which literally washed away roads and railways and stranded hundreds of tourists. While you can now hang amongst the amazing ruins of  Macchu Picchu – which I just learned is one of the NEW (as opposed to ancient or medieval) seven wonders of world along with the Great Wall of China, Taj Mahal, and Roman Coliseum.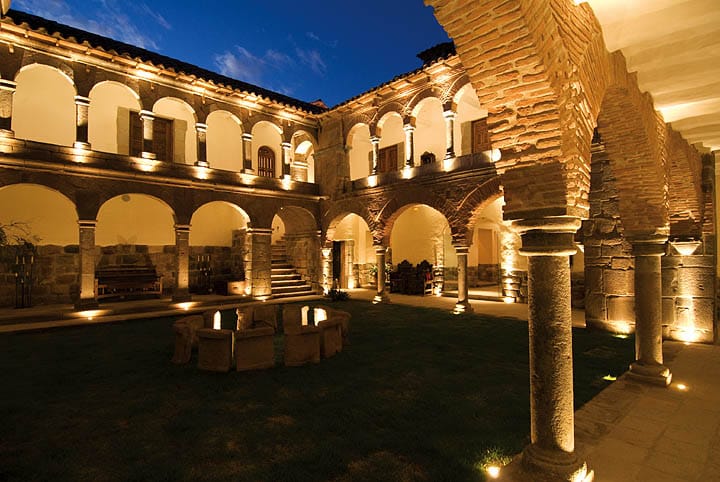 In the past, if you were traveling to see the Inca ruins and the Peruvian city of Cusco (the historic capital of Incan empire that was designated as World Heritage Site in 1983 by UNESCO) and looking for a luxury property to stay, you would inevitably pick the El Monasterio, a 126-room Orient-Express hotel that was once a monastery in the 1500s.
But now there is a worthy new alternative across the town's main square – La Casona Inkaterra. Only a year after its opening in 2008, this boutique hotel made it to Conde Nast Traveller's 2009 Hot list. This gorgeous Relais and Chateaux property housed in a colonial mansion built sometime between 1585 and 1700 features eleven luxury suites surrounding a beautiful courtyard (fires lit at night in the courtyard). Casona's owners have brought in beautiful antiques and authentic pieces sourced from all over Peru with pain-staking attention to detail yet made sure that guests have all the modern luxury conveniences they could possibly need, including Ipod docking stations. Rooms here are especially spacious and beautifully appointed with large bathrooms.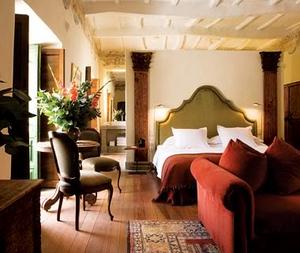 La Casona is owned by Inkaterra – a Peruvian tourism company and hotel developer that is extremely focused on sustainable tourism and being environmentally responsible. Inkaterra is committed to developing programs to save the Amazon rainforest and protects more than 17,000 hectares of original forest, helping to reduce directly 3,315,000 tons of carbon.  That is pretty impressive!
What makes this place so special is that it is Peru's first 100% carbon neutral hotel (Inkaterra's other hotels now are 100% as well). What this means is that any and all  identified greenhouse gas emissions produced by the hotel and guest activities at the hotel are offset 100% by renewable energy 0r energy efficiency projects.
Tip: For a spiritual and natural spa experience, check out the UNU Spa at Inkaterra's sister hotel not far from the ruins in Macchu Picchu, an 85-room hotel on 12 forested acres with the world's most extensive collection of orchids. All botanicals and local Andean ingredients (such as cocoa leaves, andean gemstones, mint, and lemons) are used in their spa treatments.
Tip: To get from Cusco to Macchu Picchu, you have varied options of bus or rail but check schedules as they are still at previous regular schedules at last check. The regular train, PeruRail, run daily from Cusco to Machu Picchu.  But, if you can splurge a little, take the luxury Hiram Bingham Orient-Express train which departs at 9 daily from Poroy, a 20-minute taxi ride from Cusco. Its a 3-hour train ride each way and includes a guide of Macchu Picchu, brunch, 4-course dinner (on the return leg) and tea at the Orient-Express Macchu Picchu Sanctuary lodge. Tickets cost about $300 each way (the train doesn't run on Sundays).