Milestone birthdays are starting to surround me everywhere. Many friends have just turned or are about to turn 40 (please stop complaining you are getting old or I will have to hurt you). My father is celebrating his 80th birthday milestone this Summer and my husband will be celebrating his own half century of being on earth this Fall.  Thankfully, I have a few years before I join him but it's close enough that I know I can't ignore its inevitability.
I must confess I am not particularly looking forward to this milestone.  I keep hearing the quote  of Victor Hugo in my head:  "Forty is the old age of youth; fifty the youth of old age". I rather be tipping the scale on the end of youth than the latter any day.
With these milestones, inevitably comes celebrations where we can look back and be proud of what we achieved and look forward eagerly to what is ahead.  For some it comes in the form of an intimate dinner with just the family or a day enjoying an activity like spa or golf, and for others it's a blow out party that would rival any bar/bat mitzvah. And then there are the ones who choose to prolong the occasion by picking a special destination or place where close friends and family can congregate and enjoy days filled with activities and events.
Imanta
in Punta Mita, Mexico – just one hour from town of Puerto Vallarta – is one such place perfect for this type of celebration. It's just minutes up the coast from well known
Four Seasons
and
St. Regis Punta Mita
but mentally a world apart.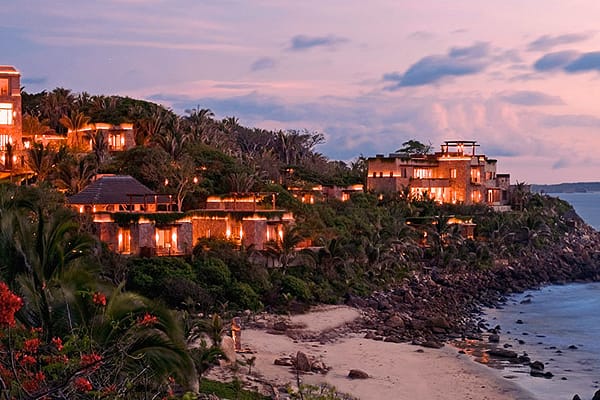 You drive down a two-mile driveway through 250 acres of jungle to arrive at this oasis.  Imanta comprises of 11 stone-walled villas of stone wood and glass – 1 bedroom suites and 3 bedroom "Casonas" each with their own plunge pools. To say they are spacious is an understatement – the villas range from one bedrooms at 2,500 square feet to the largest suite at 9,000 square feet.  They are equipped with all amenities you could ask for – each with their own TV, mini-bar and WiFi  – but the main draw here really is the surrounding nature. You can horseback ride, do yoga, kayak or do nothing at all. It's a place to relax.
Muchas gracias to Liz Goldstein for her feedback on her recent stay at Imanta for a 50th birthday celebration:
"Imanta is a sneaky, hide-a-way in the middle of the jungle…you feel like you're on your own private island. Spectacular views, incredibly attentive service (whenever we needed something it was delivered to our room immediately). The staff, owners included, were wonderful and uber-friendly . We stayed in an ocean front villa – we were practically IN the ocean. The villas were HUGE, beautifully decorated (think 'AMAN') with a spacious terrace, private pool, day bed, lounge chairs, and dining table.
Every meal we had was delicious. We ordered our breakfast to the suite (we pre-ordered each night  and it was delivered at the exact time we asked for it) – each morning with a different variety of pastries in the bread basket as well as a platter of fruits that varied each day. There was nothing lacking.

We had lunch on the beach each day. They essentially will make you just about whatever you want. Fresh fish is prepared however you like (simply grilled, in tacos on a salad  or done with sauces), although there is a menu with other traditional mexican and non mexican items to choose from. Lunch is served at the main restaurant, Tupeka, under a thatched roof steps from the ocean.  Very casual and incredibly relaxing.
We were the only guests at the resort (occupying all 12 villas) so our experience having the resort to ourselves was unique. Our hosts stayed in the largest villa, Casa Jaguar. It was magnificent. It was huge, beautifully done, several floors with beautiful outdoor space and SICK views and sunsets. They hosted post dinner cocktail parties two of the nights and a cocktail/dinner party our last night. Each of these events were very well staffed, done in a lovely way with flowers and candles. The food was prepared and cooked on the spot …nothing that arrived was pre-prepared.

The main birthday dinner was set up on the beach with THREE scattered bon fires going during the dinner that added to the elegant ambiance. Fresh lobster and steak were served, along with a few other courses to start. The food was just delicious.

While we left the resort for dinner one evening for the Four Seasons Punta Mita, we couldn't wait to get back to Imanta. In fact, we chose to skip dessert to head back to the hotel for cocktails. Dessert somehow was waiting back in the Casa Jaguar with candles flickering for our return.
The place is quite special for a very quiet, relaxing escape."
Imanta, Punta de Mita, Mexico
Montenahuac Lote L,
Higuera Blanca, Mexico
Book This Hotel
Why book Virtuoso?
Personalized travel assistance
24/7 online booking
Special rates & exclusive offers
Guaranteed Room upgrade*
Complimentary full American breakfast
Early check-in, Late check-out*
Exclusive on-site amenities (varies by hotel)
* based on availability on time of arrival