After spending our winter holiday in Argentina the prior year, a relaxing beach vacation was in the cards for our family this time around. Based on input from my husband and kids, all I needed was to find a nice property on a pretty beach in the Caribbean, that was not too 'sceney', reachable by direct flight and possessed a strong tennis facility.  The options narrowed down significantly with the last requisite as only a handful of Caribbean resorts have the land and quality pro staff to qualify (less than four courts doesn't cut it in my eyes).
That is how I came to choose and book Half Moon Rose Hall in Montego Bay, Jamaica. In addition to meeting all our requisites and possessing one of the finest tennis operations (13 courts) in all of the Caribbean, the 400-acre resort offered an impressive array of sports facilities and programs guaranteed to please every member of our family.  And with Rock Resorts taking over the management of the property five years ago (they also manage luxury properties in Vail and Beaver Creek) and a new GM with an impressive resume managing a roster of other luxury properties in place, I was eager to check out the resort.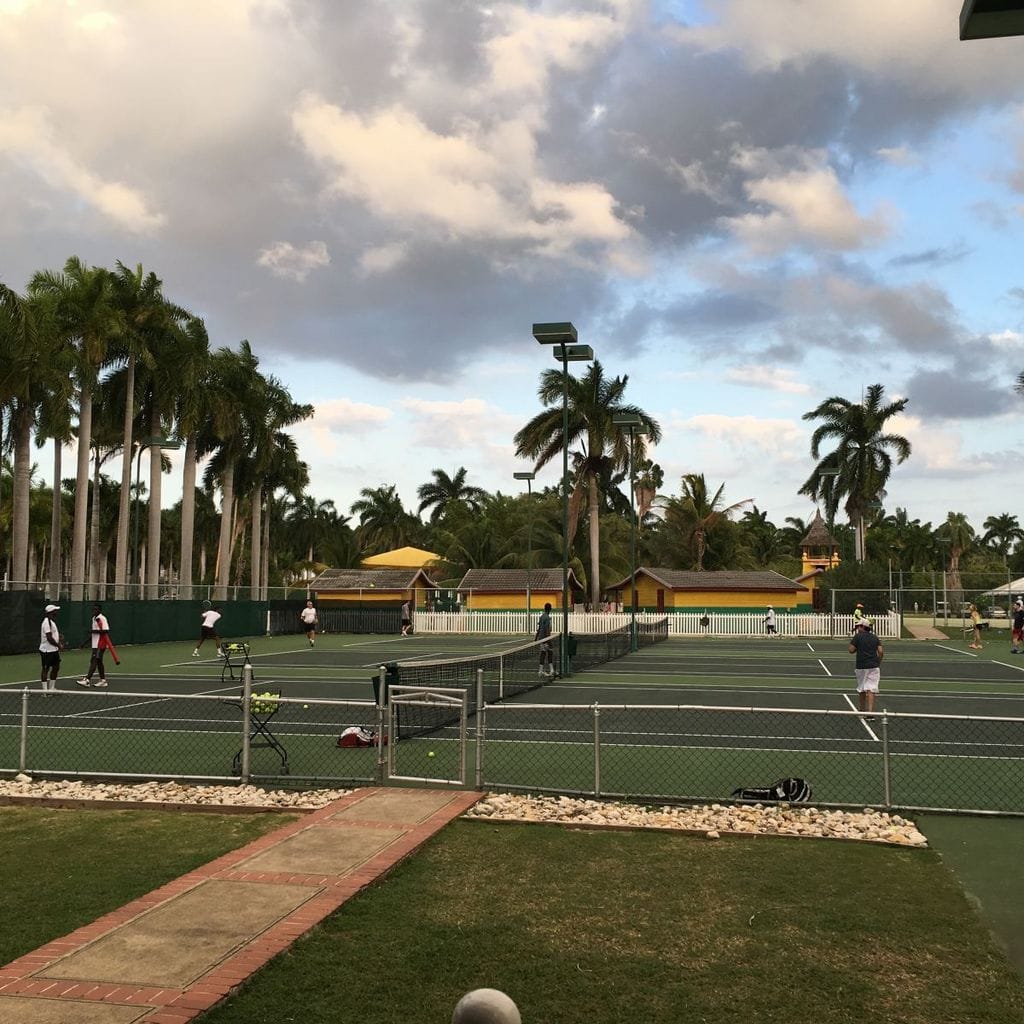 But, I must admit, I was also skeptical. We were spoiled from our recent stay at Goldeneye – a boutique luxury property on the other side of the island. I could not imagine how such an expansive property (with close to 1,000 guests at full capacity) could meet the standards we have come to expect with smaller, boutique properties we typically frequent. So, I kept my expectations low.
First impressions count and Half Moon immediately made a good one as we checked into the hotel. The well-kept landscaped grounds and pretty white-washed cottages, elegant (and newly decorated) lobby, and welcoming staff made me confident that we made the right choice. It did take about two days to get acclimated and figure out our surroundings (hint: a golf cart or bike helps) and get into the 'half-moon groove'. By the end of our 10-day stay, the whole family left relaxed and content (and with a better tennis game).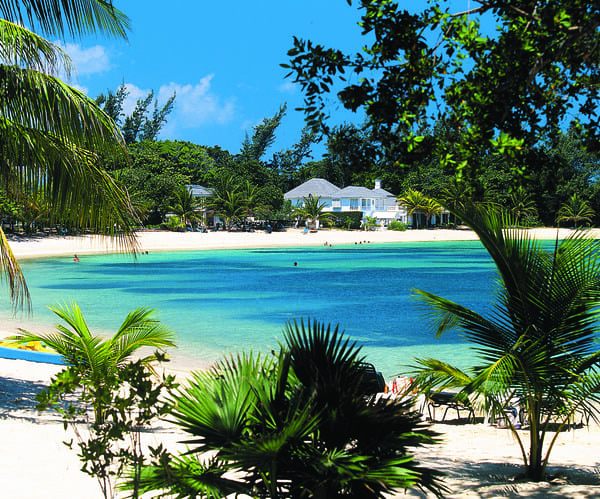 To fully appreciate the resort, it's worth knowing how it came to be.  In 1954, friends who enjoyed vacationing together in Jamaica joined together to purchase 35 acres of land to create a permanent winter escape for their friends and families to enjoy. The hotel opened with 17 cottages (of which 11 original West cottages remain) on a 2-mile crescent beach, which inspired the name of the hotel.  Since then, many a legendary name has frequented the hote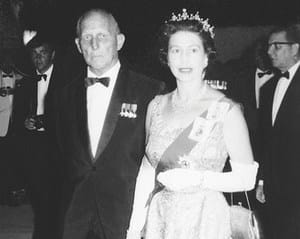 l from Jacqueline Onassis, President Kennedy (who preferred Cottage #1 ) the British Royal Family to Joan Crawford and Clark Gable. It is worth taking a stroll through the lobby whose walls are adorned with photos of celebrities and notable heads of government who have graced their presence here (Fun Fact: The snake scene from James Bond film Octopus was filmed in Cottage 10).
Throughout the years, the hotel has expanded considerably outwards to the 400 acres it is today. With three of the original families still very much involved in the operations of the hotel, the hotel retains an elegant old-fashioned feel to it. That, along with various flexible layouts of suites and villas and a vast array of on-property facilities, attracts many multi-generational families (mainly Americans and Brits) to come here year after year.
It was not hard to see why after our own experience. What we loved about Half Moon is that, even at 400 acres, it never felt too big. The crescent beach (the most swimmable beach), two of the main restaurants, tennis, stables, spa and pool are all located near the hub of the resort at its entrance. While the private villas are farther out, most of the suites and cottages are within a few minutes walk from everything, lending an intimate feel to the property. Complimentary bikes easily take you to other beaches, the dolphin lagoon and, I suspect, the golf course.
Similarly, even at full occupancy, the resort never felt too crowded or confining in part due to the variety of restaurants (each open every day), many beaches to choose from and multiple diversions on the premises.
All this makes it particularly convenient for those, like us, with older children. Our girls spent their days running from the beach to the pool to the spa (where they had complimentary use of the pools). And, if was not too windy, there was a variety of water sports. With our family and friends in the renovated Imperial and Hibiscus suites, it was particularly easy for them to run in and out of rooms during our stay. They, and we, relished their freedom without any worries.
With the new GM Sandro Fabris in place, I was eager to hear about any new plans for the hotel especially as Mr. Fabris comes to the hotel with impressive credentials running other luxury properties over the globe, most notably under the Orient Express brand. In the few months since he has been there, Mr.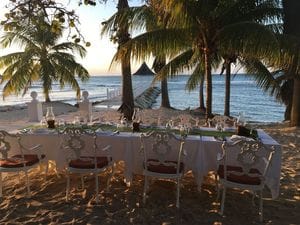 Fabris has already made his imprint with a newly furnished lobby, a new coffee bar and the updated Sugar Mill restaurant that just opened days before our arrival. He has a lot more plans up his sleeves – some quick fixes (rust-free bikes and new chaise lounges) and others more substantial (all the remaining West cottages and villas will be renovated). An ice-cream cart (which would be very appreciated by children) and a brick-oven pizza oven are ideas being toyed with. I was most excited to hear about the move from a 12-night to a 7-night minimum during the holiday period in effect immediately for the 2016/17 holiday season.
Something interesting I learned from Mr. Fabris is that over 92% of rooms on the island are all-inclusive (including liquor), which contributes to Jamaica having a bit of a rap and perception as a 'party' island. Half Moon is one of a handful of on the island that is not all-inclusive (Round Hill and Island Outposts which owns Goldeneye are two others).
FACILITIES
The number of activities and facilities offered at Half Moon is frankly dizzying. With its own medical clinic, convenience store (good for stocking up your mini fridge) and herb gardens, it felt like its own town. A quick glance at a few:
Stables – Located near the resort entrance, the English stable (English saddles only) has been impeccably run by Trina for 30 years. With 28 horses, many thoroughbreds rescued off the track, horses are trained to swim in the ocean or jump in the ring. Aside from the popular beach ride (watching people hanging onto horses tails in the ocean was not for me but it was interesting to watch), equitation lessons and trail riding are offered. For the little ones, there are bunnies, goats and donkeys to visit. As an equestrian, I very impressed by the facility and professional staff.
Tennis – With 13 floodlit courts and an impressive group of pros, tennis is a shining star at Half Moon. Many guests play every day, one or two times a day. During holiday periods, book lessons as far in advance as you can, preferably before 11 or after 4, when it is not too hot.
Pools – Half Moon has over 54 pools on the property! Most you will never see though as they are provided with the villas. The main pools (one for children and an Olympic-size pool for adults) and hot tubs are located by the Hibiscus and Imperial Suites. Note the pools are not heated and can be quite chilly.
Dolphin Lagoon – I don't know many places that can claim to have their own lagoon. Three dolphins (I am told rescued from other venues) call the spacious lagoon home and dolphin encounters are offered three times a day. The lagoon was never crowded and quite pretty – unlike other operations I had experienced elsewhere in the Caribbean.  I liked to bike over every few days and watch them during feedings.
Fitness Center – The fitness center, located across from the tennis courts, is very spacious with all new equipment. Daily yoga, pilates and spinning classes (the only officially licensed spinning studio in the Caribbean) are offered every day.
Fern Tree Spa – The 68,000 square foot indoor and outdoor spa is impressive with several pools, gardens and treatment rooms. I recommend booking massages in any of the  two overwater spa bungalow gazebos!
Golf – I didn't even see the 18-hole Robert Trent Jones Sr. golf course and academy so I can't comment here.
Other activities – Farther away from the main hub, there are courts for squash, basketball, and beach volleyball.
Teen lounge/game room – Also located near the tennis courts, the lounge offers a pool table, foosball and other games to occupy kids.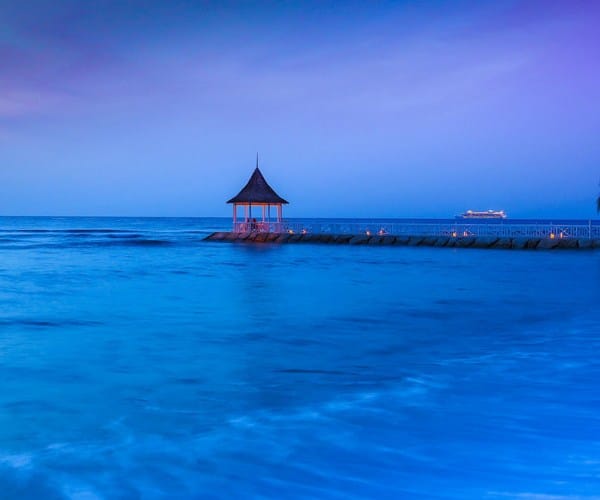 Accommodations
Half Moon resort has 197 rooms and suites along with 31 four-to-seven bedroom villas. One of the most elements of ensuring a successful stay here – and I can't stress this enough – is getting the right accommodation. The difference can be night and day as some are renovated and some are not . Only some of the West Cottages (some of them original) and only a few of the many villas are renovated although I suspect by the next two years they will all be.
For families, I would choose from the 68 1-2 BR Hibiscus suites (where we stayed), the 18 Royal suites or 11 Imperial Suites that are renovated.  Located directly on the ocean (where you can lounge quietly in contrast to the more crowded Sunset Beach where the West cottages are located), these accommodations are very spacious with large verandas or patios and offer interconnecting 1-BR Suites. As these units house 4 1-BR suites in individual units, larger families can request all four suites (which our friends did for their extended family).  We were quite pleased with our accommodations 06/6a – only a few steps from the hub of the resort but distant enough not to be distracted by any noise. Each of our connecting rooms (designed in a West Indies style) were spacious, with oversized bathrooms and outdoor space, and ample closet space.
The Imperial Suites past the main pool, a bit farther but still within walking distance, are even more spacious and have a more contemporary feel. Our friends stayed in #93 (on the ground floor) and were quite happy after moving from one of the older, non-renovated West Cottages.
The West Cottages come in many configurations and styles but vary widely in style, size and stage of renovation. Of the larger ones, #1 (comprising of 6 suites), #3 and #7 are renovated.  Our friends stayed in #58 (located on the second floor of one of these sections) and it was quite pretty but better for a couple than a family.
The 31 villas, particularly in the Oleander section, are popular with multi-generational families with their own pools, butlers and chefs but these are in dire need of renovation.
Restaurants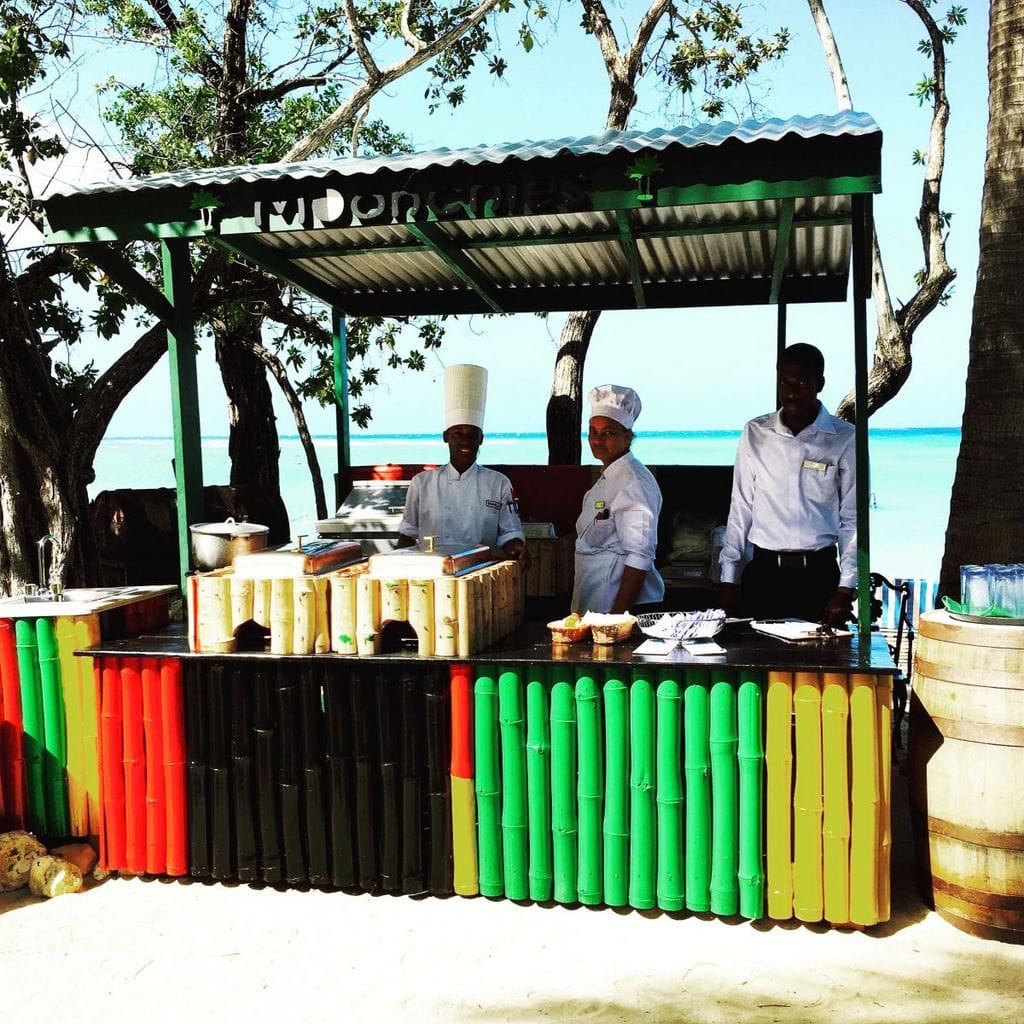 Spending 10 or more nights at any one place is a lot for many people (mainly me). Thankfully, there are several dining options throughout the resort, each open daily, as well as a resort BBQ (crab racing included) and Caribbean beach buffet offered once a week. As a result, we ventured out of the resort only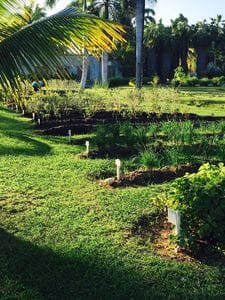 twice (see Tips below for recommendations outside the resort). As with most resorts, meals are less expensive outside the resort than inside.
Even with all these options, we wish there would be more diverse cuisine and more casual fare such as sushi or brick oven pizza. Our best meals were at breakfast and at Il Giardino.
Live music is played every night on the Sea Grape Terrace which encourages lounging around for cocktails every night.
Sugar Mill – The newly renovated restaurant is housed in a 17th century water mill dating back to 1676 that was also formerly a sugar plantation. It is quite attractive with an open-air kitchen although we preferred the ambience better outdoors (bring bug spray!)
Sea Grape Terrace – The main restaurant serving breakfast (a nice buffet with omelette and fruit stations), lunch and dinner on the patio or terrace.
Il Giardino – Next to Sea Grape, this indoor/outdoor Italian restaurant has a new chef from Naples along with nice menu.
Pepper pot – In the Oleander section of the resort. Nice for a change of scenery.
Lesters – a newly opened small cafe in the lobby offers packaged sandwiches and coffee. Very expensive  coffees ($11 for cappuccino, really?) but the iced cappuccinos are addictive.
BBQ shack – Right on the beach, this small shack pictured above is open for lunch, serving Jamaican ribs and other local fare off an open grill.
Loved
Didn't Love

Layout – At 400 acres, the hotel has the luxury to spread out yet everything is easily accessible and ideal for children to roam around freely. The spa, main pools, tennis, equitation center, and beach is all within easy walking distance of each other.
Abundance of activities and facilities – there is something to please anyone.
Live music every night.
Beach options (not all swimmable).
Tennis program.
Fernwood Spa. The masseuses were all very good and the facilities complimentary to all resorts guests (including children).
Location – Direct flights and only 10 minutes from Montego airport!
Staff – genuine, very friendly and eager to please. Many have been at the hotel for years.
Understated but elegant old-fashioned vibe (not sure how else to describe it!) – There are no pretenses, attitude or formality here which attracts a certain clientele looking just to chill and have a great family vacation. If you are looking for a 5-star Four Seasons style experience or more of a scene, this is not the place for you.

The complimentary bikes – great for exploring the property – are pretty rusty due to the salt air.  However, these are all being replaced with rust-free bikes.
A place for children to get ice cream after lunch or dinner would be ideal.
You really need to know in advance which rooms to get as they vary widely. Until all the rooms are renovated, make sure you are specific in your request for a room. See Rooms To Get below.
Even with a multitude of restaurants on property, it would be nice to see more variation in cuisine (sushi!) especially if you are staying at the hotel more than five days.
I wish the main pools were heated (the water is quite chilly as the pools are in the shade). Ordering food at at the pool bar comes with irritating room service fees.

Don't Miss
Skip

At least one of the bi-weekly beach barbecues during the holidays. I don't care for the pigs head on display but the crab races and live music is a hit.
A visit to Scotchies, only a few minutes drive from the hotel, is a must for some of the best ribs in all of Jamaica. This is as down and dirty as it

Scotches

gets.

We also liked The Houseboat Grill in Montego Bay (Steve McQueen stayed here during the filming of Papillon).  Moored on a lagoon, the restaurant is in a converted houseboat and accessed by a 'floating bridge' a mere 10 feet of water away. Eat outside on the roof for the views and ambiance.
A massage at the Beach gazebo over the ocean.
A visit to the equestrian center, even if you are not interested in riding. The farm animals are cute!

We didn't venture out of the resort for some of the excursions available (zip lining, hikes and coffee plantation tours) but many of those we spoke to who did, felt they were too long of drive to be worth it.

Rooms to Get
Tips

The fully renovated Hibiscus Suites offer connecting rooms and are the closest to the hub of the resort. Ground floor suites offer large patios enabling you to walk right on the beach while upstairs (first floor) suites offer large verandahs with direct views.
The Imperial Suites are the most spacious of the suites with a more contemporary feel but a little farther walk to the restaurants and hub of the hotel. Some of the Imperial Suites located on Sunset Beach are not renovated so make sure to request a renovated room.
Royal Suites near the main pool are also renovated but the farthest from the lobby of the suite options.
The villas are in dire need of renovation and I would not recommend these until they are updated.
West End Cottages on Sunset Beach vary widely in style and stage of renovation. Sections 1, 3 and 7 (each with several suites that can be booked individually or as a whole unit accommodating 14 people and up) are renovated.

If you are looking for true Jamaican coffee, ask the staff for a 'french press'.  The new cafe in the lobby serves addictive (but pricey) crushed ice cappuccinos.
During holiday season, I highly recommend booking Club Mobay services in advance (as they book up). You can do this on the website, through Half Moon or your travel agent. Club Mobay will enable you to bypass the long lines at security and immigration both entering and departing Jamaica.
A golf cart is not needed unless you are in a villa (golf carts are complimentary with villas). Bikes are the preferable form of transportation around the resort and are complimentary but during high season may not be available. Before you arrive at the hotel, ask the hotel to secure them for you.
Book tennis lessons way in advance as the best times and pros go fast.
Half Moon, Montego Bay
Rose Hall, Montego Bay, Jamaica
Virtuoso benefits include:
Upgrade at time of booking, subject to availability (applicable on rooms and suites only)
Daily Full breakfast, for up to two in room guests (children 2 – 12 sharing parents' room pay half price for breakfast)
$100 USD Spa Services credit, to be utilized during stay (not combinable, no cash value if not redeemed in full)
Early check-in/late check-out subject to availability
Book This Hotel
Why book Virtuoso?
Personalized travel assistance
24/7 online booking
Special rates & exclusive offers
Guaranteed Room upgrade*
Complimentary full American breakfast
Early check-in, Late check-out*
Exclusive on-site amenities (varies by hotel)
* based on availability on time of arrival