Since the Four Seasons Hualalai opened a little over 20 years ago, it has scooped up every type of accolade and award you can possibly imagine. It is one of the top-ranked hotels in the world by both travelers and the travel industry. Naturally, it has been on the top of my list to visit as everyone I know who has been fortunate to stay there has returned raving about it.  In fact, we found many are die-hard repeats who return to Hualalai year after year, explaining why it is so hard to secure a reservation here during the holidays!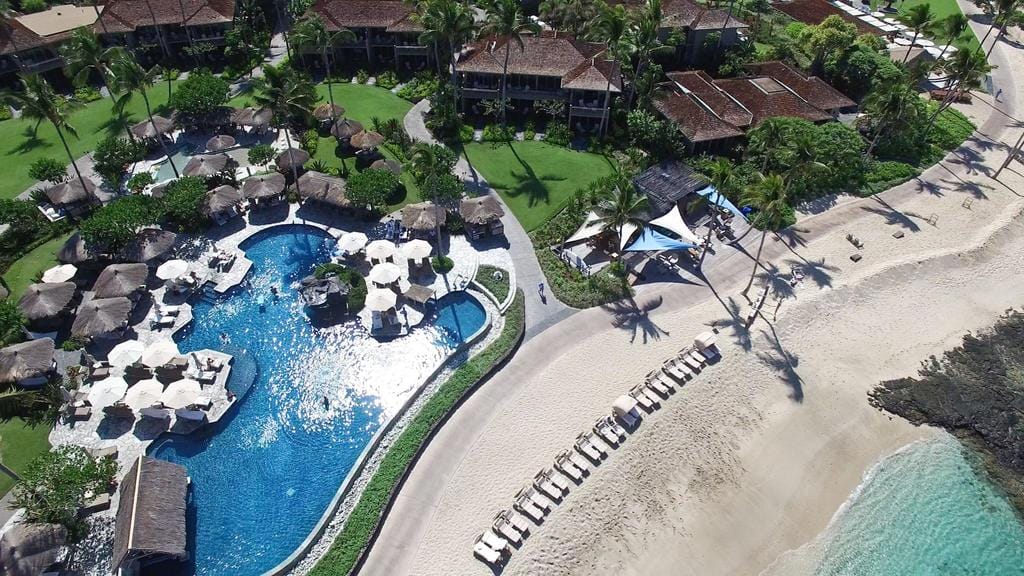 I decided last June it was time to explore the Hawaiian Islands for the winter holiday break as it was a destination neither my husband or I had yet traveled to but was high on both our lists. With some determination, we were fortunate to secure four nights at the Hualalai on the Big Island followed by another seven nights at the newly opened Four Seasons Ko Olina in Oahu.
Our trip had a bumpy start with inclement weather in New York delaying our flight departure time by several hours and causing us to miss our connection to the Big Island via Honolulu. Thus we were sadly deprived of one of our four nights at the resort (a costly loss, I might add!). We arrived at the resort in a downpour – the heaviest rain the island had in 6 months we were told – which thankfully only lasted our first day and transformed the resort into a lush oasis. We were greeted promptly with traditional orchid leis and yummy tropical drinks to get us into 'island mode'. As we were escorted by golf cart to our suite, Richie Sambora smiled as he passed us walking by. Any stress from our journey instantly dissipated for this Jersey girl.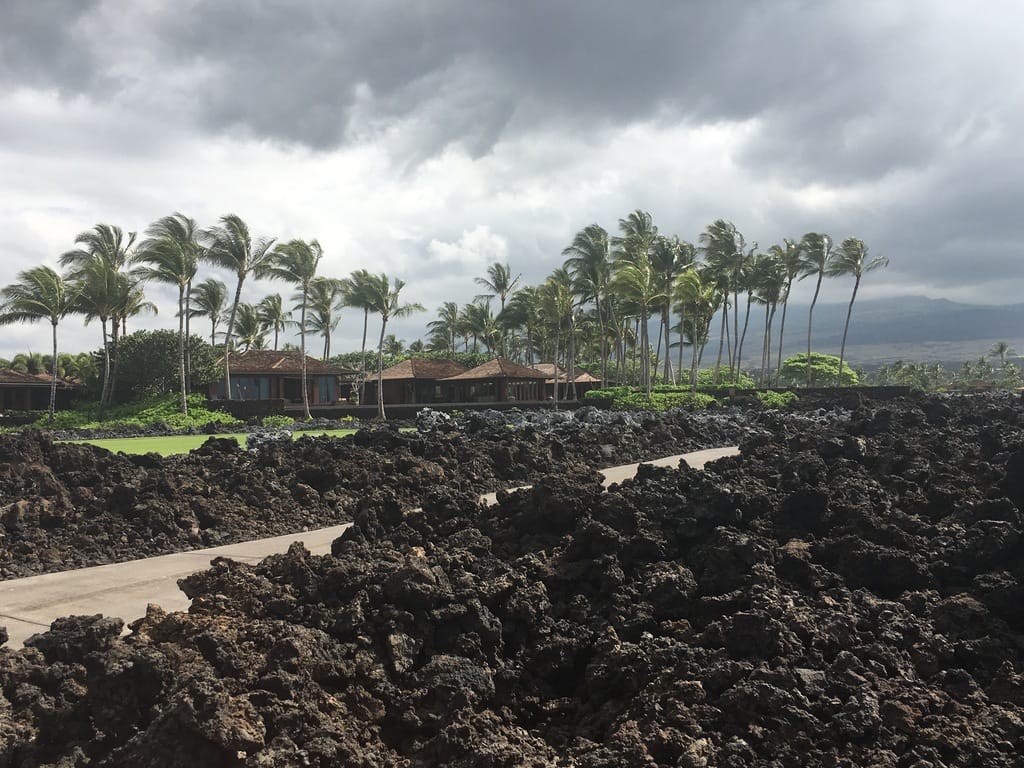 The Hualalai resort, sitting on an ancient land division that was once a fishing village on the North side of the island, now spans a whopping 865-acres with an ocean-paved walk spanning the main areas of the resort. While most of the guest rooms, restaurants and pools are all nestled in the hub of the resort, it did take me about a day to get my bearings (admittedly, I am directionally challenged). Many loyalists of Hualalai proudly boasted to us they come and never leave the resort during their stay and I certainly can see why. With 7 pools, an expansive fitness facility, a 28,000-square foot spa, an 18-hole golf course and more, there is quite enough diversions to keep you entertained night and day inside the resort.
Yet, while there may not be a need to ever leave the self-contained property, it would be a shame not to explore the stunning Big Island (see tips further below). With four days here, we only left once to go on a helicopter tour (a must-do). If we had more time, we would have rented a jeep for the day to explore the beaches and areas of the island.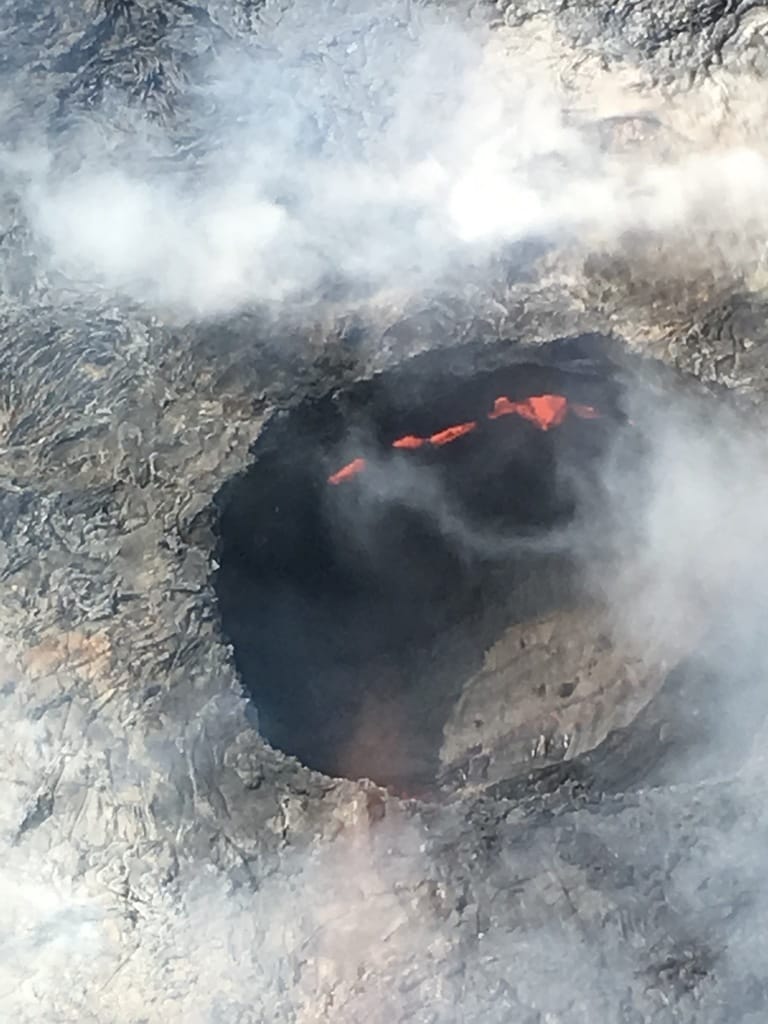 The Property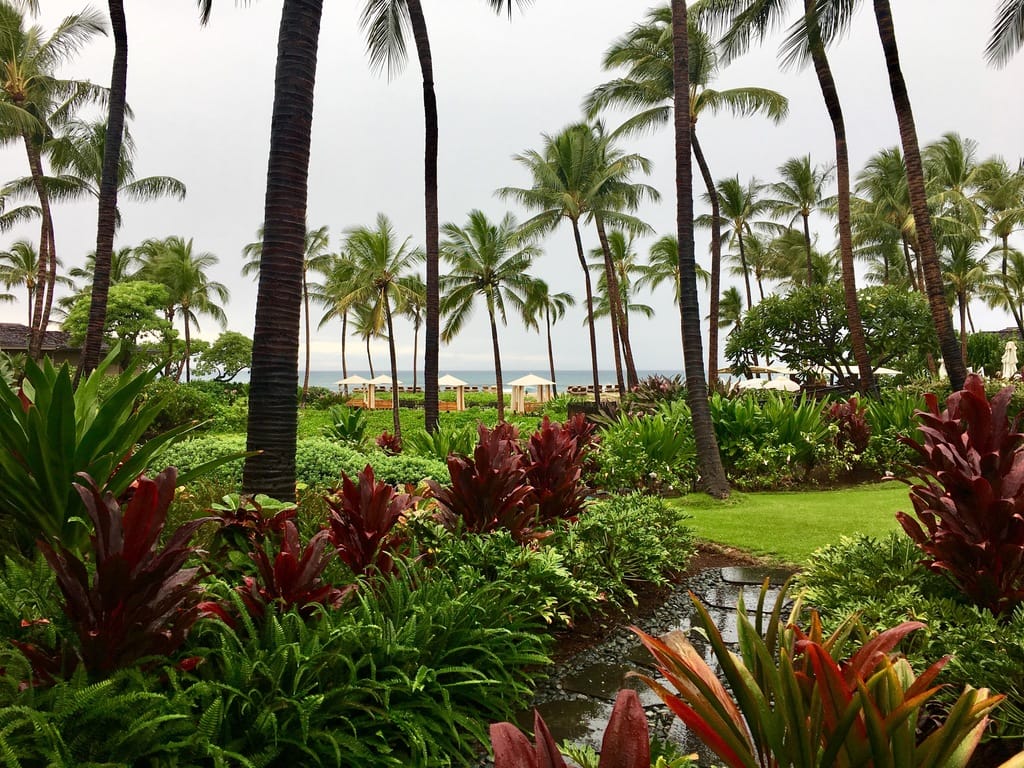 The grounds are simply beautiful and lush – a dramatic combination of black lava rock, palm trees and foliage that is devotedly tended to by staff. The beach itself is very narrow and only one inlet is suitable for ocean swimming as the sea can be rough and the reefs sharp. There are plenty of lounge chairs and sun beds oceanside and by the pools. Even at nearly full capacity, it never felt crowded, so there was no need to panic about not getting a spot if we didn't claim one before breakfast.
Activities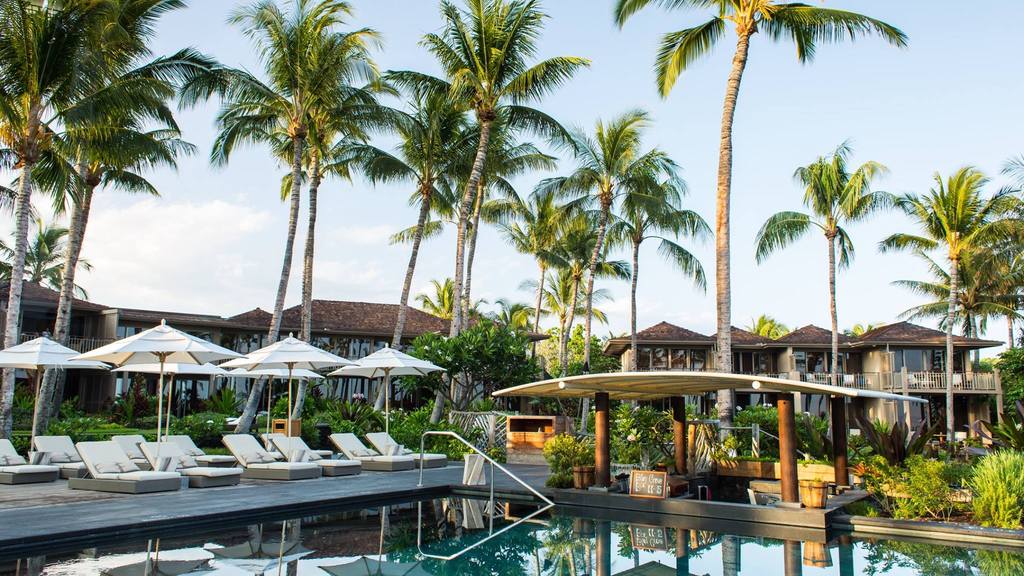 There is no shortage of things to do at Hualalai. Yoga, pilates, meditation and spinning classes were offered daily at the Sports Club next to the spa during our stay. The tennis and golf facilities are excellent and several clinics were offered at each during our stay.  Kings Pond, a sea-water snorkeling pond stocked with 4,000 fish and eagle rays, is an obvious favorite for the little kids (but also, quite frankly, for the adults).
4- man and 6-man outrigger canoes and snorkeling rib-crafts are offered on a separate beach, Kukio Beach, on the Southern end of the resort and I would recommend both highly. You are likely to pass by sea turtles basking in the sun and may get lucky to see whales or snorkel with a school of friendly dolphins, as our friends did.  Unfortunately, I cracked my ribs on the side of our Outrigger Canoe my second day at the hotel so the rest of my stay was predominantly in a horizontal position with a book. But if there is one place to chill, this is about as good as it gets. Although I was unable to even get a massage due to the pain, my husband said his 90-minute massage was incredible (grrr).
Restaurants
As Hualalai is pretty remote from any other hotels or restaurants, you will most likely eat at the resort for all your meals during your time here. And you won't be disappointed – all the restaurants we ate at were excellent, serving a wide variety of healthy, delicious cuisine and the staff will cater to most any request if you want something off menu.
There are four main restaurants on the Hualalai property: Ulu Ocean Grill, Beach Tree, Hualalai Grille (at the Golf Club) and the Beach House (for residents). Both Ulu and the Beach House were excellent. Breakfast is served at Ulu each morning with an incredible buffet with live hawaiian music – a wonderful way to start the day after yoga or tennis. Tons of healthy (gluten-free, almond, soy etc.) options are offered and we loved the 'make-your-own' protein shakes each morning. At night, Ulu features a wonderful sushi menu as well.
While we did not have the opportunity to go to the Hualalai Grille, we did have lunch at the ultra-casual Beach House, a 5-minute walk from the Palm Grove section of the resort. Typically for residents only, guests are welcome. We loved the casual fare and quiet, beautiful setting on the beach here for lunch or evening cocktails.
The surf shack, nestled between Ulu and Beach Tree, is a popular choice with the kids for frozen yogurts and crushed ices (while also offering sunscreen and sunglasses). The Hualalai Trading Company, located between the tennis club and the spa, is a great place to stop for casual to-go sandwiches, snacks for the room, coffee and sundries.
Every few nights, a luau is offered on property, a popular event. While we enjoyed the show immensely, this was the only time we left disappointed with the cuisine at the resort. I found the buffet options (we steered clear of the traditional pig roast) surprisingly dismal, especially for the price of attending the luau.
Accommodations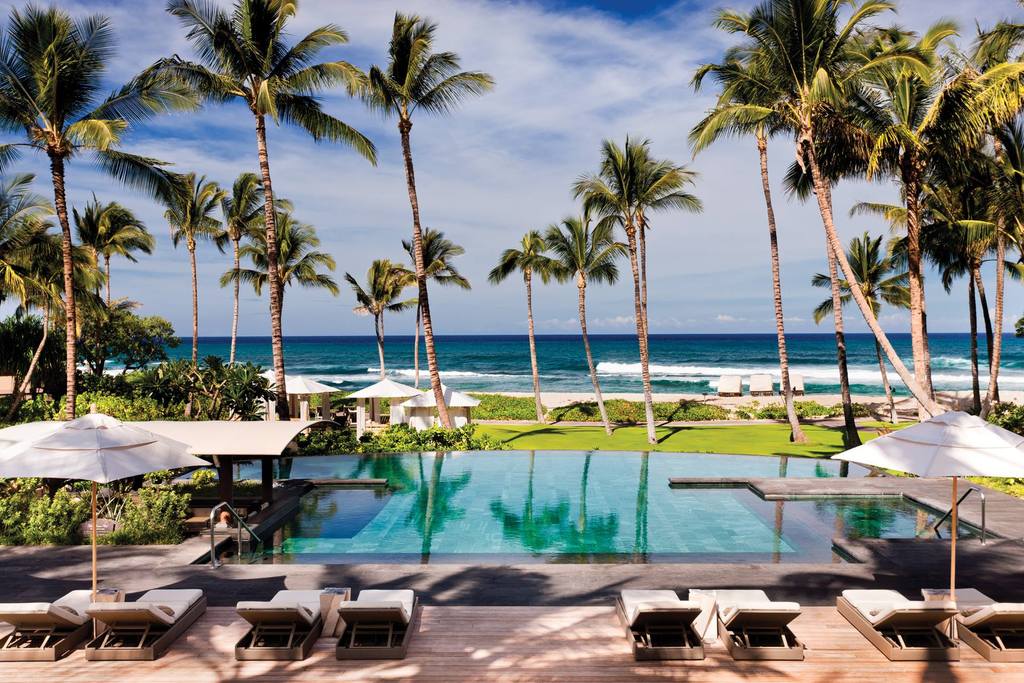 243 rooms (51 suites) are spread across the property in low-rise 2-story units in four crescent-shaped clusters facing the ocean: Kings Pond, Beach Tree, Seashell and Palm Grove. All of the rooms and suites have ocean views and are located close to the ocean or the pool (there is a pool or pools in each cluster). Resident Villas, which are located by the Golf Course and farther from the hub of the resort, can also be booked for those looking for more space and privacy.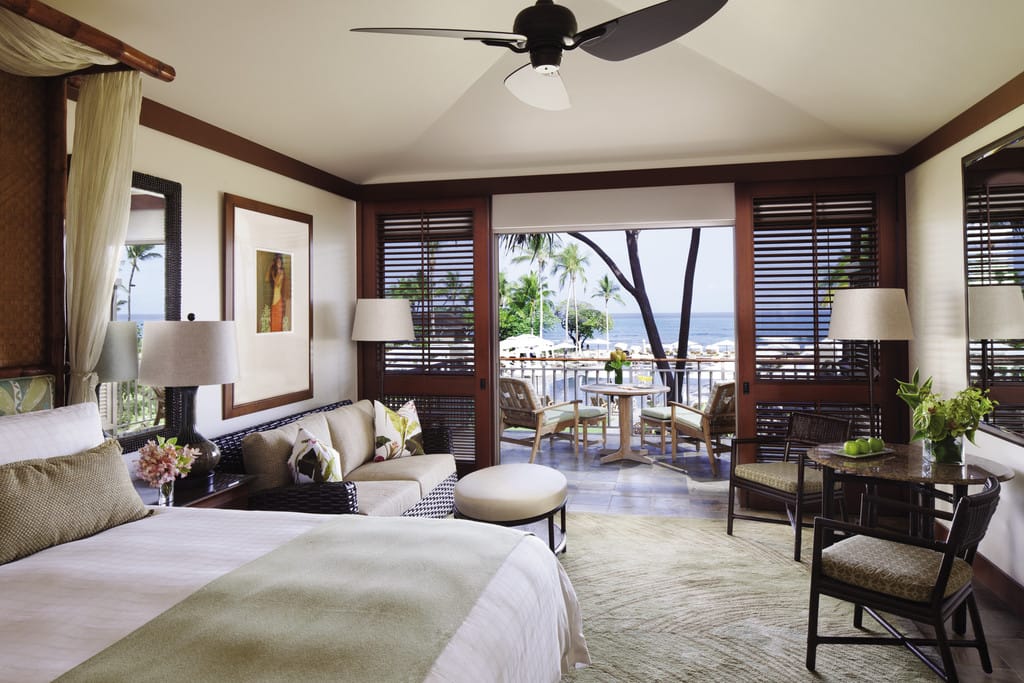 Our Suite 2902 was located on the ground floor of the Palm Grove cluster, which is located on the South side of the resort, farthest from Ulu and Beachtree restaurants but closest to the Beach House restaurant. We liked the quiet location although the villas in this cluster have the longest walks to the spa, reception, tennis and other activities. As the pool in this cluster is adult-only (21 and over), we would prefer being in the Beach Tree cluster next time. The Kings Pond cluster is most ideal location-wise for those with young kids as it is the closest to the Kids Club, restaurants and reception.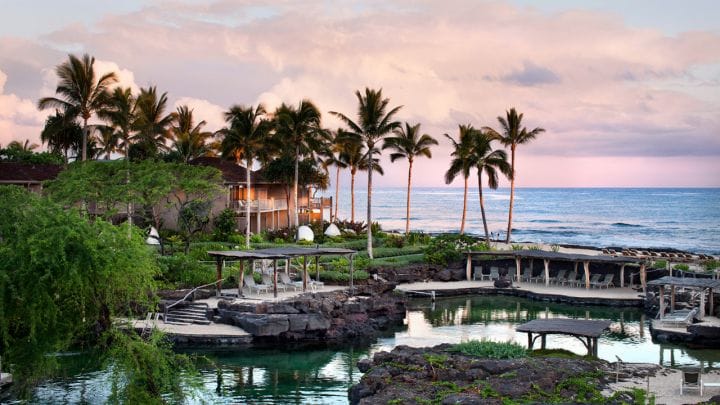 We found our 1-Bedroom suite spacious and comfortable, quite fine for our family of four. Only a little maneuvering was required in the living area for individual cots. In addition to 2 full baths, an outdoor rain shower is provided off the master bath. Two large flat screen TVs keep adults and kids entertained separately although we honestly didn't turn the TV on more than once during our stay – why would you in paradise? 
Whether you prefer a ground floor or top floor suite is a matter of personal choice but I prefer the ground floor suites with the large patios, enabling us to conveniently enter and exit from either the front door or back sliding glass doors at our convenience.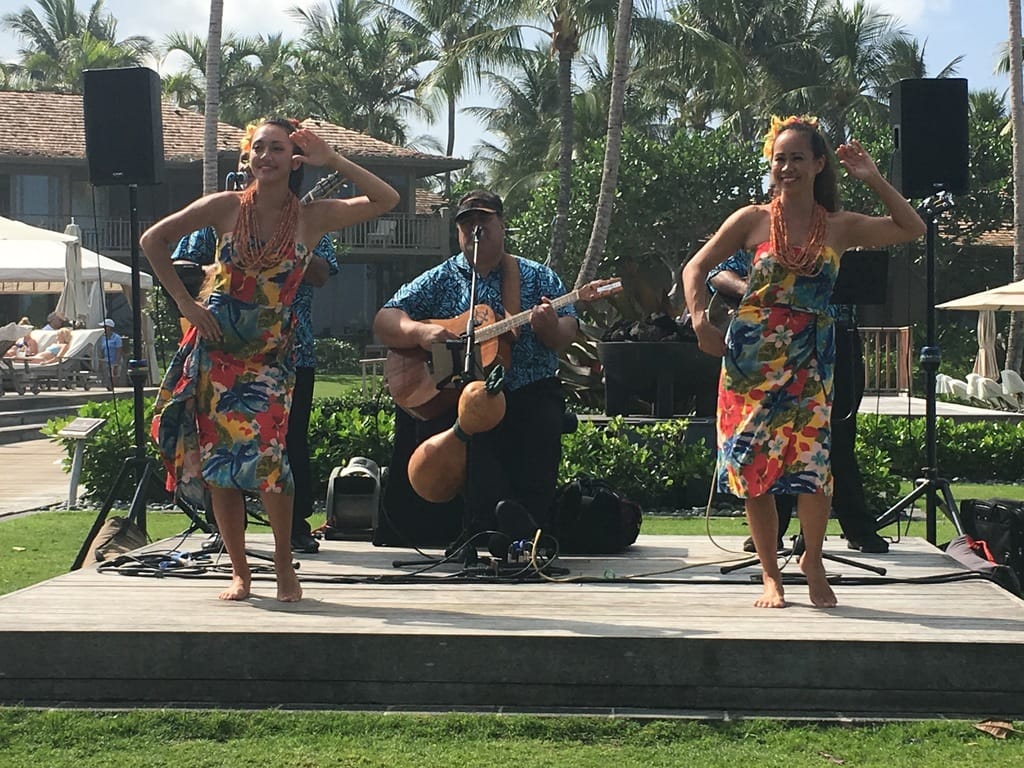 Final Impression
Hualalai is a special place – truly a 'get away from it all' escape offering every amenity and activity you could want or to do nothing at all. Luxury like this in a paradise setting attracts a certain crowd seeking the same ambiance as you. Yes, you will definitely see a recognizable face or four from the screen or news but no glitz/no fuss is the operative word here. 'Laid back luxury' is the best way to describe it – just the way I like it when I go on vacation, seeking to escape everyday life. 
TBH (as my teenage daughter would say), we had barely enough time to experience even a little of what Hualalai had to offer. That is why we are on the wait list to return for a longer stay next winter. Keeping our fingers crossed.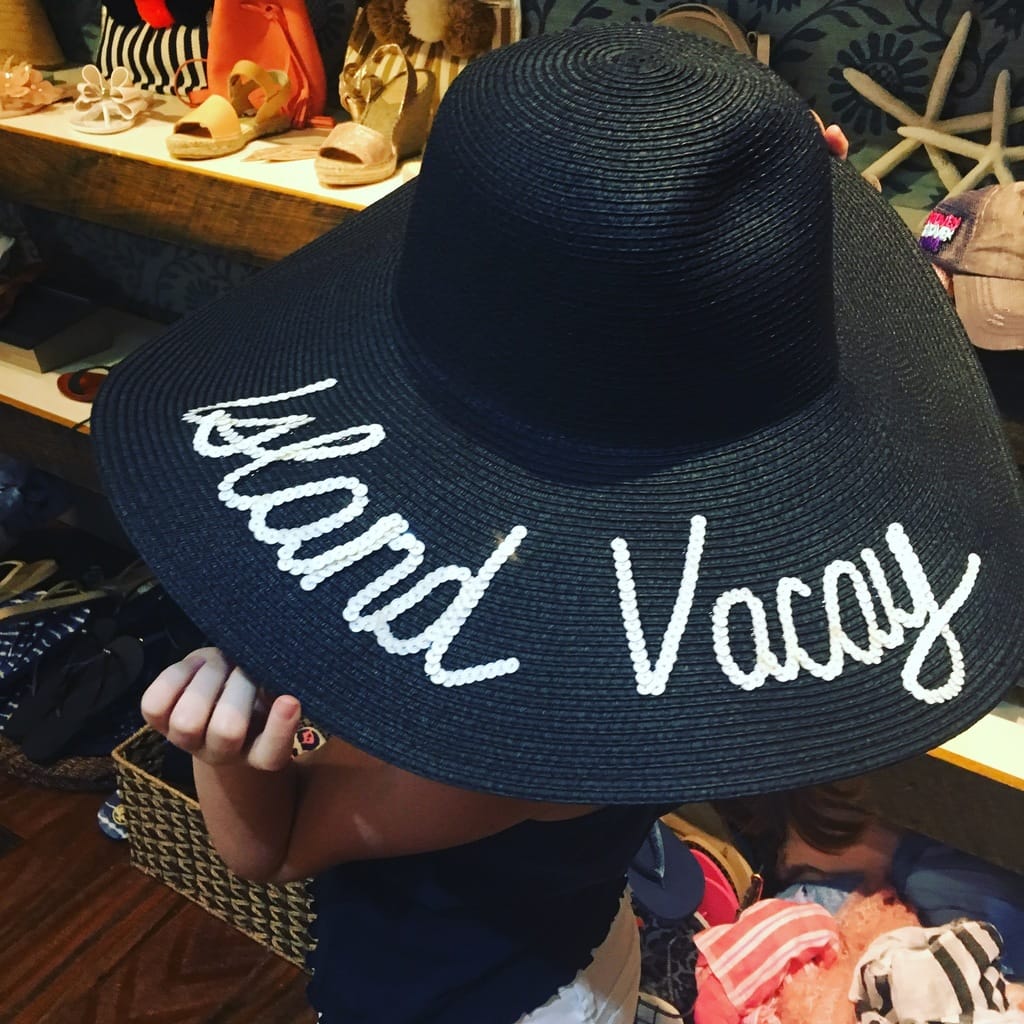 Photos courtesy of Inviato and Four Seasons Hualalai
Loved
Didn't Love

The service was consistently stellar throughout the resort.
The facilities – from the Tennis Center to the Spa, array of fitness classes to outdoor sports.
The suites were very comfortable and spacious.
Our meals at all the restaurants were delicious and the staff was very accommodating if there is something you want off the menu. The breakfast buffet was especially good with many healthy options.
The resort boutique has an excellent and carefully vetted array of clothing (lots of California hip labels, including an area dedicated to the James Perse line) and accessories worth leaving extra room in your bags to take home.
Laundry shacks outside each cluster of suites where you can do complimentary laundry, avoiding hefty laundry prices typically at hotels. This was not mentioned to us so it was a pleasant discovery!

Despite a verbal and written prior confirmation, there was no car (complimentary with a suite) upon our arrival at the airport to take us to the hotel and we had to wait 30 minutes.
The buffet at the hotel's luau was surprisingly below average for the price of attending.
I found the charge for Paddleboarding ($150/pp stay or $75 one time) quite hefty a price given that it is complimentary at most luxury resorts we have been to.

Don't Miss
Skip

A helicopter excursion to see Kilauea Volcano (very active right now)! and the dramatic scenery of the Big Island is a must. We used Paradise Helicopters through the hotel concierge. Book this well ahead as it is a very popular activity (the sunset tour particularly).  If you are a little bit more adventurous, try Epic Lava Tours where you can get really close to the lava flows!
Hawaiian Sea Turtle spotting – the turtles love to bask in the sun (but please do not touch them or get to close).
Rent a jeep for the day and explore the island. We wish we had more time to do this. In December, it gets dark early so leaving the resort for dinner was not an option but there are some excellent local restaurants to try:

Napua

is a local favorite restaurant with excellent service and food quality.
Huggo's on the Rocks, in Kailua Kona (35 minutes South of the Resort) and Lava Lava Beach Club at Aneho'omalu Bay in Waikoloa (20 minutes north) are situated ocean front and offer fresh fish as well as popular bar foods, and live music as well as sand at your feet. These are locally owned restaurant locations where both visitors and locals gather for the relaxed atmosphere on the water.
"Da Poke Shack" offers local fare in a causal atmosphere although not at a beach side setting. Da Poke Shack is a famous small shop offering poke with Hawaiian inspired sides such as seaweed salad, rice, quinoa salad, and edamame. Da Poke Shack in Kailua Kona is a walk up take out location where most people bring their food to the beach or a nearby park.

Hawaiian Style Cafe

 caters exclusively to a local crowd serving traditional Hawaiian plates. Located in Waimea (45 minute north of the Resort at 3,000 ft in elevation), it is a local favorite greasy spoon older diner known for their huge portions that local people love. They serve local Hawaiian comfort food for breakfast and lunch and are known for their huge pancakes.

Rooms to Get
Tips

The most centrally located suites are in the Seashell and Beach Tree clusters. Kings Pond suites are behind the snorkeling pond and I would recommend these for families with very young children as it is the closest to the

Kids For All Seasons Club

(complimentary), boutique, store and other facilities. The Palm Grove cluster, where our villa was located was the farthest but is also the quietest (best for adults, and the adult-only pool is located there as well).
Our favorite suites are those closest to the ocean (but offer the least privacy) are 17-19 and 24-26 – these are the superior oceanfront suites.
For convenience, we like the ground floor suites best as you can walk straight out to the pool or beach from your patio. Those who prefer views should request the top floor suites.
For those looking for more space and kitchens, villas are an alternative option. Villas are farther from the hub of the resort (guests are provided a golf cart with their villa) and are only permitted to use beach chairs at the resort by the pool, not the beach (Villa renters have other amenities for owners).

4 and 6-man outrigger canoes and snorkeling are offered on the beach on the South end of the resort, a 5-10 minute walk along paved oceanside walkways. While the outrigger canoe was fun, it was very brief and the snorkeling takes you farther out where your chances of seeing dolphins are greater.
If you can, book the direct flight (one per day) from New York to Honolulu and then connect to the Big Island. Flight connections back via Los Angeles were disappointing (business class is closer to economy – my seat was broken) and frequently on older planes.
Four Seasons Hualalai
Virtuoso amenities through Classic Travel/Inviato for Four Seasons Hualalai in 2017 includes:
• Upgrade on arrival, subject to availability
• Continental breakfast daily
• $100 USD Food & Beverage credit
Book This Hotel
Why book Virtuoso?
Personalized travel assistance
24/7 online booking
Special rates & exclusive offers
Guaranteed Room upgrade*
Complimentary full American breakfast
Early check-in, Late check-out*
Exclusive on-site amenities (varies by hotel)
* based on availability on time of arrival