As we get ready to descend upon the Mediterranean city of Barcelona for the week and finally get to check in at the Cotton House Hotel, we revisit one of our Inside Look posts from 2015, when the hotel opened. Stay tuned for a detailed review here…coming soon!
Barcelona's balmy climate, diversity of world-class architecture, distinct Catalan culture and dynamic cuisine (the city is home to 22 Michelin starred restaurants in addition to hundreds of excellent tapas bars!) appeals universally to families, couples and small groups looking for a weekend escape. Not to mention the cosmopolitan and animated city is positioned idyllically on the coast of the Mediterranean sea and possesses gorgeous beaches.
Until recently, some of the most obvious luxury hotel choices to rest your head in Barcelona have been (and still are) the Mandarin, Hotel Arts, and the Mercer Hotel (update: now of course there is the Edition, Soho House and a few more trendy hotels to hit the scene). There is now another 5-star hotel to add to the list – and I have to say, it's quite a gem.
Opened since February 2015, the 83-room Cotton House Hotel is the latest addition to Autograph Collection's growing repertoire of luxury boutique hotel properties set in historic buildings (read our review from our stay at the Press Hotel in Portland Maine here). As the hottest newcomer to hit the hotel scene in Barcelona, Cotton House has already made quite the impression with both guests and press alike.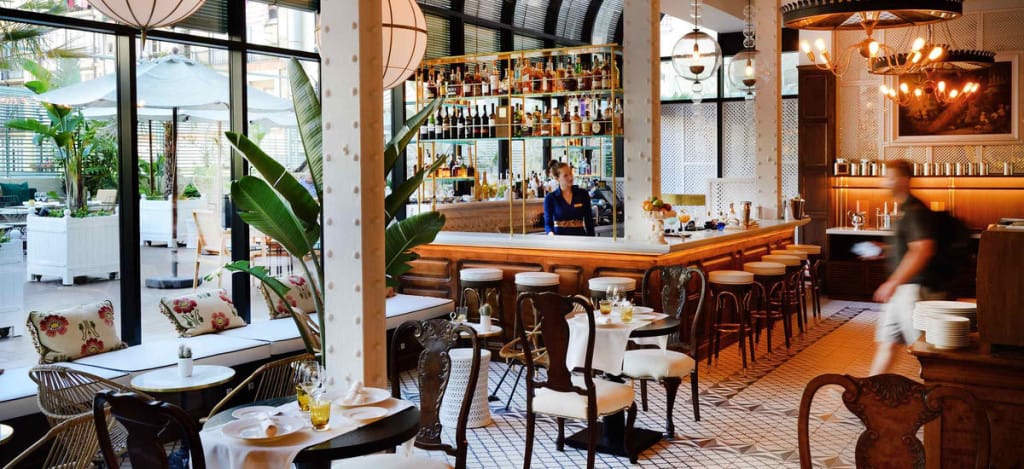 The first thing the Cotton House has going for it is its central location. Housed in an iconic 19th-century neoclassical building that was once the headquarters of the Cotton Manufacturing Association, Cotton House is within easy walking distance to key sites such as Antoni Gaudí's Casa Batlló, Plaza Catalunya, Gran Via (the 2nd longest street in Spain) and the Gothic Quarter. Other not-to-be-missed areas of the city such as beach-front La Barceloneta, museum-centric Montjuïc and the medieval streets of El Born are short taxi rides away.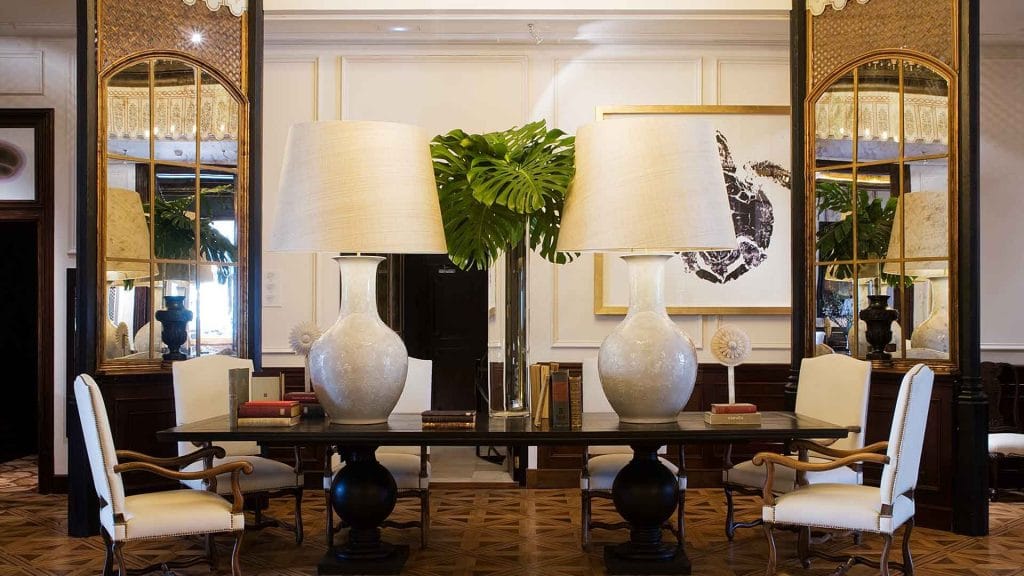 Aside from its prime location, Cotton House possesses interiors that are simply stunning. Interior designer Lázaro Rosa-Violi, who has outfitted many hip restaurants and hotels in the city (including Inviato-reviewed Pratkik Hotel Bakery), has beautifully styled the interiors of the historic building with modern art, sculptural lighting and bold colors.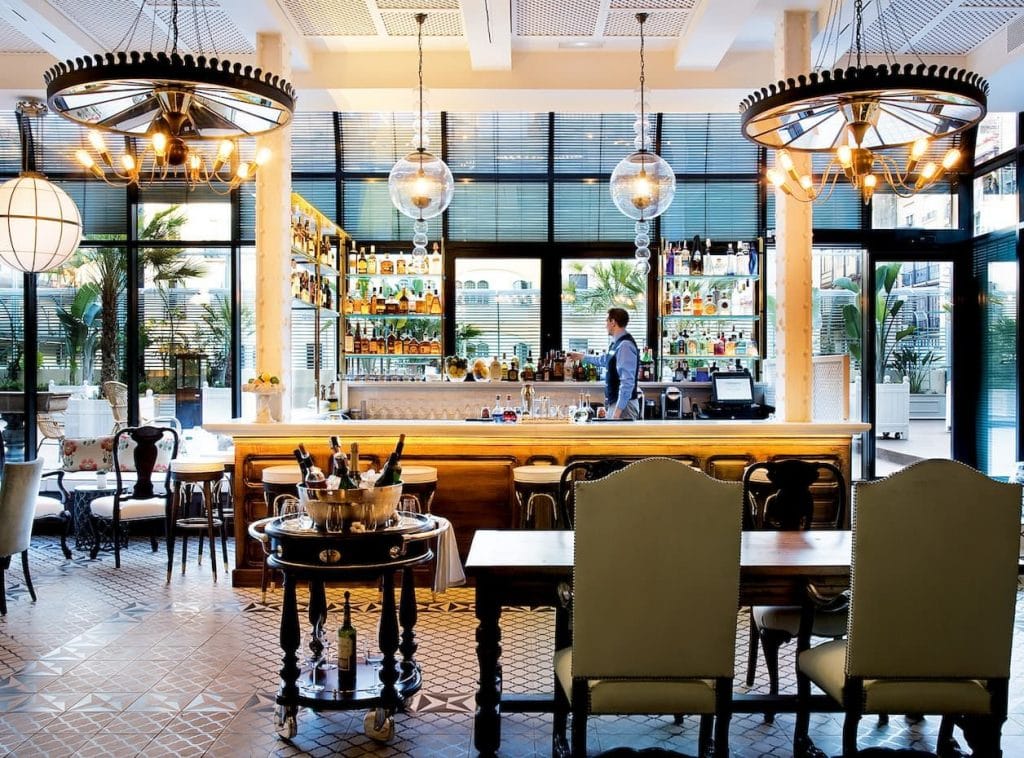 Hinting at its origins, you will find historical elements blended with a mix of styles – from baroque to art-deco to modern – throughout grand public rooms of the hotel. Many of the original features have been preserved such as the fresco ceilings and parquet floors along with a spectacular out-of-this-world spiral staircase suspended by wires added in 1957.  In the wood-paneled Atelier, displays of cotton bolts where you can have your very own shirt made to measure, never lets you forget the building's former purpose.
All the 83 rooms and suites are outfitted with names harking back to its days (with names such as 'Cotton', 'Tafetan and 'Damasco') offering free Wi-Fi, flat-screen TVs and Nespresso machines. While each and every room is immaculate, the standard/lower category rooms can be claustrophobically small (247-322 square feet) so better to upgrade and splurge on one of the five suites or ask for a room with a sea view and balcony to distract you. If you want historic touches, go for the Tafetan and Damasco suites which feature original wood fresco ceilings. Befitting the hotel's name, all the beds feature 300-thread count Egyptian sheets, extra large bath towels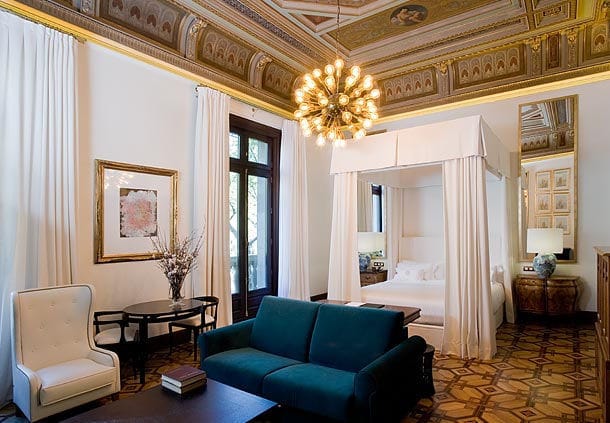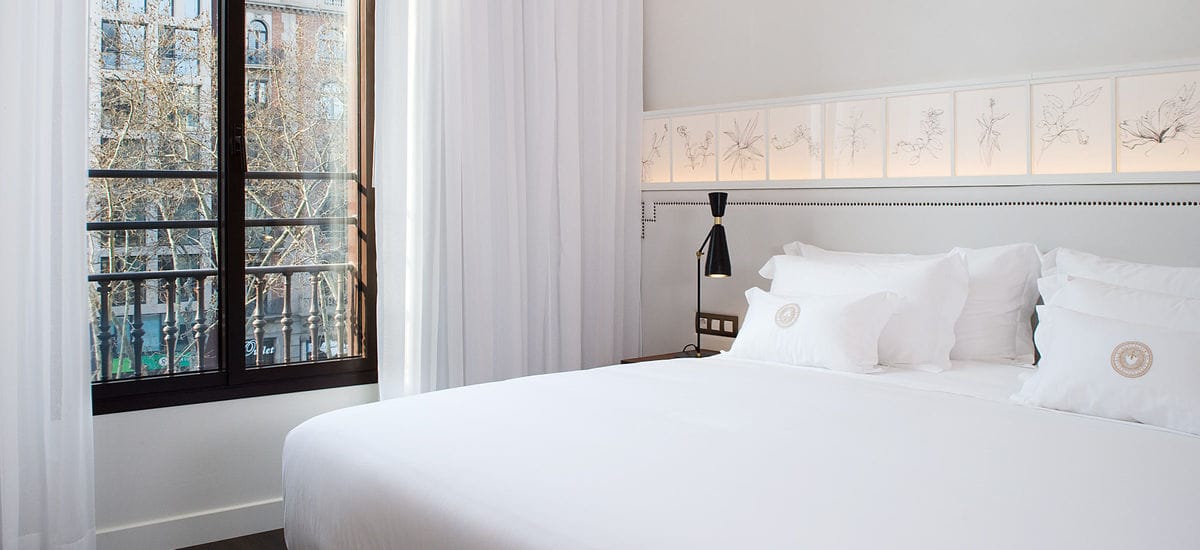 Cotton House certainly does not scrimp on food and drink. The colonial-style Mediterranean restaurant Batuar serving Catalan dishes, adjoining a gorgeous cocktail bar (I hear the bartender/mixologist whips up incredible cocktails) serving over 30 unique types of rum, has become a destination unto itself. Take your drink – preferably the 'Gossypium Cocktail' created especially for the Cotton House Hotel (a blend of pisco, blue curaçao, gin, lime and spices, inspired in the turquoise colour of Barcelona's Mediterranean sea) and walk around to the glass-enclosed conservancy or take one of the tables on 3,000 square foot terrace to savor it.
I am told (and recent guest reviews substantiate this) that the hotel also serves an outrageous breakfast buffet, included in the price of your room. Other public rooms continue the gentleman club feel and are equally inviting such as the library where you can take in traditional English tea. A small outdoor pool can be found on the roof for those who want to get a break from the hot sun and enjoy 360-degree views of the city and the Mediterranean Sea. A small but well-equipped fitness room plus guest-access to the neighboring Mayan Spa tops it all off.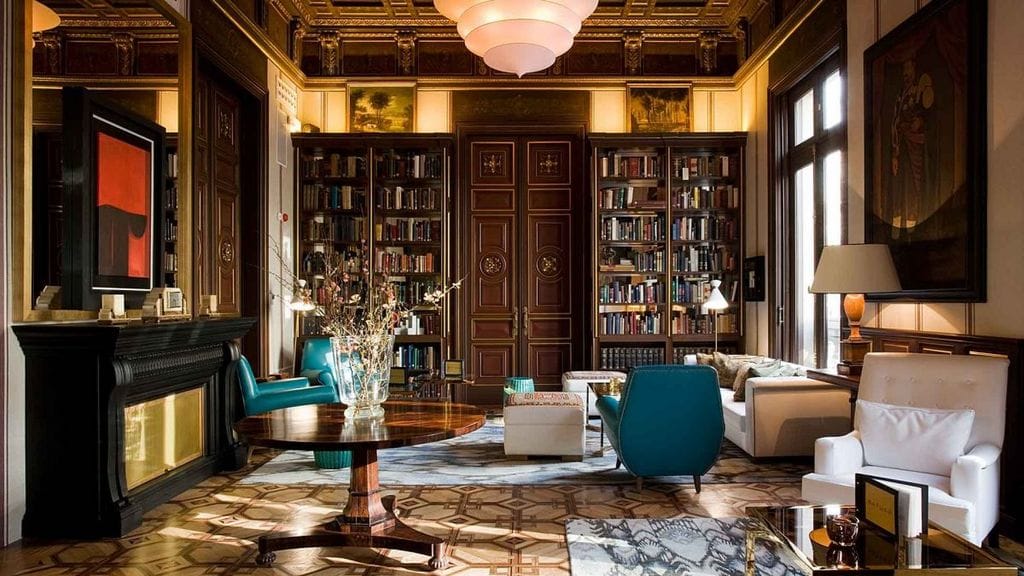 Almost universally, customer reviews have touted the incredible staff and service at the hotel, the interior beauty and location.
Photos courtesy of Cotton House Hotel.