Ask most people what comes to mind when they think about the island of Ibiza and you will typically get the same vision:  lively nightlife, big party scene, and a hippy-chic beach-loving crowd. And, yes, for the most part, Ibiza lives up to all the hype.  Top DJs from around the world descend upon the island every summer to play in its legendary megaclubs and bar-packed squares in the villages fill up with boho-trendy jet-setters just looking to have a good time. This may, in fact, draw you to the island or have kept you far away. If the latter, it's a shame as there are so many other under-rated aspects of this beautiful island to boast about such as its quaint cobblestone villages, sandy secluded coves, World Heritage reserves and towns, cliffs and pine forests, and beaches. And, it goes without saying, some pretty killer sunsets.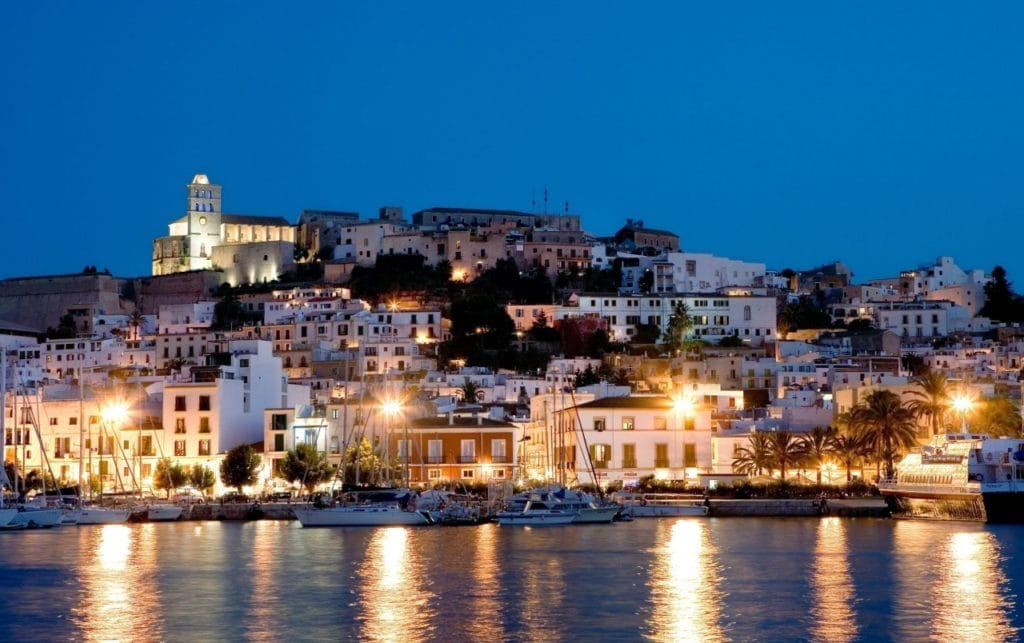 Just one year after the opening of Nobu Ibiza made headlines on the island last summer (read our review here), a fresh face is on the island that will be changing the way people consider Ibiza.  One that is offering a luxurious alternative that wasn't previously available for those looking for more privacy and understated luxury while still being able to partake in all there is to offer on the island if they want to. And while many other hotels shut down the end of the season, this one will be open year-round for those that prefer to come in quieter months or just can't bear to leave.
Opening this May, Seven Pines Resort, Ibiza is a completely new 'holistic' village-style resort that has quietly been built from the ground up over the past two years, which is surprising because I only heard about the resort a few months ago. How did I not hear about it this place?  But I must admit, I do prefer places that fly a little a little below the radar rather than others that create way too much fanfare before they even open. It makes sharing an 'inside sneak peek' of a place with readers all the more exciting for me. Something else that impressed me?  Seven Pines is already a member of Leading Hotels of the World before it even opens (no small feat, mind you, for a new brand, as I know the stringent standards one must pass to become an LHW property). So you just know this place has something special going on.
One of the particular attributes that attracts me to the Seven Pines Ibiza property begins with its incredible setting on the island. Located on the west coast of the island, above what I am told was an ancient smugglers cove, Seven Pines is spread out on 13 previously uninhabited acres both on top of a cliff and the edge of a lush pine forest (hence the name Seven Pines).  Overlooking the sea, the property has direct views of the small rocky island Es Vedra that juts out of the sea. Many claim the rock has magical mystical powers and there are quite a few interesting stories about it, I hear.  The resort is well enough removed from the fray but close enough that it is easy to leave the resort to hit the clubs when you have the urge to dance (although you will have ample opportunity to do it at the resort) or do some sightseeing.
All 186 accommodations at the Seven Pines are suites in varying sizes but are spacious by any means. Spread out throughout 13 acres throughout the resort, each of the newly built white-washed suites will have open room concepts in serene tones and contemporary furnishings to blend with the natural surroundings of the outdoors and respect the island's Ibizan flair.  Each suite comes with an expansive living room, its own House Bar (I mean, after all, this is Ibiza!) with a selection of wines, alcohol and mixers and Illy coffee machines. 1-3 bedroom villas but can be configured for larger groups or families to a villa style accommodation. The largest suites, the Cliff Suites (prime for sunset viewing) will have their own private pools and gardens. Reserve one of those for me, please!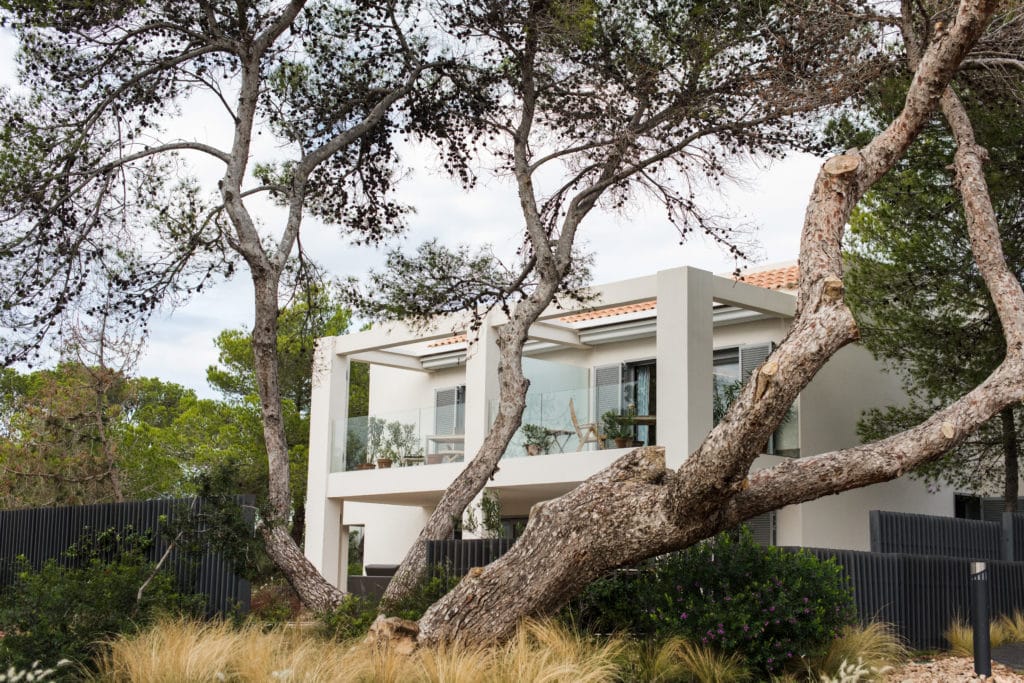 While Ibiza has so much to offer in nightlife and food, and the town is not far away, guests will be hard-pressed to leave with all the offerings inside the resort. There will be two restaurants and four bars on property for guests to choose from with a focus on healthy, Mediterranean cuisine.  The View, located clifftop overlooking the sea, will have its own bread oven and, at night, a Korean cooking Robata grill. Chef's Table will feature an interactive open kitchen. Cone Club will focus on a Mediterranean tapas style menu with Arabic and Asian influences featuring community tables in a relaxed and fun atmosphere.  Pershing Yacht Terrace will be the go-to spot for cocktails with an outdoor firepit and amazing views.
The resort will not fall short on amenities. Two outdoor pools (infinity and lagoon style – pick your style) will be on the property. If you tire of gazing at the sea or having a dip in the pool, the beaches of Cala Codolar and Cala Conta are both just a few minutes walk away. For the pièce de résistance, guests can charter the resort's own Pershing yacht for transfers or charter trips – perhaps even to Es Vedra island which they have been gazing at every day.
With the focus on well being,  it is only natural to expect that a spa will be a big focus of the resort.  Pure Seven, The Spa will offer medical and wellness spa treatments in six treatment rooms as well as a yoga studio for classes, an indoor and outdoor gym, outdoor jacuzzi, saunas and steam room, and a salon for mani/pedis and blowouts if your beach hair is just not working for you.
All this will be overseen expertly by General Manager, Markus Lueck, formerly the GM of Palais Hansen Kempinski Vienna, who has an impressive roster of 5-star properties under his belt.
Who will Seven Pines appeal to demographically, you ask? I would easily respond back with a question: Who wouldn't it appeal to? 
Seven Pines is now open for bookings for May and beyond. As a Classic Travel Luxury Collection property, your rate at Seven Pines includes the amenities below. Ask us about special opening offers!
Photo renderings courtesy of 12.18 Hotel Management. All rights reserved. 
7 Pines Resort, Ibiza
Your Special Classic Travel Rate at Seven Pines Resort includes:
Daily full breakfast for two
Upgrade at check-in (based on availability)
Early check-in and Late check-out (based on availability)
A bottle of champagne/cava with a local welcome amenity in your suite
Book This Hotel
Why book Virtuoso?
Personalized travel assistance
24/7 online booking
Special rates & exclusive offers
Guaranteed Room upgrade*
Complimentary full American breakfast
Early check-in, Late check-out*
Exclusive on-site amenities (varies by hotel)
* based on availability on time of arrival