Sublime Comporta Hotel Review: This Summer, our family had the unique opportunity to be all together in the summertime. As our oldest daughter was going off to college in the Fall, we wanted to spend some quality time together as a family. Seeking a destination loaded with culture, natural beauty, fine wine and food, Portugal checked off all the requisites.
The second of four stops on our 10-day family Portugal vacation was Sublime Comporta in the Alentejo Province of Portugal, only a two-hour drive from our first stop, Sao Laurenco do Barrocal, and only an hour from Lisbon (where we would head after). This stylish seaside/countryside retreat would be our home for the next three nights.
Sublime Comporta is a 17-acre estate originally conceived by husband and wife team Goncalo and Patricia Pessoa (who still live on the property) in 2014 looking to create an environmentally friendly but 'non glitzy' escape for visitors.  Since its opening, the hotel has received accolade after accolade as one of the best hotels in Portugal and a favorite of many European celebrities seeking a quietly stylish, 'low-key' beach getaway.
Review by Contributing Editor Romi Howard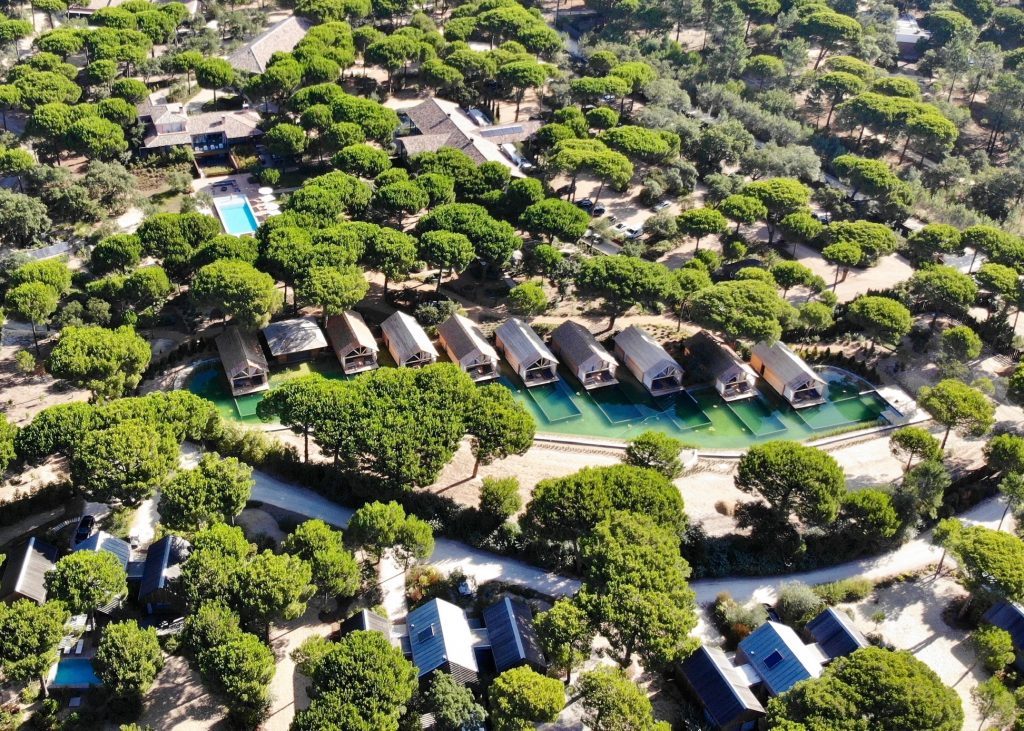 First Impressions
Pulling up to Sublime, we were greeted by pink stone gates. As they opened, we drove inside the grounds of Sublime. It felt like we stepped into an enchanted forest with its famed cork trees, umbrella pines, wildflowers and vineyards everywhere around us. In fact, the resort is tucked away in the Alentejo forest.
We drove our BMW station wagon rental up to the Main House to check in. As those giant Balinese style doors opened, a mélange of Tulum, Bali and authentic Portuguese influences quickly made an impression. An assortment of boho-chic clientele in designer caftans and flip flops passed by, whirling by on golf carts or walking about seemingly without a worry in the world.
The main bar greets you immediately and it's impressive (anyone who knows me knows I love a good hotel bar!). Sublime is a place where you want to hang out! You want to enjoy a cool cocktail and you want to stay awhile.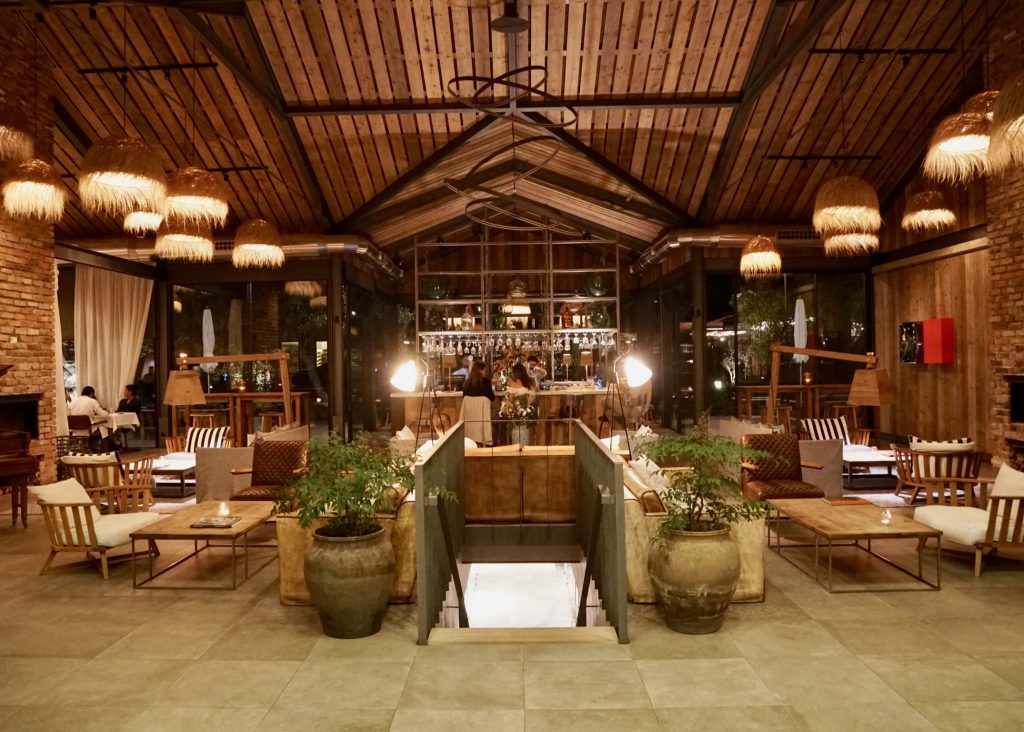 Rooms, Suites and Villas
There are a variety of accommodations at Sublime, from bedrooms and suites in the Main House to the newly opened bio pool suites to the cabana-style villas. All a decorated in a minimalist/contemporary Scandinavian design aesthetic (think exposed wooden beams, whitewashed wood). It is all understated by incredibly chic.
In the Main House, there are 23 guest bedrooms (these can vary greatly in size) and nine  suites.
The bio pool suites with terraces built on stilts over a swimmable biological pool are the newest accommodations to open this year. These are positioned in the best location on the entire property, in my opinion, as they are close to virtually every activity but far enough away that you do not hear any noise from the neighboring road.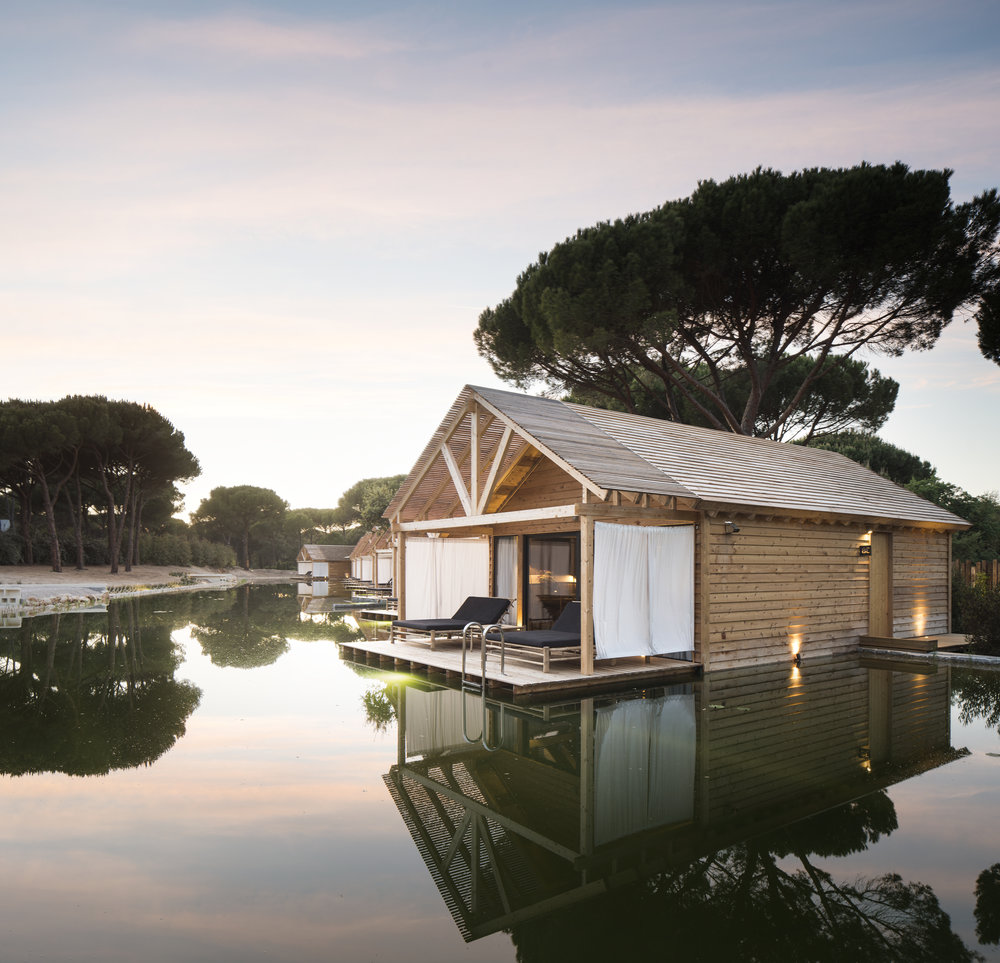 The 22 2 to 5-bedroom cabana-style villas are spread around the resort. We stayed in a 2-Bedroom Villa, Sublime Villa 22, which was located close to the front entrance of the property. The Villas have decks, a small private pool, fully equipped kitchen, living room which separates the two bedrooms each with its own bathroom and a powder room. In addition, villas provide and indoor and outdoor fireplace.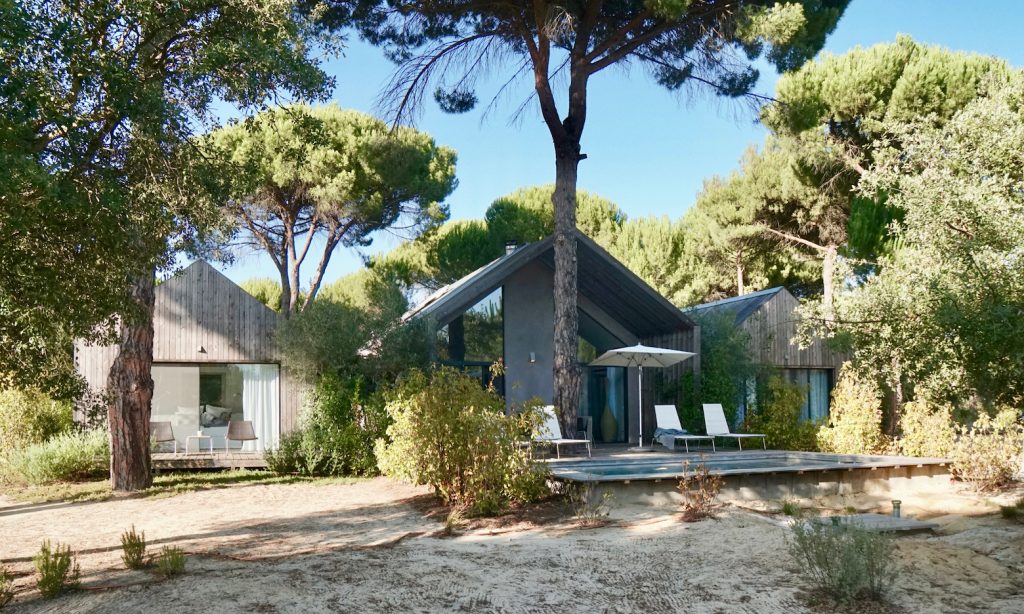 Our favorite feature of the villas was the huge bathrooms with stand-alone tubs, heated floors and amenities from the local Portuguese beauty brand, Claus Porto. Additionally, the beds were gloriously comfortable with wonderfully sumptuous bedding and linens.
Spa
The spa, with 3 treatment rooms, sauna, steam bath and heated indoor pool is located downstairs in the main building. Asmall but very well-equipped gym sits adjacent to it with windows providing views of the property.  A new yoga room and paddle tennis court was in completion.
I was impressed by the extensive massage therapies as well as by the locally sourced organic body scrubs (many coming from their own garden), body wraps, facials, and couples massages and rituals available. There are gentlemen's massages and facials also available which I think is a nice touch.
Restaurants/Bars
There are three main restaurants at Sublime. Many of the ingredients on the menus are sourced from their on-site garden and orchard (fruits, vegetables, herbs, spices, plants).
Sem Porta with Balinese vibes is the main restaurant adjacent to the lobby bar and serves excellent food looking into the open glass-encased kitchen. Sem Porta also serves a delicious breakfast in the morning, including a buffetof freshly baked pastries and cakes, fruit and a range of hot dishes.
Tasca da comporta is Sublime's tapas-style restaurant located in front of the pool area (where there is also an outdoor pool bar. They also have an afternoon gelateria which is a hit with the guests.
Food Circle is Sublime's outdoor organic restaurant in the middle of its garden and a private private space only available for up to 12 people to eat around the counter. All the food is locally sourced and its predicated on sustainable cooking (open fire concept).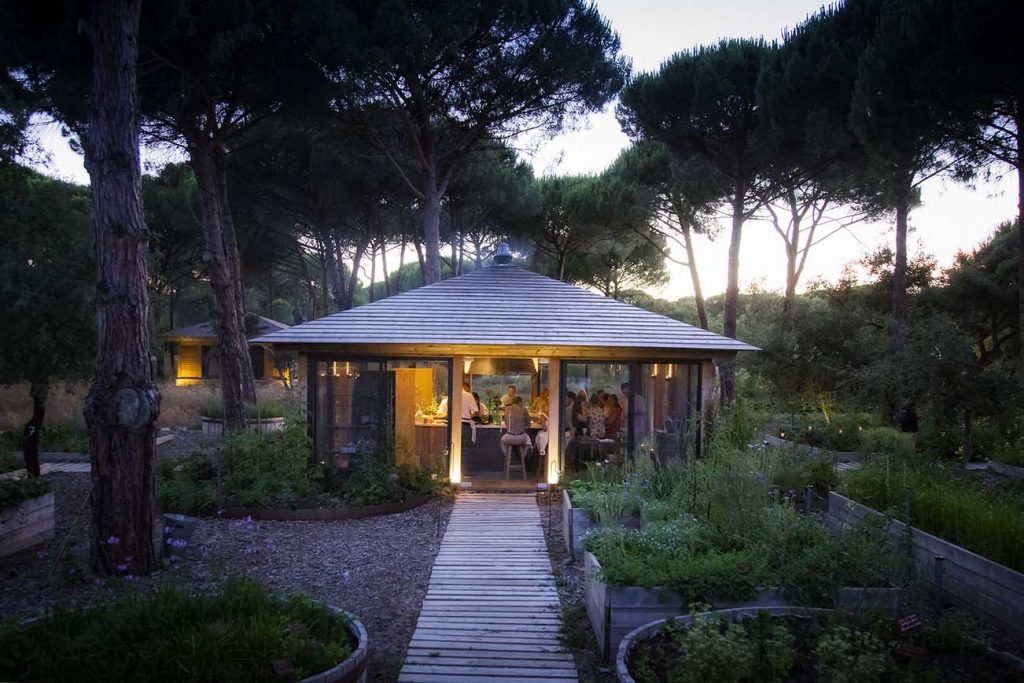 ACTIVITIES
Sublime is more about 'slow living' than loading yourself with activity after activity. This is a place to relax and charge, enjoy the natural beauty of the countryside and pristine white sand beaches (10 minutes away), enjoy fine food and local wines. With that said, there is horseback riding, local excursions, biking, wine tasting activities and of course, the spa. It is a great place to stop in between Sao Lourenco do Barrocal and Lisbon, as we did.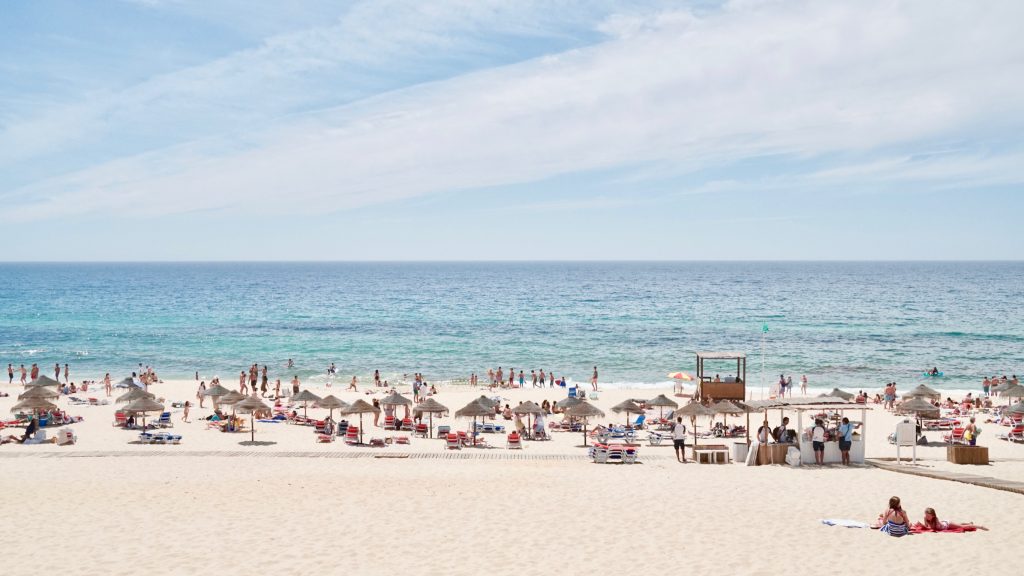 In Comporta, it's all about the three beaches, all 10-15 minutes drive from Sublime Comporta: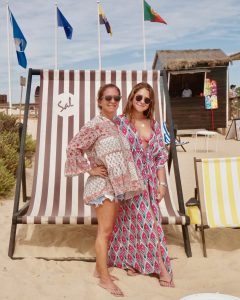 Pria do Pego.  The most popular and home to Sal Restaurant – a do not miss for lunch. This is Comporta's version of the beach club (the restaurant also operates the beach chairs). The crowd is sophisticated, the food is great and fresh (the fish practically swim to your table).
Adjacent to the restaurant on the beach is SOUL BAR ( which owns Sal) which at 4:00 pm, the DJ starts spinning the tunes. There is a snack bar/bar for ice cream pops and alcohol. The whole experience is sublime and not to be missed.  You must make reservations to eat here in advance.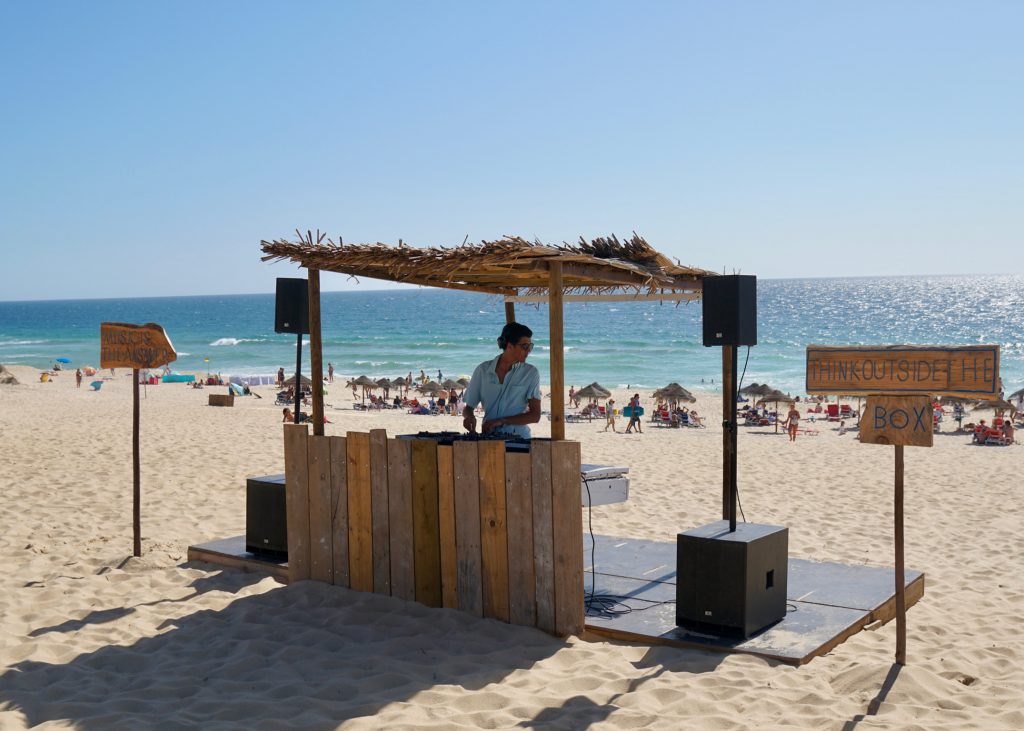 Comporta. More laid back and home to Comporta Cafe (My husband's favorite). They also operate the beach chairs on Comporta beach.  A more boho-chic vibe prevails here, more laid-back and less glitzy (and less expensive). The food is delicious.
Carvalhal.  The quietest beach of the three and home to Dinis.  This beach is also very close to the cute town of Carvalhal. This is the only beach restaurant not requiring reservations.
Out and About In Comporta: Where to Eat and Shop in Comporta

Recommended places to eat: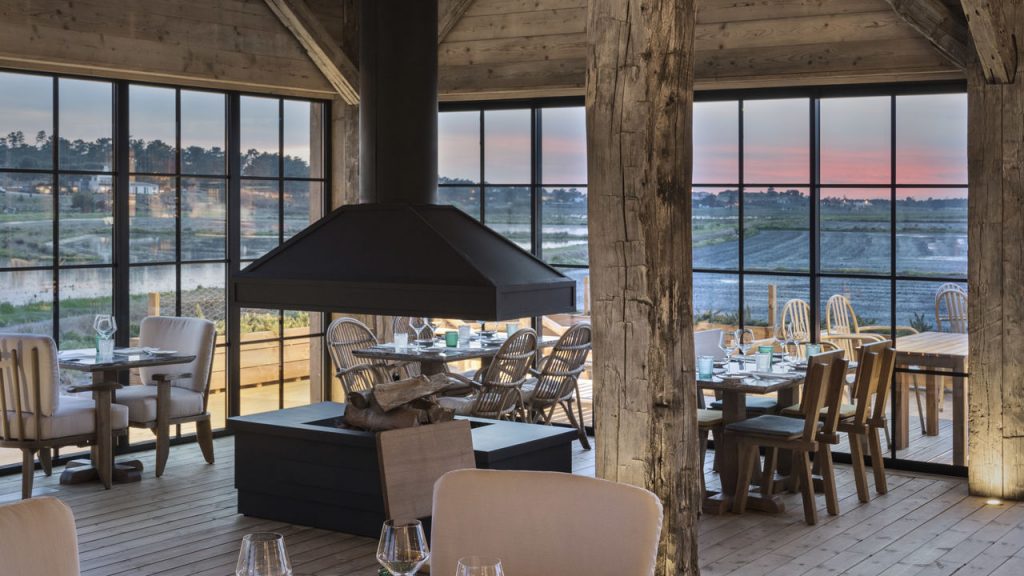 Quinta da Comporta 
Dinner and drinks at the new hotel. An absolute must.
Ilha do Arroz 
On Pria Comporta next to Comporta cafe. Go for dinner. Fresh fish, Ibiza vibe (It can get windy).
Cavalariça
Expat Brazilian who went to Dalton has settled in Comporta and opened this restaurant in town. Sophisticated farm to table fare in a converted horse stable. Delicious and low key sophisticated cool.
Dona bia
Very local food on the side of the road. All of Comporta goes here.   The food is great and it is very casual.
Museu do Arroz 
Sal burger ( when you get tired of all the fish)
Colmar Bar is the original focal gathering point in the town center of Comporta where you can go for breakfast or late afternoon juices, smoothies or cocktails.
Jacaré is thenew Italian restaurant also in the center of town serving great pizzas in fun atmosphere with cool music.
Stores worth checking out:
Barracuda Home 
Loja do Museo do Arroz ( concept store)
Rice ( concept store)
Stork Club ( design and home )
Lavanda ( home and fashion )
Summer Market at the Casa da Cultura. All under one roof featuring a cornucopia of clothing, pottery, leather goods, swimwear, wood pieces all by local up and coming and established Portuguese designers. There's an art gallery, a bar and a pizza restaurant too. We loved this place (open only in summer).
Mercado Gomez. It's hands down the coolest local food, wine and artisanal crafts store I have ever frequented. All in a very compact space with surly service which makes it that much more quirky and charming. A completely unique experience not to be missed.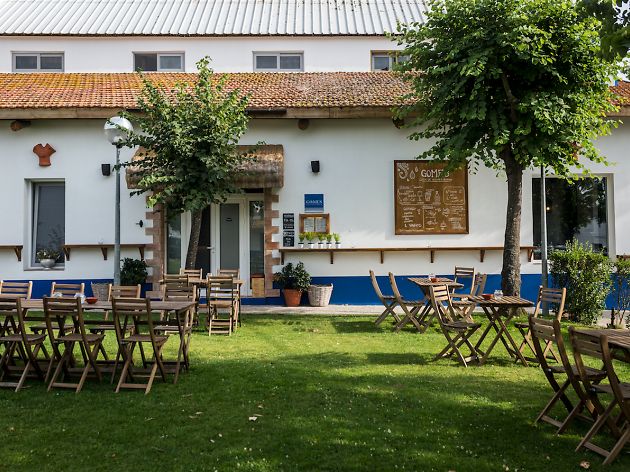 Review by Editorial Contributor Romi Howard. Photos by Jeff Howard (subject to copyright; not for distribution)and Sublime Comporta/Querido. 
Loved
Didn't Love

The vibe. The sophisticated clientele frequenting this place makes you feel like you are at a cool oasis for those in the know but it is not in any way snobby or pretentious. You just want to hang out here.

The fire pit centrally located near the adult pool is a wonderful spot to hang out at after dinner to enjoy the endless views of the stars. We loved ending the evening here after our dinners – me with a glass of Portuguese red in hand, my husband with a cigar. 

The bathrooms in our villa were fantastic! They were huge with separated stand-alone tubs and heated floors. Our bed was gloriously comfy with wonderfully sumptuous bedding and linens
I loved Sem Porta restaurant. The food is delicious, I loved the open-glass concept of the kitchen and the Balinese vibe.

The bar in the Main House. It is impressive and the layout of the space is just right. They got it right.

The whole sustainability concept of Sublime (the hotel is 100% autonomous in respect to both drinking water and watering and a composting plant onsite transforms organic waste). As a result to their commitment to the preservation of the surrounding land, and the footprint generated on the current property, Sublime will not expand.  The vibe of this sustainability permeates the property.

While we loved our villa, I would have preferred one closer to the Main House. Ours was a bit too far from the Main House and too close to the main road outside the property for our taste as we could hear cars driving by. We had to request a staff member to drive us in a golf cart to and from our villa which was a hindrance.
Housekeeping was a bit inconsistent and sometimes forgot turn down service.
This is my second time at Sublime. It seems there are a lot more families with younger children now, particularly babies and tots. Maybe it is a bit more noticeable now that I am with my older teenage children.

Don't Miss
Skip

Horse riding on the sand dunes
Dinner at least once at the Food Club
Spending time at the beaches!

Rooms to Get
Tips

The new bio-pool suites are beautiful and perfectly situated within walking distance to everything but quiet and away from the road.
The Cabana Villas have spacious bathrooms, decks and indoor/outdoor fireplaces. These are ideal for families.

Sublime is ideal as stop in between or before/after Lisbon and Sao Lourenco Do Barrocal.
Sublime Comporta
BENEFITS OF BOOKING WITH INVIATO:
Upgrade on arrival, subject to availability
Full Breakfast daily for up to two in-room guests, in restaurant
$100 Spa Credit, per room, once during stay to be used on a signature or aromatherapy massage
Early check-in/late check-out, subject to availability
Complimentary Wi-Fi
Personalized assistance and VIP check-in
Book This Hotel
Why book Virtuoso?
Personalized travel assistance
24/7 online booking
Special rates & exclusive offers
Guaranteed Room upgrade*
Complimentary full American breakfast
Early check-in, Late check-out*
Exclusive on-site amenities (varies by hotel)
* based on availability on time of arrival