It's a blessing when you can find a hotel in a city that you travel often that leaves you so content, that you have no desire to check out any other place. I recently discovered it in Rome at the Rocco Forte property, Hotel De Russie.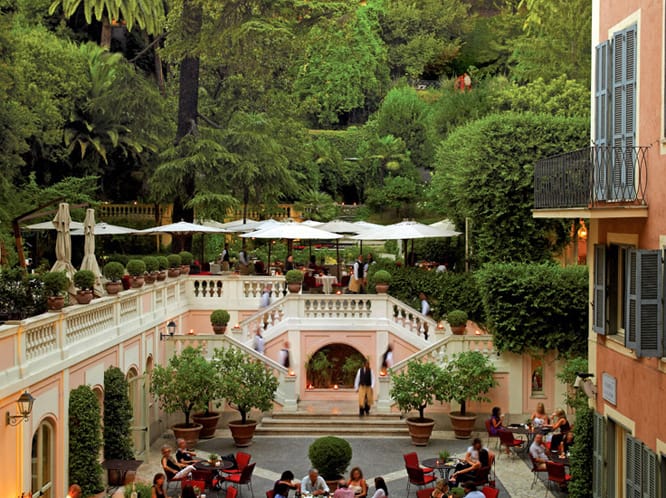 What We Loved
Hotel de Russie has everything a gal could want for a Roman Holiday:
The location: Close to the Spanish Steps and great shops but far enough from chaos.
The service: Exemplary.
The accommodations: Modern, spacious and comfortable.
The setting: The gorgeous, terraced garden for cocktails or dining (a good sceney vibe) is enough reason to come here.
The ambiance: Hotel de Russie is just the right size with 122 rooms. Intimate but with many of the five star amenities missing from boutique hotels.
Oh and the concierge passed our test by directing us to non-touristy but wonderful restaurants (check out the modern pizzeria/café  Gusto for lunch and Da Bolognese around the corner for dinner – don't let them put you in the back as the front patio and rooms are where all the people-watching is).
What We Didn't Love
The stale croissants at breakfast. While it was complimentary (the bill indicated two orange juices and croissants and coffee was $70!), it was inedible. What makes the croissants in France so incredible that the Italians can't copy? France took over Alitalia, and sells their oak barrels to the Italians for aging of their wine…croissants needs to be next!
ROOM TO GET at Hotel De Russie
Suite #606. We were fortunate to be upgraded to the Presidential Suite from a standard room (we told them in advance it was our anniversary) which has an immense terrace overlooking Piazza del Popolo. Seek it out!
DON'T MISS
A drink in the patio of the Stravinskij bar after a day of sightseeing and shopping or after dinner. True, the prices are beyond obnoxious but you get yummy nuts and olives with them and it makes for the best people-watching!
If you want to venture outside of the hotel for drinks, definitely hit Il Palazzatto, a wine bar and restaurant tucked under the Spanish Steps – we didn't have the time to go but you can tell from the crowd it was "the place" to be for drinks.  The Hotel Hassler has a rooftop bar for wonderful views as well.
For the shoppers out there, Gente on the Via  Del Babuino (same street as hotel) is a fabulous find with trendy clothes (think of an Italian version of Kirna Zabete. Its male counterpart is across the street). And stop at Danielle on Via Frattina for a great assortment of reasonably priced, hand-made and chic sandals.
SKIP 
Do Not Drive into Rome! (repeat this several times until it is imprinted in your mind). Not only is it congested, but it's very confusing (Hertz Rental car drivers take heed – the GPS is the WORST). We went down one-way streets (the wrong way, of course), almost drove into a crowded café, and hit every corner of the Spanish Steps except the one we needed.
After two hours of this, we happily abandoned our car at the front of the hotel for Hertz to pick it up (a $200 surcharge as I now review my Amex bill but we learned our lesson).
Hotel De RusSIE: The Last Word
Divine.
Hotel De Russie
When you book Hotel De Russie with Inviato you receive: 
• Upgrade on arrival, subject to availability
• Continental breakfast daily, for up to two in room guests
• $85 EUR Food & Beverage credit, once during stay
• Early check-in/late check-out, subject to availability
• Complimentary Wi-Fi
Book This Hotel
Why book Virtuoso?
Personalized travel assistance
24/7 online booking
Special rates & exclusive offers
Guaranteed Room upgrade*
Complimentary full American breakfast
Early check-in, Late check-out*
Exclusive on-site amenities (varies by hotel)
* based on availability on time of arrival
Related Reviews