For our family trip to Hawaii in December, we wanted to experience another island after our experience on the Big Island. Oahu felt like the right choice with plenty of outdoor activities, beaches, and Pearl Harbor.  We chose to stay at the newly opened 371-room luxury hotel, Four Seasons Oahu at Ko Olina, Four Season's fifth Hawaiian resort. It was not a difficult choice.
Of course, I was eager to check out any new hotel opening anyway, especially a Four Seasons property. But frankly there were also very few other luxury properties on the island (most are located on the Waikiki strip) that appealed.  Many seemed tired (confirmed by friends and colleagues who have stayed there) and in need of a major face-lift.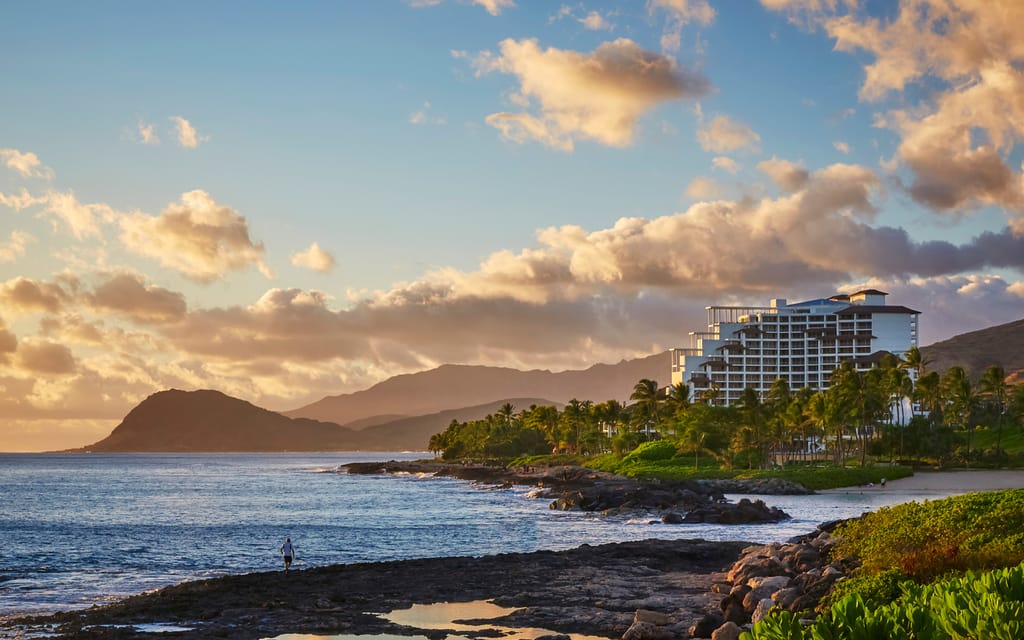 Our experience with the Four Seasons Oahu had a bit of a rocky start before we even arrived. Anyone going away during festive season knows how essential it is to book your restaurant reservations, treatments and activities beforehand or you risk missing out when you arrive.  My experience dealing with the concierge staff over e-mail to secure appointments was surprisingly an endless source of frustration. Too many different people at the Concierge got involved in seemingly easy reservations, providing inconsistent information and sometimes not responding at all.
It would be unfair for any place to be compared immediately after the Four Seasons Hualalai, where we stayed before arriving at the Four Seasons Oahu. But as a Four Seasons resort, and new one at that, we still had high expectations.  Visually, it was a shock to our senses coming from a serene oasis to this more urban style beach resort. The resort is more condensed than the sprawling Hualalai compound and felt very crowded in comparison (although granted it was the height of the Festive Season), especially as it shares a small man-made lagoon beach with the Disney Aulani resort. The hotel is housed in a former JW Marriott property and not a new edifice. While everything felt new and looked shiny as it should be after an 18 month renovation, the shell of the former 17 floor hotel is the same (see more below on location).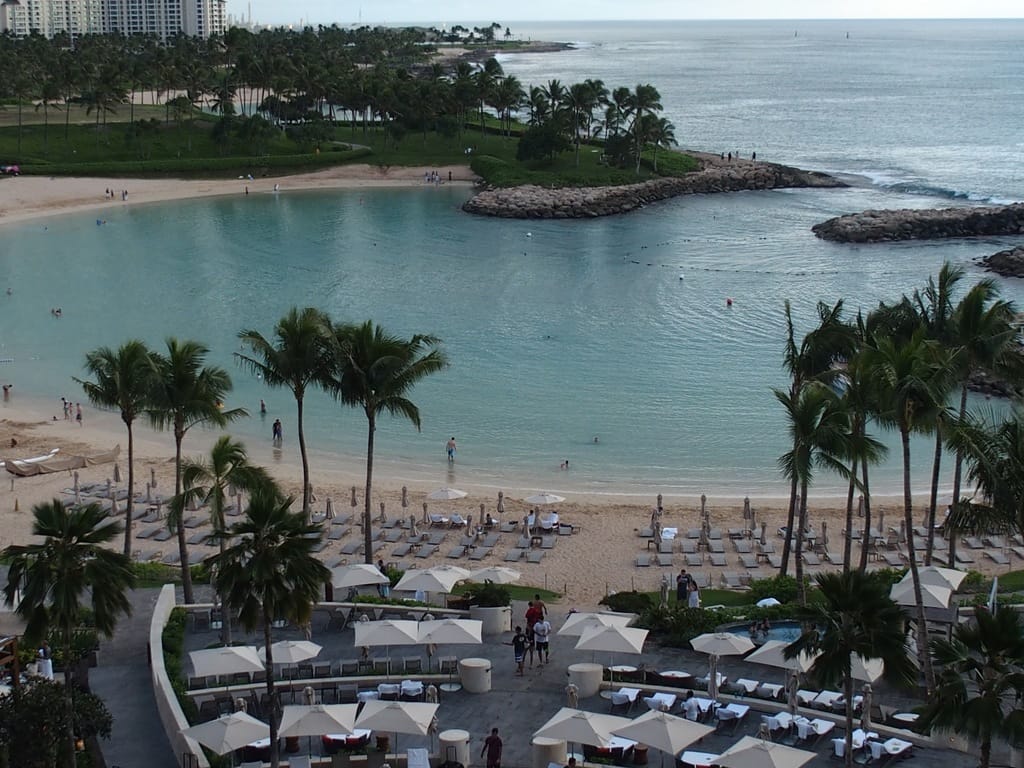 During our week-long stay, we were very pleased with the overall service and dining options at the hotel as well as the comfort and spaciousness of our rooms. Unfortunately, as we planned to spend most of our week in Oahu exploring the island and its beautiful beaches, the location of the hotel was not ideal.
Location
While we wanted a location away from the Waikiki hotel 'strip', we found the location of the Four Seasons Oahu too simply too far (everything is about a 40-60 minute drive) to spend the week as we spent much of our time in the car driving to and from the places we wanted to explore. The remote location also discouraged us from checking out other restaurants we wanted to try on the island for dinner.
The biggest negative for me about the location is the actual property. The main beach is a man-made lagoon inlet offering a very small sand beach. The fact that it is shared (the inlet is actually roped off and divided in half between properties) by the Disney Aulani property next to it was a huge damper in my opinion. I knew the hotel was next door, but was not prepared for how close it was (it is conveniently not mentioned or photographed on the website or materials). The massive Aulani (819 rooms – more than twice the size of the FS Oahu) and its crowded beach is just such an eyesore, that it ruins any chance of having a typical 'Four Seasons' experience here.
Although the Four Seasons does the best it can do with a less than ideal situation and it is a beautiful resort otherwise, the small beach was just overwhelmed during this holiday time between Four Seasons guests, Disney Aulani guests and public visitors for us to bother lounging on it. The best location for anything resembling an exotic island setting here is on the West side of resort.
Amenities/Activities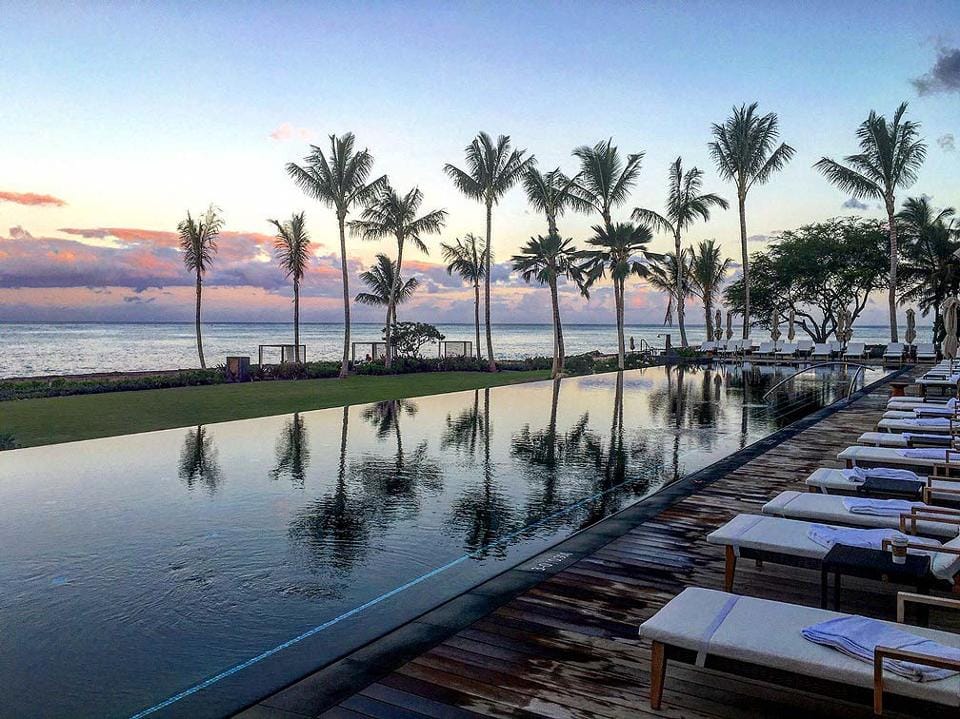 Like Hualalai, there was an abundant number of on-property amenities and activities but in a much more condensed setting. I was told that the Jim Courier Tennis Centre, offering 5 tennis courts on the 6th floor rooftop of an adjoining building, is by far the best facility on the island. It certainly made my husband very happy and should be enough to attract anyone looking to play while they are on the island They were still refining the center during our stay as it could get windy.
Paddle-boarding, snorkeling and other activities are also offered on the property which you can do on the lagoon, although it appeared very crowded most times. There are other lagoons and a marina (by shuttle) on the property but we did not get to visit them.
You will find four pools on the property: a lap pool at the Spa, a small family pool near the beach and an adult pool tucked away on the West side of the hotel. The adult pool was by far the prettiest and most serene option – a disappointment that we could not use it.
The Food
There are four restaurants at the Four Seasons all were remarkably excellent with menus serving delicious, inventive as well as popular choices. I was very impressed given the hotel was open only a few months and this was their first festive season with full occupancy.
La Hiki serves a wonderful breakfast buffet as well as Pan-Asian menu for dinner, serving an array of Chinese, Vietnamese, Japanese and Thai dishes – this is where you can get your sushi fix.  Noe, their Italian restaurant, offers the most serene experience with beautiful indoor/outdoor seating areas and fresh pasta dishes.  Fish House, located off the beach, was our favorite for fresh and inventive seafood dishes (get the Hawaiian Poke sampler). Waterman Bar Grill is a casual outdoor bar that is great for light bites and sunset cocktails (booze soaked popsicles!). All the restaurants had children menus. A taco truck serves up fresh fish tacos on the West lawn during the afternoon.
The Service
Overall the staff, particularly at the restaurants, was very welcoming and hospitable with tons of enthusiasm and energy.  A few areas were in need of polishing, such as pre-arrival assistance through the concierge (a frustrating experience with inconsistent information provided from time to time), housekeeping (inconsistent) and at poolside service.
There were exceptional stand-outs: Joe Witherell with the Concierge staff expertly sorted out all our previous difficulties and Philip Clough, the Resort Manager, who flawlessly oversaw the opening of resort and was ever-present during the Festive Season.
The Rooms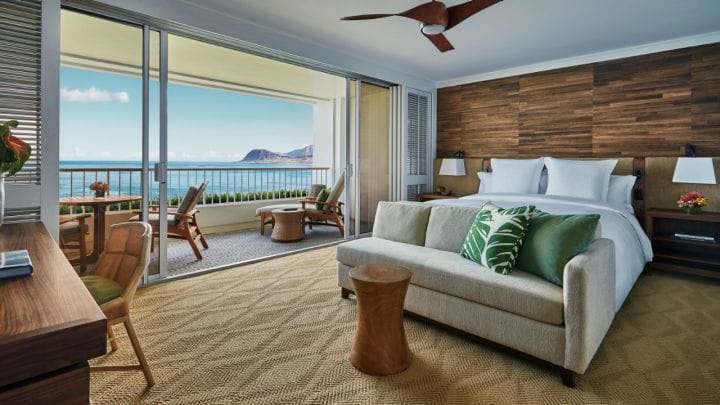 For our family, we chose connecting Ocean Front King to King rooms, shared by a common vestibule. Our hotel rooms were new, modern and very spacious. Oddly, while there was plenty of closet space in both rooms, the rooms lacked adequate drawer storage (one of the porters told us they were still waiting for storage).
As the Disney Aulani property, a massive eyesore of resort in my opinion, is on the East Side of the property, I would ask for an ocean-facing room on the West side of the resort.
TAKEAWAY
The new Four Seasons Oahu is the newest and most luxurious property by far on island of Oahu right now and has raised the bar for some other properties that are a bit tired and in need of a renovation to catch up.
However, the hotel felt atypical to me than many other Four Seasons properties I have been too – less a resort and more of an urban hotel like those high-rises you might find on South Beach in Miami. The service, restaurants, rooms and in some cases, amenities are all 5- star but in a 4-star location and building.  It is still on its own a very attractive resort and as long as you know what to expect, I would recommend it highly for 3-4 nights if you are lucky enough to be in Oahu.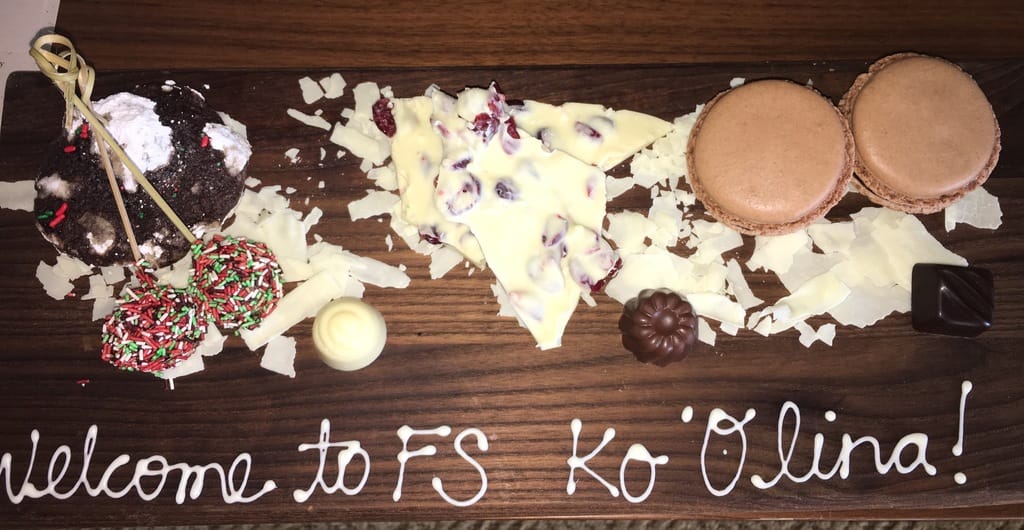 What To Do in Oahu
There is no shortage of things to do in Oahu – beaches, hikes, whale watching, zip lining and more. Here were our favorites:
Waimea Valley on the North Shore in Haleiwa, a 2-000 acre rain forest including botanical gardens, waterfalls, hiking trails and sacred native Hawaiian burial caves, shrines and temples. There are hikes for all abilities. We went here before going to Kualoa Ranch but you can also do on way to North Shore.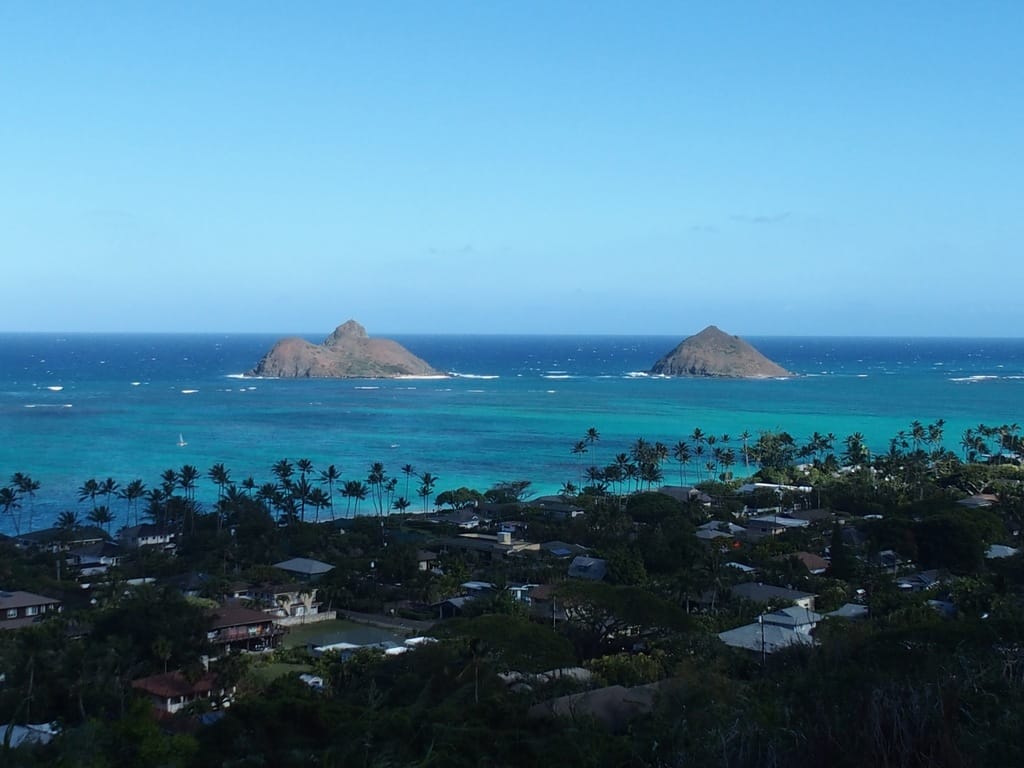 Lanikai Pillboxes Trail in Kailua – a easy/moderate 1.6 mile hike that is great for families.  It's a 20-30 minute climb to get to the first military pillbox bunker but you only need to hike up about 10 minutes to get your first selfie or family shot with a stunning backdrop of the shore and islands. It can be steep and muddy in some areas.  We liked this hike also because it was so convenient to the gorgeous Lanikai beach and restaurants in Kailua (go for breakfast at Cinnamon's or Boots and Kimo's before you hike). Friends have said Diamond Head is also a wonderful hike but that is much farther from the resort.
North Shore. Our favorite time in Oahu was on the North Shore. Pick a beach, you can't go wrong – Sunset Beach, Banzai Pipeline or Waimea Bay, the sites of some of the best surfing in the world, sometimes with 40-50 foot waves, and just watch the surfers do their stuff.  Than after having worked up appetite watching (or perhaps surfing yourselves), head for the famous North Shore food trucks. The trucks are all in one spot on Kamehameha Highway: Giovanni's for shrimp, Elephant Truck for Thai were the ones we recommend. Stop in the town of Haleiwa to browse the cool boutiques and the site of Matsumoto's Shaved Ice. On your way back, get a drink and catch the sunset at Turtle Bay Resort (Forgetting Sarah Marshall was filmed here) at the Point.  Or go to Banzai Sushi in Haleiwa for what is considered the best sushi on the island. 
Pearl Harbor – It goes without saying and worth the time at least to see USS Memorial (get tickets in advance for this memorial or you won't get in due to strict daily quotas). You could easily spend a full day here. It was very moving. See Tips below.
Kualoa Ranch – a 4,000 acre private nature reserve and working cattle ranch as well as popular film location for movies and TV shows such as Lost, Jurassic Park and Jurassic World, Godzilla, Pearl Harbor, 50 First Dates, the Brady Sequel and so many more. You can do ATV tours here (as Michelle Obama and the girls did the day before we arrived), zip line, horseback riding or a film location tour. We had a lot of fun on our private tour (even though we were the only family who hadn't seen most of the movies!).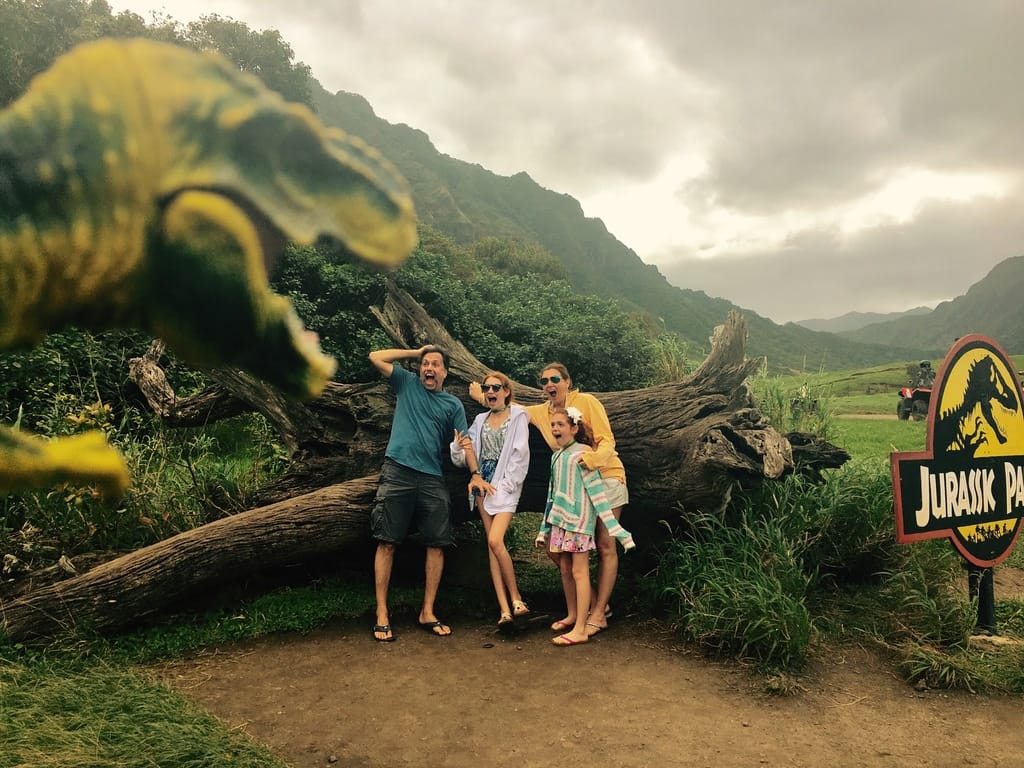 Restaurants in Oahu
There are seriously a ton of great dining options in Oahu – from Honolulu to Kailua to the North Shore.
Monkey Pod – is across the street from the resort and very popular for residents in the Ko Olina community, Four Seasons and Aulalani guests. Worth going  to this family-friendly restaurant with fun, good menu at least once when you are at the resort for a change of scenery. We sat next to Adam Sandler, a guest at the resort, both times we were there.
Cinnamons in Kailua is a popular breakfast spot known for its guava chiffon and red velvet pancakes along with other breakfast fare. Go early or risk a 45-minute wait or more as we did.
Boots and Kimo's in Kailua, around the corner from Cinnamons, is another popular option for breakfast. They are known for its Banana Mac Nut Pancakes.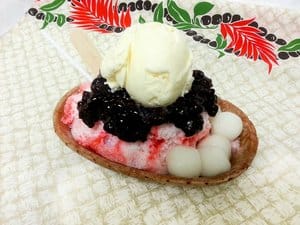 While you are waiting in line for either of the above, there are a few cute boutiques worth checking out on Hekili Street in Kailua: Guava Shop (clothes) and Island Bungalow (home furnishings) are both beachy-chic boutiques next to each other. Aloha Beach Club nearby is a cool men's clothing boutique that conveniently also serves crushed ice.
Matsumoto's Shaved Ice – A hugely popular family shop serving shaved ice (ask for ice cream on bottom, condensed milk on top for a complete sugar fest) since 1951, is always packed. Tons of exotic flavors and colors to choose from but the Hawaiian (a 3-flavor tropical fruit combo) is the most popular. Have someone stand in line so you can explore boutiques in like North Shore Surf Shop which has great creative tees and sweatshirts
Banzai Sushi – Sushi with a Hawaiian twist is the style at this Japanese fusion restaurant in Haleiwa on the North Shore (and the only sushi restaurant on the North Shore). Get the ahi carpaccio, Kobe beef gyoza. Fish is caught fresh daily.
Leonard's Bakery in Honolulu or Agnes Portugese Bake Shop in Kailua for world-famous Malasadas (a Portuguese, creme-filled doughnut). Call before going to make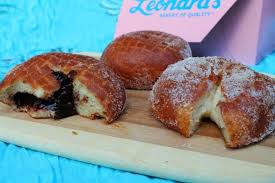 sure they are open and go early!. We went to Agnes only to find they ran out already for the day!
Pig & The Lady – for lunch or dinner in Honolulu's Chinatown (ideal after a visit to Pearl Harbor). Communal dining Vietnamese fare. It was closed during Christmas Day when we tried to go but our friends highly recommended. Instead, we found a wonderful restaurant nearby Lucky Belly that served amazing Ramen noodle dishes.
House without a Key at the Halekulani hotel – No reservations but go before sunset and sit outside and eat to live band daily. Very popular.
Loved
Didn't Love

The staff at the restaurants were extremely attentive and friendly with lots of energy and enthusiasm. 1/3 of the staff comes from from other Four Seasons and the remainder are local to keep guests experience as authentic as possible.
The food at every on-property restaurant was excellent, with many different options to choose from – Italian, Asian Fusion etc. The breakfast buffets were as good as, if not better than that at Hualalai. I'm still dreaming of those Poke bowls.
The rooms are spacious, new and modern with large flat screen TCs (more drawer space is needed though).
The resort is compact but packs a lot in – tennis, spa, fitness center, restaurants and several pools.
The adult infinity pool tucked away on the West side of the resort is beautiful and serene with a large lawn.
Similar to the Hualalai,the spa was beautiful and the boutiques offered a wide array of great beach wear.
There were plenty of activities offered such as yoga, tennis clinics, beach sports and kids activities during festive season.

Pre-planning through the concierge staff was an incredibly frustrating and time-wasting experience for us. Perhaps this was because the staff was new and it their first festive season but my experience did not leave a good first impression. Too many hands on one itinerary with differing views or not following up.
Housekeeping was sporadic. Twice during our stay, our rooms were not serviced.
The beach itself – a man-made lagoon shared with the Disney Aulani resort, was a disappointment. Too small and too packed with chairs and people. As you share the inlet (literally separated by a rope) with the Disney hotel, it can be very loud.
The remote location of the resort, for me, was a disadvantage. While I liked it was not part of the commercial Waikiki strip, everything was a minimal 40-60 minutes from the resort so going out to dinner was prohibitive. The Disney resort next to us was an eyesore.
Service at the poolside needed more training. Once I left my chaise for 5 minutes to come back to one of the staff gathering all my things to give it to another guest. The mad rush for chairs during festive season was exactly what I didn't want for this trip.
The lobby felt cold and corporate to me, atypical from some of the other Four Season properties – with too many 'trunk shows' in the evenings. Just not my cup of tea.

Don't Miss
Skip

A visit to

Pearl Harbor

when on the island. Book a private guide through the hotel concierge online (ours was ok, ask for a guide who is experienced) or contact

Keawe Adventures

directly (a private tour is a minimum of 3 hours and starts at $160/hour depending on the number of people in your party and time of year). I recommend getting there by 9 a.m. as the traffic can be heavy from the hotel to Pearl Harbor and the crowds can be long to the USS Memorial and others (note you need to buy a separate ticket for the USS Memorial. Leave your bags in the car as they will otherwise be required to be stored in the lockers which is an incredibly long wait to both drop off and pick up).
Exploring the North Shore – our favorite part of our entire Hawaii trip. Hanging out on the beaches watching the surfers ride the waves, tasting all the amazing bites at the food trucks, visiting the surf town of Haleiwa for shaved ice and just taking in the surf culture here is parallel to none.
A stop at

Kualoa Ranch

– a 4,000 acre sanctuary and cattle ranch that offers many activities and is the set location for many films and TV shows you will know. It is worth coming here on your way to the North Coast or as a trip in itself to do one of the tours. If you are a Jurassic Park buff, the movie tour is quite fun. But many come here to do the ATV (as Michele Obama did with the girls the day before we arrived), horse back riding or zip lining activities.
Visiting the many beaches all over Oahu. They are all public and will blow you away.
Hiking on Lanikai Pillbox or other trails. Ask the concierge for a list of any of the hiking trails on the island.
Whale watching when it is in season. As we didn't want to go on the large party whale cruises and did not want to pay the exorbitant fees for a private catamaran, we hired a private charter with

Tradewinds

 to take us out (3 hours for $495) but, as they were not in touch with whale sighting boats, we only saw one during our time out on the water. Regardless, its an amazing way to spend half a day seeing the island from a new vantage point.
The sunsets from the adult pool side of the resort. Make your way carefully on the lava rocks with a cocktail in hand.
Trying shaved Ices, malasadas, street food and poke – Hawaiian local fare everyone must taste once while in Oahu. See our list above for places.

If you want to spend time on a tropical secluded beach, rent a jeep and go off property. The beach here is small on a man-made lagoon inlet and crowded with lounge chairs.

Rooms to Get
Tips

Ocean-front rooms and suites are the way to go, offering the best views. If you do Ocean-view rooms, request the West side of resort or you risk facing the the Disney Aulani resort, which is an eye-sore.

Rent a jeep Wrangler for a few days and explore the island – it is less expensive and more convenient to do this through the hotel, where there are Enterprise rental cars available on property and you will not have to pay overnight valet fees.
The most efficient and least expensive way to get to/from the Honolulu airport to the Four Seasons is through Charley's Taxi (a flat $55 each way) rather than a private car (starting at $320 each way).
Four Seasons Oahu at Ko Olina
Virtuoso Amenities at Four Seasons Oahu include: 
• Upgrade at time of arrival, subject to availability
• Complimentary continental breakfast for two daily
• $100 USD Spa credit to be utilized during stay
Book This Hotel
Why book Virtuoso?
Personalized travel assistance
24/7 online booking
Special rates & exclusive offers
Guaranteed Room upgrade*
Complimentary full American breakfast
Early check-in, Late check-out*
Exclusive on-site amenities (varies by hotel)
* based on availability on time of arrival