Hotel Review: Beverly Hills Hotel. Our family spring break trip to Los Angeles and San Diego was a few weeks in the making. Nailing down an itinerary each day with the requisite reservations in advance, even though we often diverted from it, was critical to satiate each of my family members needs and get in all the cool restaurants I wanted to try (we learned quickly that L.A. is NOT a late-night dinner town).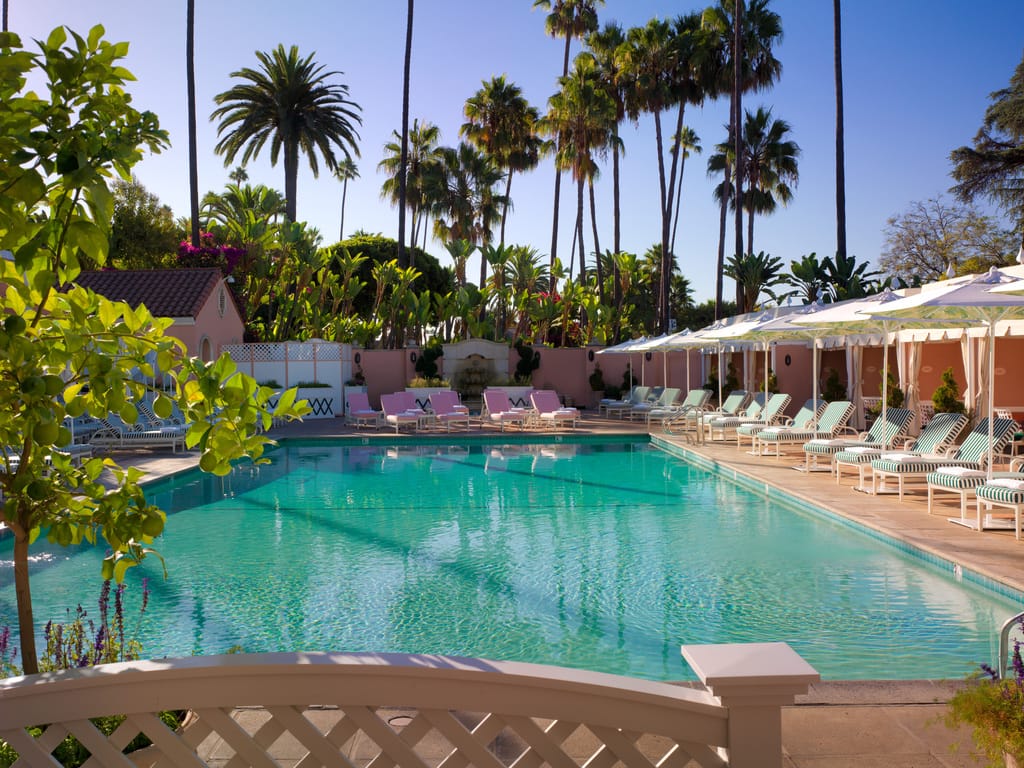 Picking hotels to stay at was another matter. Being in the hospitality business, I wanted to check out so many hotels it was mind-boggling.  But with only one week there, that was impossible. So, I settled on a sampling of the most classic of hotels: the iconic Beverly Hills Hotel in 90210, Shutters on The Beach in Santa Monica and the new Beach Village of the Del Coronado hotel in San Diego.
The worst part of staying at three hotels in one week was the constant packing and unpacking.  But since each hotel had its own distinctive vibe, it was really like being on three mini-vacations and with it the excitement of a new discovery at each leg of the trip. Knowing I was reviewing each of these hotels, my girls (age 5 and 8) loved playing hotel inspectors on their own and comparing notes (spoiler alert: Beverly Hills Hotel was the winner).
First Stop: The Beverly Hills Hotel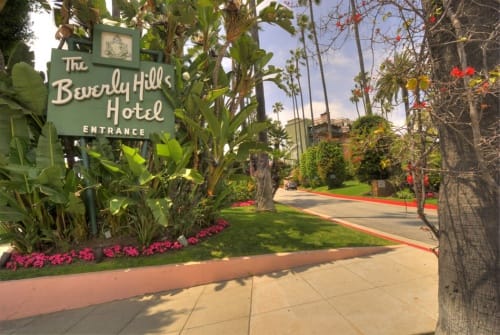 The Beverly Hills Hotel (also known as the Pink Palace) has recently taken a back seat to the fan-fare received by its sister hotel, the Bel-Air, since the latter's post-renovation unveiling a few months ago. Many regulars lament that the renovation has taken away the specialness that was the Bel-Air despite the stunning new guest rooms and spa (see my recent post on the Bel Air renovation). Not having been there prior to or after the renovation, I will abstain from comment.
While I was tempted to stay at the Bel-Air for the first stop of our trip, I was glad we chose the Beverly Hills Hotel (lets call it BHH for the sake of my fingers).  From the moment you enter the palm-studded driveway to the iconic hotel with the pink façade ("ooh" says Justine, my little one), you feel like you are going back in time to old-glamour Hollywood.  After all this was the place of congregation for all the greats – Marilyn Monroe, Frank Sinatra, and Elizabeth Taylor, to name a few.  All we were missing was a hip convertible to make our grand entrance – but being that it was pouring out, our Subaru rental was just fine, thank you.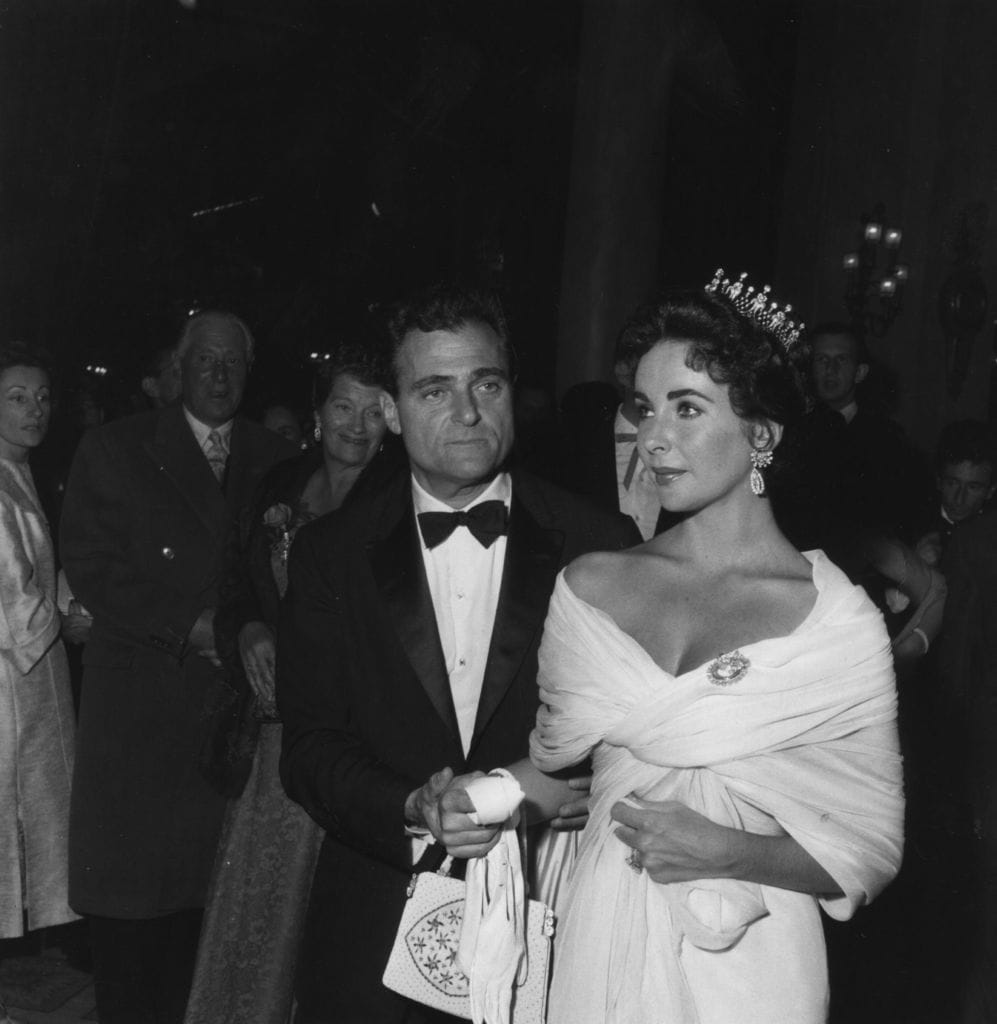 We arrived. Our bags were whisked away so fast and with such precision, we almost forgot we were not celebrities.  We entered the lobby and were each immediately greeted by name.
First Impressions
The children squealed with delight on receiving their own pink 'Special VIP guest' cards at check-in, allowing them free soft drinks at the restaurants in the hotel (GENIUS move). Those pink cards are all it took to sell the girls on the hotel – they felt quite important whipping out their cards everywhere they went during our stay.
The lobby was mixed with an assortment of people conducting business, chilling, or lounging post-celebration of an event at the hotel (the gorgeous banquet rooms are worth checking out), each whipping their heads around to see who was who – who was arriving into the hotel, exiting one of the restaurants, or out of the elevators – in hopes of seeing a star or mogul.  We noticed this pretty much wherever we were in the hotel.  Of course I was equally guilty of it myself. After all, wasn't Jessica Simpson just at the Cabana café just a few days ago according to TMZ?  Isn't this Clive Davis' self-proclaimed second home?
BHH is dripping with history. To commemorate the 100-year milestone of its opening on May 12, 1912, there are glass cases with memorabilia and history of the hotel (now managed by the Dorchester Collection and owned by the Sultan of Brunei) displayed throughout the lobby.
Part of what I found so distinctive about BHH is the décor.  All too often, I see hotel renovations that go wrong. The personality and sense of place is lost to a newer but more generic design scheme.  BHH's signature pink and green palette, circular pink velvet couches in the lobby and iconic banana wallpaper (installed in 1942) throughout the hotel somehow felt refreshing instead of tired (check out April's House Beautiful to see the iconic Hinson palm wallpaper in a contemporary apartment).  Don Draper would have  felt right at home…just as we did. The saying "what is old is new again" definitely applies here
The Beverly Hills Hotel,  incidentally, underwent a massive $250MM renovation 10 years ago and more recently added two new spatial Presidential bungalows on the property (where the tennis courts once stood) that were designed by Lauren Rottet architectural and design firm. These new bungalows, with 5,000 square feet of living space and 5 fireplaces each, are simply incredible (daily rates begin at $13,000 a night). To see some pictures, click here.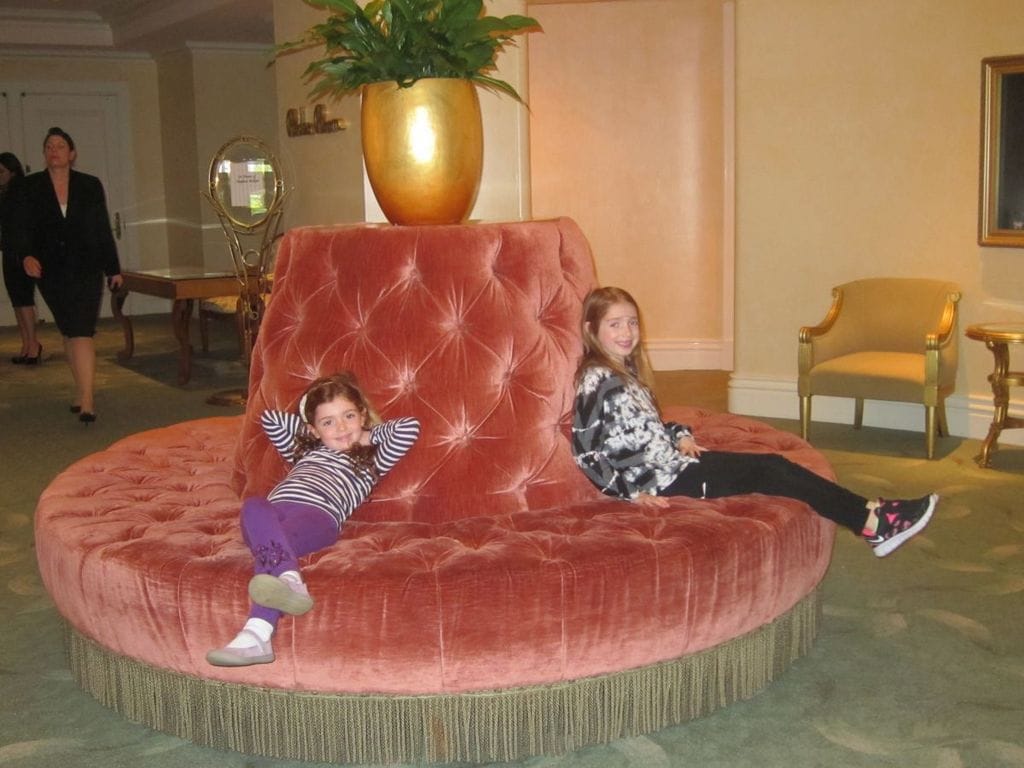 Underway now is a more "gentle" renovation. When we departed the hotel in late March, they were planning to start the renovation the following week with the lobby entrance being moved to the side in order to install new carpeting. More aptly described as a "refresh" than a renovation, expect a new lobby (carpet and furnishings), cabanas and guest rooms.  I was told the iconic banana leaf wallpaper and color palette will not be changed.  I hope that is true.
Our stay was way too short at two days and unfortunately, with the chilly temperatures during our stay, we didn't get to spend much time outdoors to appreciate the grounds or the pool.  Regardless, we all unanimously agreed this was a special place to see and be seen.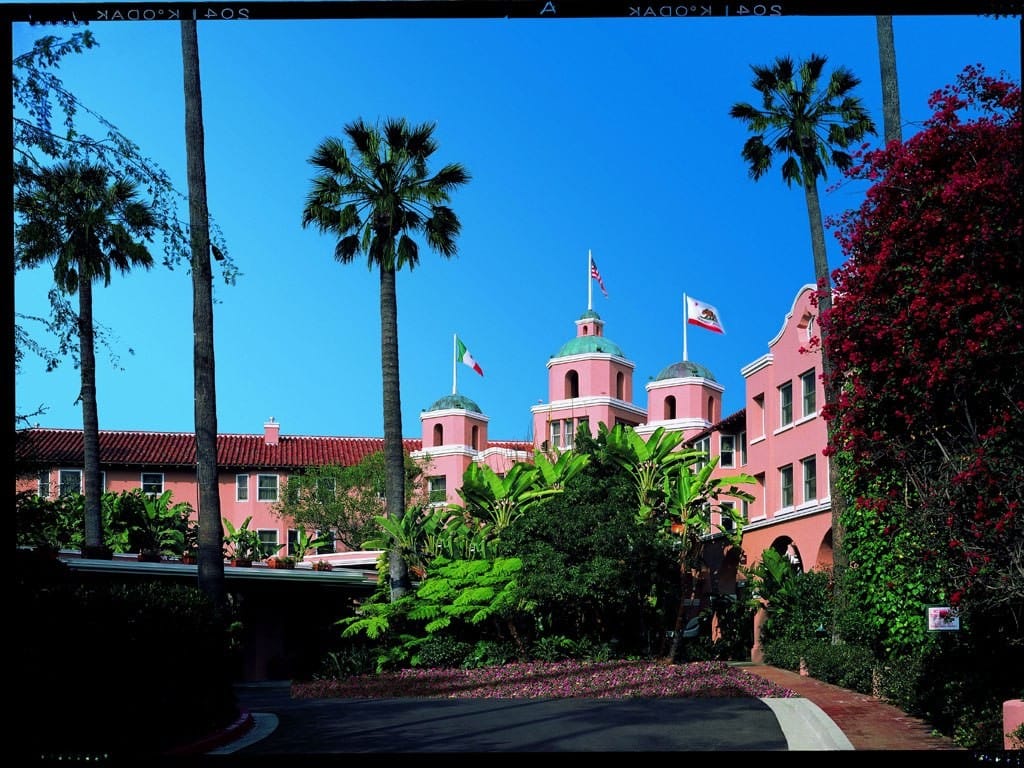 The Facilities
The La Prairie Spa, located near The Fountain Coffee Room, is relatively new at 4 years old but very small. If you are looking for a spa experience, you should opt for the Bel-Air. The gym, housed in former screening room, looked out of place and dark with a lone exerciser on the treadmill.  Better to exercise outdoors on the beautiful grounds and environs of Beverly Hills.
AccommodationS
The hotel is comprised of 165 rooms/suites and 23 Bungalows spread across 12 acres. We stayed in 2 spacious connecting rooms in the hotel, decorated in a pleasing traditional/contemporary style.  This arrangement was an instant hit with the girls who instantly shut their door to our room and ordered room service.  They were in heaven with their newly found independence.
The welcome basket of macaroons, baked cookies and pear juice was a nice change from the usual fruit baskets. We particularly liked the private number the manager handed us with a smile to call "in case we needed to escape the paparazzi".
While the rooms are perfectly accommodating (I inspected a few), the bungalows are really the draw here. Downright luxurious and private, they are scattered throughout the hotel's 12 acres among winding paths of tropical landscaping – making it easy to get lost. (I assume that is the intent).  I was fortunate enough to check out Elizabeth's Taylor's favorite bungalow #22A. Recently renovated, it is complete with padded walls (for extra privacy), piano, double height ceilings and a full kitchen and it can be yours for a paltry $2,800 a ni
The Restaurants:
Hungry after a long flight, we were escorted by the hotel manager straight into the famous Polo Lounge for a late afternoon meal. Everything was fresh and delicious and the service was extremely friendly (we were asked how our stay was three times). The McCarthy chopped salad (named after a polo player not Senator McCarthy as I thought) was prepared at the table. A must-stop if you are staying at the hotel.
The old-style coffee shop, The Fountain Coffee Room, was perfect for breakfast. Make sure to get there early as there are only 19 stools at the counter. They also serve homemade ice creams, malts and shakes for a late afternoon stop.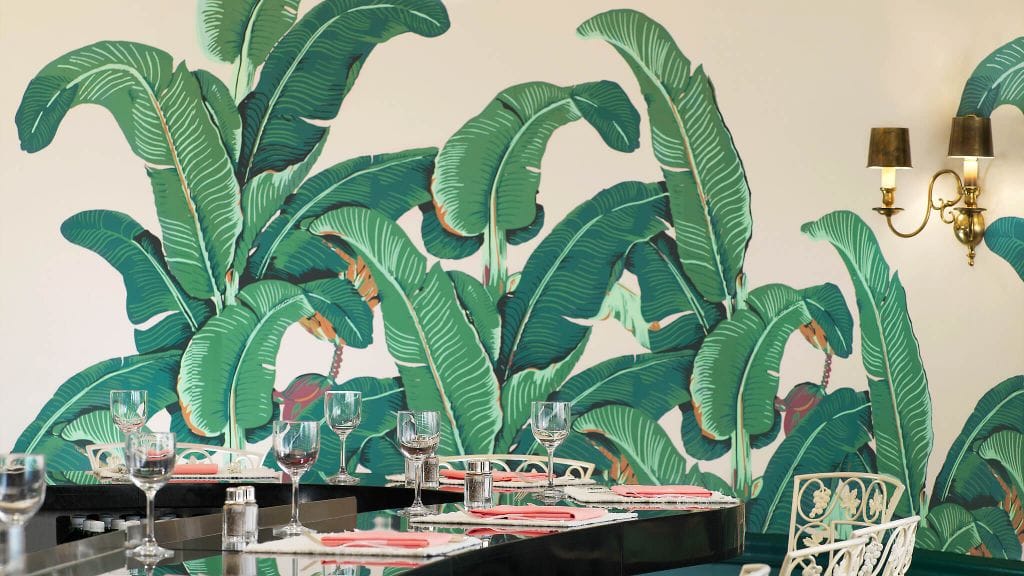 The Cabana Café, located outdoors next to the pool and surrounded by lemon trees, is lovely.  Of course, you can also get your own cabana for $250 a day and dine privately.
Bar Nineteen12, tucked away in the back of the lobby, is a great place for a cocktail pre or post dinner. There is a pretty outdoor terrace overlooking the pool and palms of Beverly Hills. Unfortunately, it was too cold when we were there to sit outside.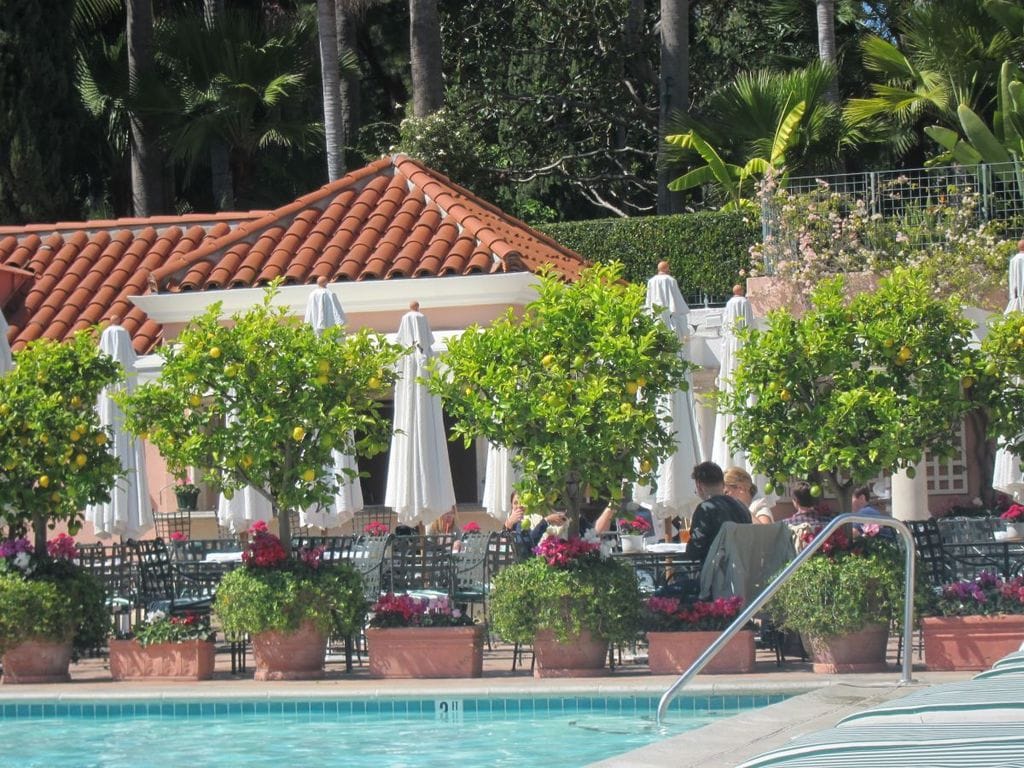 Rooms To Get
If you can afford to splurge, check in to Bungalows #1 and #3 which connect as a house for complete family set up. #23 and #24 are one of the newly designed bungalows and lovely. #22A, Elizabeth Taylor's favorite (I would say so: she honeymooned here with six of her eight husbands), can be yours for $2,800 a night. 
VERDICT
We were obviously smitten by the Beverly Hills Hotel from the minute we stepped out of the car.  It is now a welcome addition to our favorites. We look forward to returning.
Loved
Didn't Love

The throwback to yesteryear décor (right out of Mad Men).
The welcoming attention to children.
Breakfasts at the The Fountain Coffee Shop.
Lounging at the pool surrounded by lemon trees with classical music playing underwater.
Most of all the service: the personalized attention left us feeling like real celebrities!

Even though all rooms are non-smoking, one of our connecting rooms reeked with cigarette smoke ("It happens regardless of our policy" I was told). It was quickly taken care of.
While we were perfectly content with our connecting rooms, I have to say not being in a bungalow after seeing them. One day (sigh).

Don't Miss
Skip

A tasting of the pecan waffles in the The Fountain Coffee Shop and the McCarthy chopped salad at the Polo Lounge.
The hotel gift shop is a little girl's paradise where anything and everything has a BHH logo – the pink striped kids pajamas are to die for.

Rooms to Get
Tips

If you can afford to splurge, check in to Bungalows #1 and #3 which connect as a house for complete family set up.
#23 and #24 are one of the newly designed bungalows and lovely.
#22A, Elizabeth Taylor's favorite (I would say so: she honeymooned here with six of her eight husbands), can be yours for $2,800 a night. 

If you are in town with kids,

Universal Studios

is a must. Get the fast pass tickets. Absolutely worth it. Thank you to my friend Jamie for getting me the tickets!

Skip the large tour companies and opt for a private 3-hour customized tour with Tour De Jour (the concierge will set you up) for tours of the celebrity homes (juicy gossip included), obligatory picture in front of the Hollywood sign and drive-through of all the neighborhoods. My husband was especially pleased to spot a playmate outside the Playboy mansion.

For a special experience with the kids, check out the Little Legends package on the hotel's website – this 2 night package includes a special red carpet arrival for children complete with movie star sunglasses, boa and top hat.

Outside the hotel: Go to

Urth caffé

on Melrose for great coffees, salads and people watching.  Kitson or Robertsons for cool kids stores.
The Beverly Hills Hotel
Book with Inviato Travel and receive these special amenities at The Beverly Hills Hotel:
Upgrade on arrival, subject to availability
Daily $75 breakfast credit for up to two in-room guests per bedroom to be used in The Polo Lounge, Fountain Coffee Room or in-room dining.
$100 USD Spa Services credit to be utilized during stay (Applicable to body and facial treatments only. Not applicable to manicures/pedicures. Excludes gratuity. Not combinable, no cash value if not redeemed in full)
Early check-in/late check-out, subject to availability
Complimentary Wi-Fi
Book This Hotel
Why book Virtuoso?
Personalized travel assistance
24/7 online booking
Special rates & exclusive offers
Guaranteed Room upgrade*
Complimentary full American breakfast
Early check-in, Late check-out*
Exclusive on-site amenities (varies by hotel)
* based on availability on time of arrival