After a short stay in the English countryside at Heckfield Place last May, I was excited to spend two nights back in London, this time acquainting myself with both a newly opened classic hotel and a new neighborhood of London.
Like my visit to the Lutetia Hotel in Paris last April, this would be my first time visiting this iconic property after a full and lengthy head-to-toe renovation, so I had no comparison from a previous visit to draw upon.  The Belmond Cadogan, opened in 1887, re-opened in February 2019 after a head-to-toe four year renovation. As the hotel phased its opening, it still wasn't fully open when I arrived.  The fourth floor, where my room was located, had just opened their rooms to guests. The week after I departed, the hotel had its official full grand opening.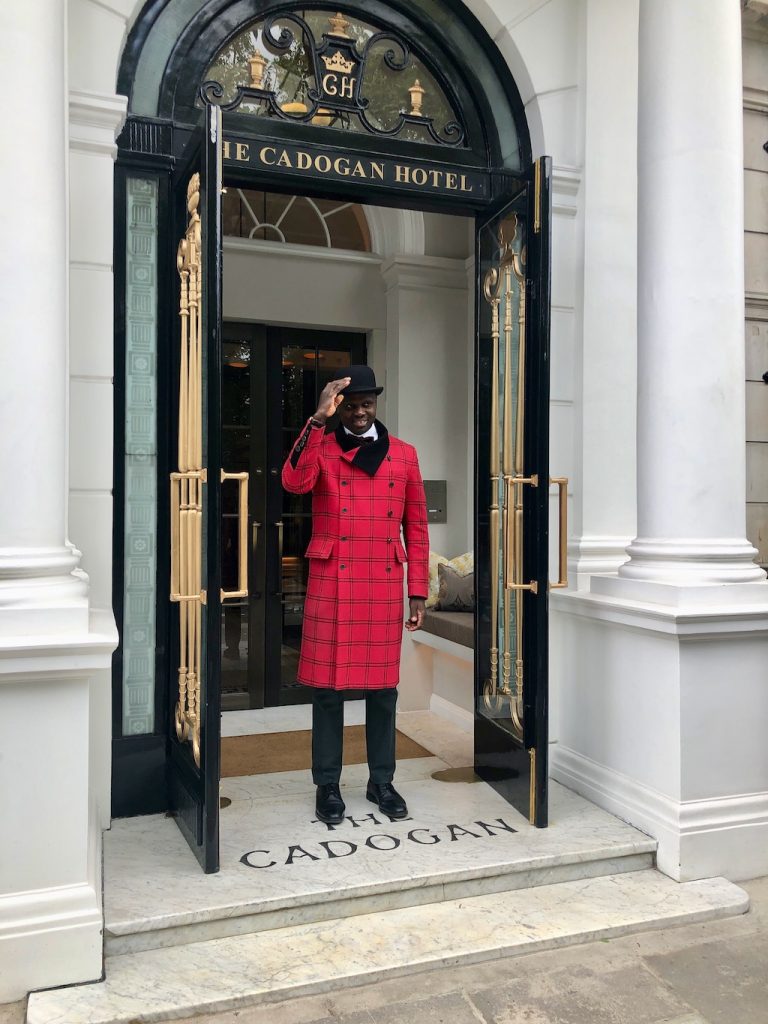 COVD-19 Update: The Belmond Cadogan is currently closed but expecting to open this Summer.
FIRST IMPRESSION
The classic hotel, which is actually housed within five buildings (three Edwardian townhouses, a bank and the old Cadogan hotel), sets a distinct impression upon me the minute I arrived. From the handsomely outfitted attendant decked out in stylish uniforms and bowler hats standing outside the hotel on Sloane Street to the attractive lobby, you know this is a special and unique luxury hotel.  Similar to the Lutetia in Paris, the Belmond Cadogan pays tribute to its past with its historic architecture and heritage while being modern and fresh with the gorgeous restoration and design.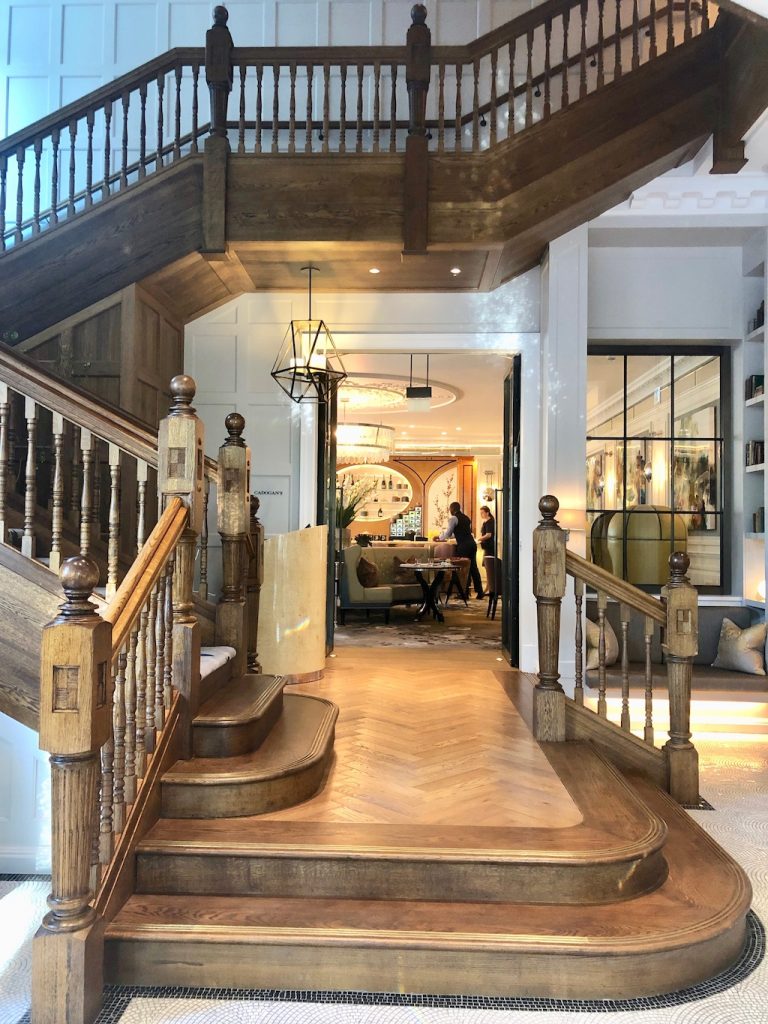 The Belmond Cadogan is a boutique hotel with only 54 rooms and so it is not a grand hotel in the sense of space. Here, it is about the high level of service, substance and impeccable design. I imagine the historic property must have been a fun undertaking for the designer, Russell Sage, whose work can also be seen at the rather new The Fife Arms Hotel in the Scottish highlands.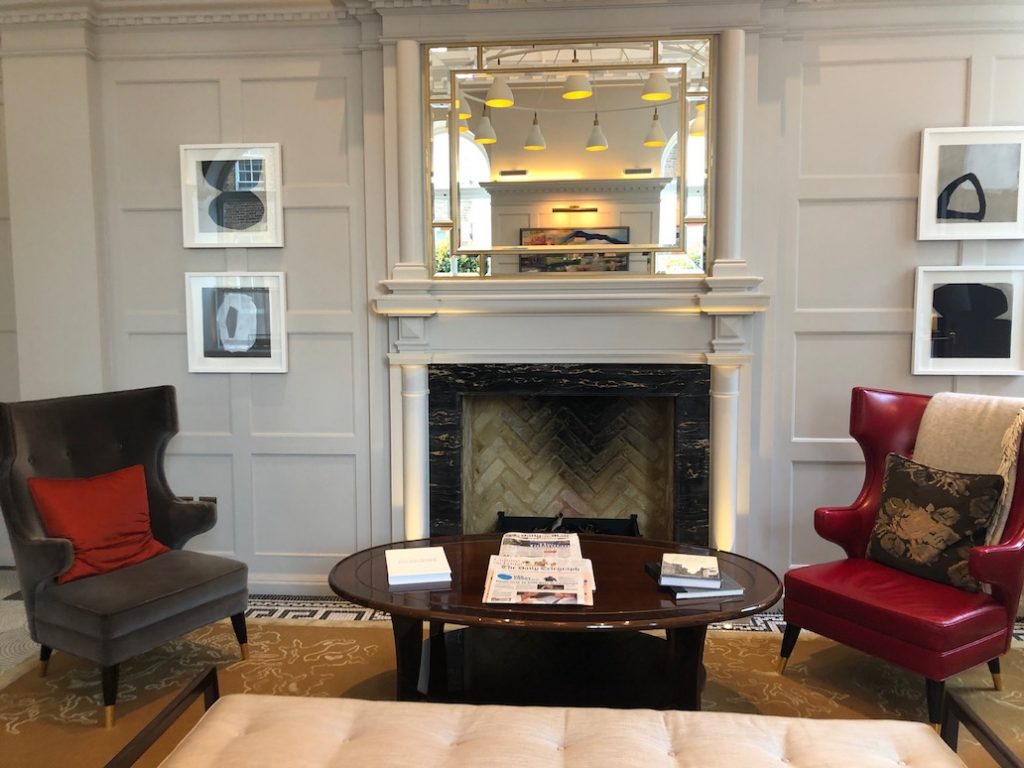 The lobby is intimate and inviting with a white mosaic floor, with individual simple places for check in and for the concierge. I appreciated the original details everywhere which points to the hotel's heritage:  the small sitting area up front with a working fireplace, the handsome original oak staircase and wood panelings and the leather wrapped railings in the elevator, to name a few. Both here and throughout the hotel and rooms, hundreds of pieces of art can be found. I particularly liked the Swarovki-covered peacock Oscar, named after Oscar Wilde who was a frequent guest (Fun fact: he got arrested here in 1895).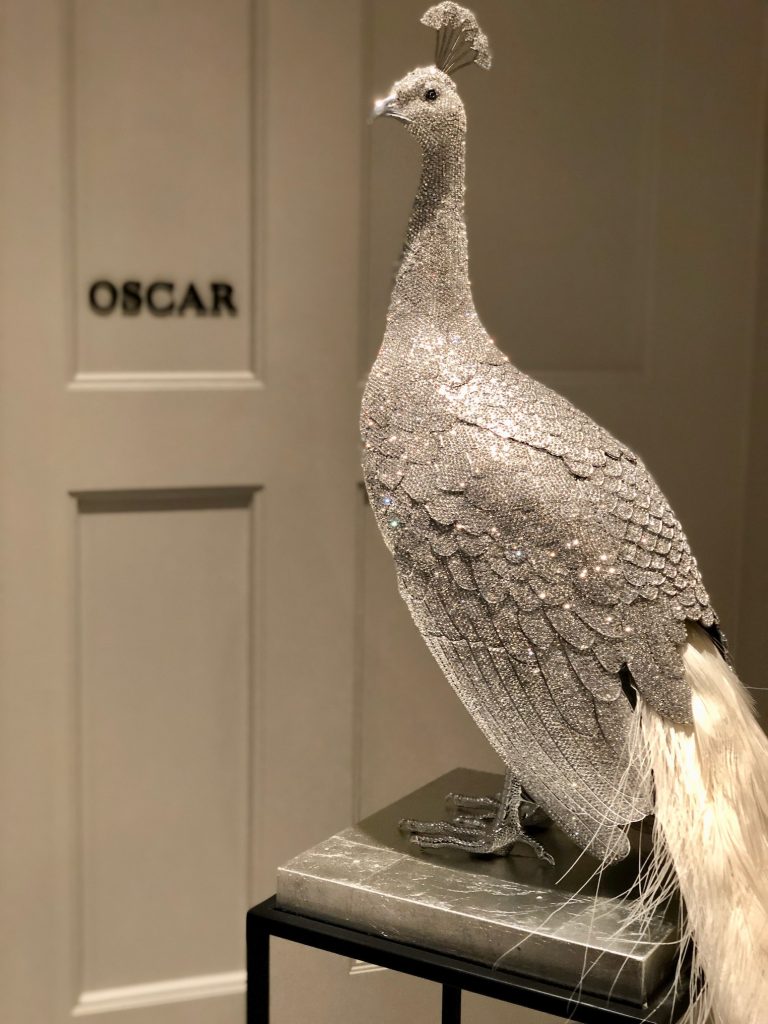 The overall vibe is classily stylish and fresh.
Location
The location of the Belmond Cadogan, sandwiched in between affluent Knightsbridge, elegant Belgravia and artsy Chelsea, was a bit new to me as I was used to staying in Soho. I have to say I absolutely loved this area. It is centrally located within walking distance from Hyde Park, the Victoria & Albert Museum and the Saatchi Gallery. There is amazing shopping to be had around here with both Harvey Nichols and Harrods department stores down the street and artisan boutiques and trendy eateries dot Walton Street and the pedestrian Pavilion Road off of Sloane Square. For teens, it's like striking gold.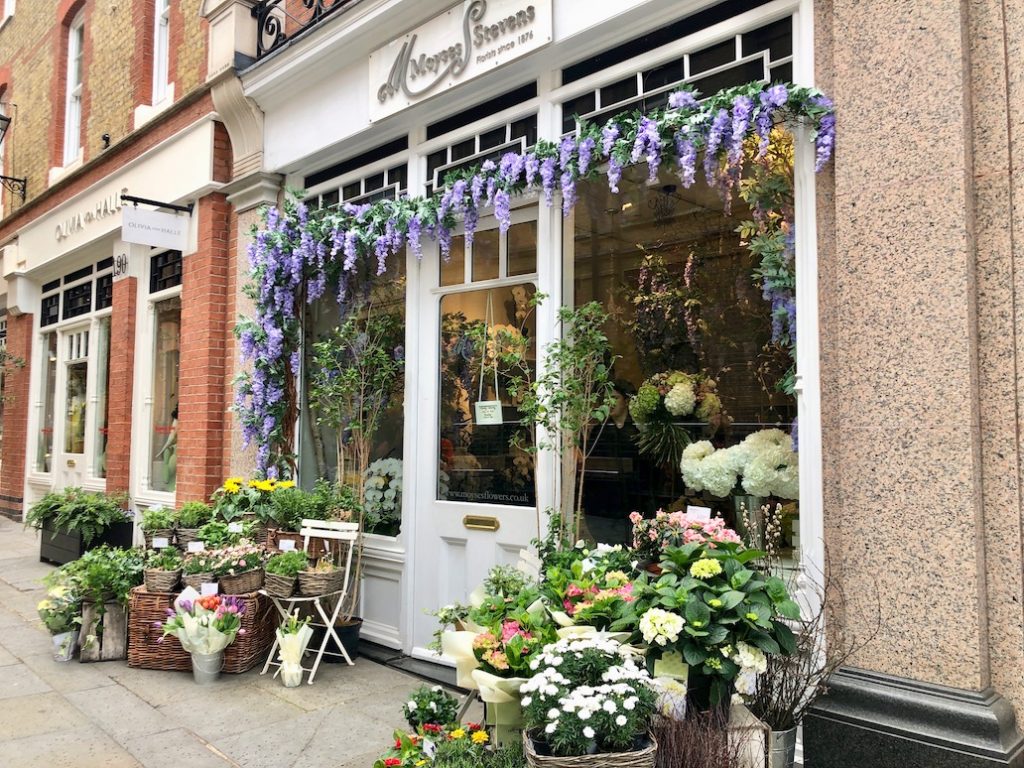 Cadogan Place Gardens, where guests of the hotel  have key access is another big bonus.  It is a beautiful garden and especially nice in Spring when the flowers are in full bloom. There are also tennis courts here!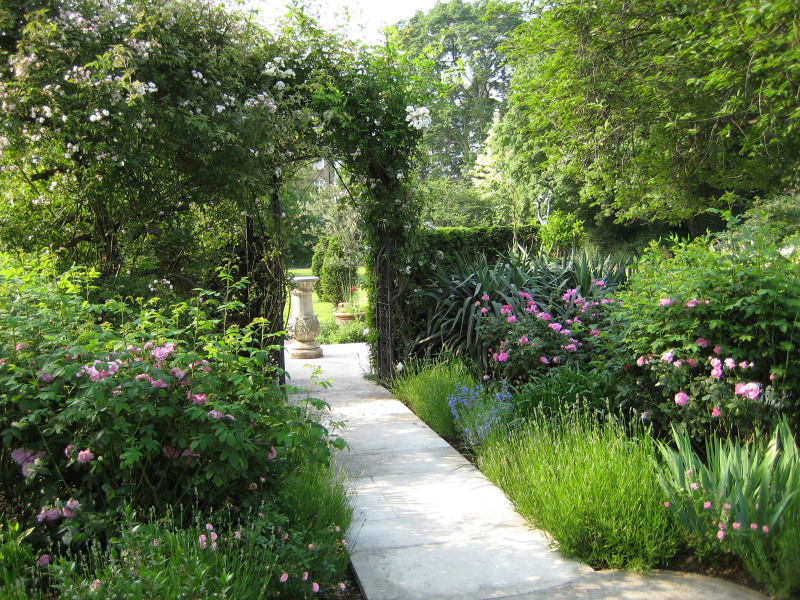 RESTAURANT AND BARS
There are three main areas for drinking and eating at the hotel, all managed by amazing chef, Adam Handling.
The wonderful Tea Salon, Cadogan Tea Lounge, is open for  breakfast and afternoon tea only. I absolutely loved dining here, not just for the delicious hot cooked-to-order breakfast but also for the tea. Everything is exquisitely presented and well thought out in this beautiful space. Even the tea pots come outfitted in bright color knitted covers (made by Adam's mother) to keep the tea extra hot.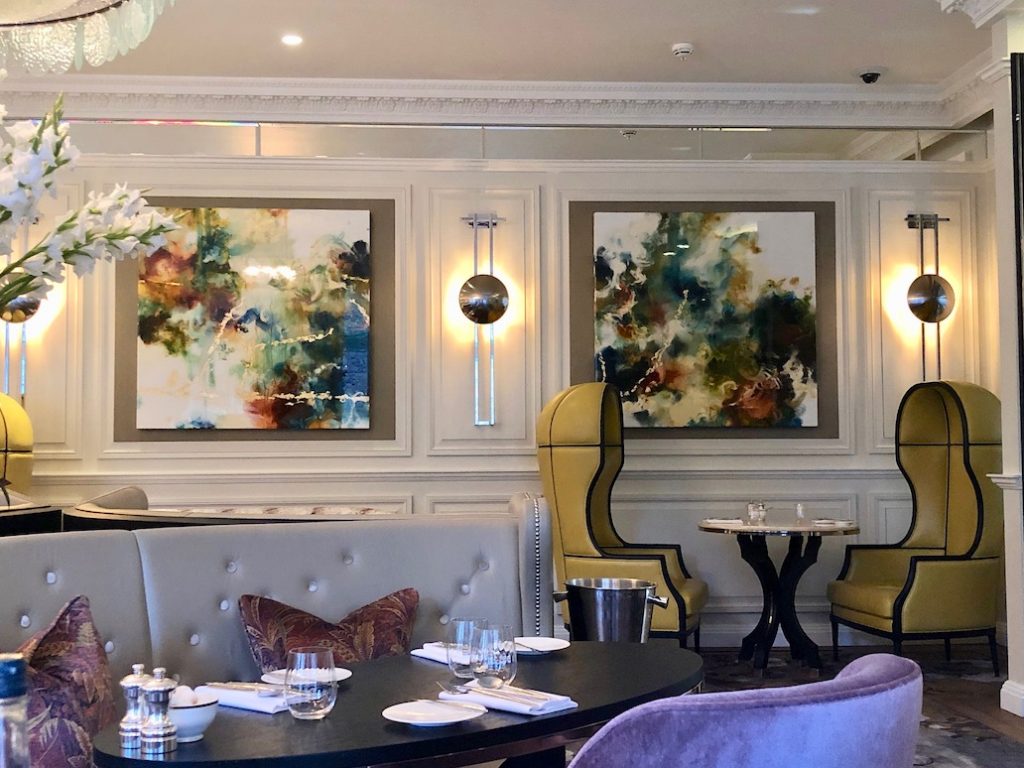 The Bar, as it is named, was another of my favorites. Located in the former Union Bank of England, the space looks out to Sloane Street and is a vibrant and popular spot for both guests and the public. I can confirm the bartenders know how to make a serious martini here.
Finally, the Adam Handling, tucked in back of the hotel, is the hotel's gourmet restaurant for dinner. I only got a quick peek here as they were setting up for dinner. With an open kitchen and stunning architecture in the private space, the restaurant has a unique ambiance that feels exclusive and inviting at the same time.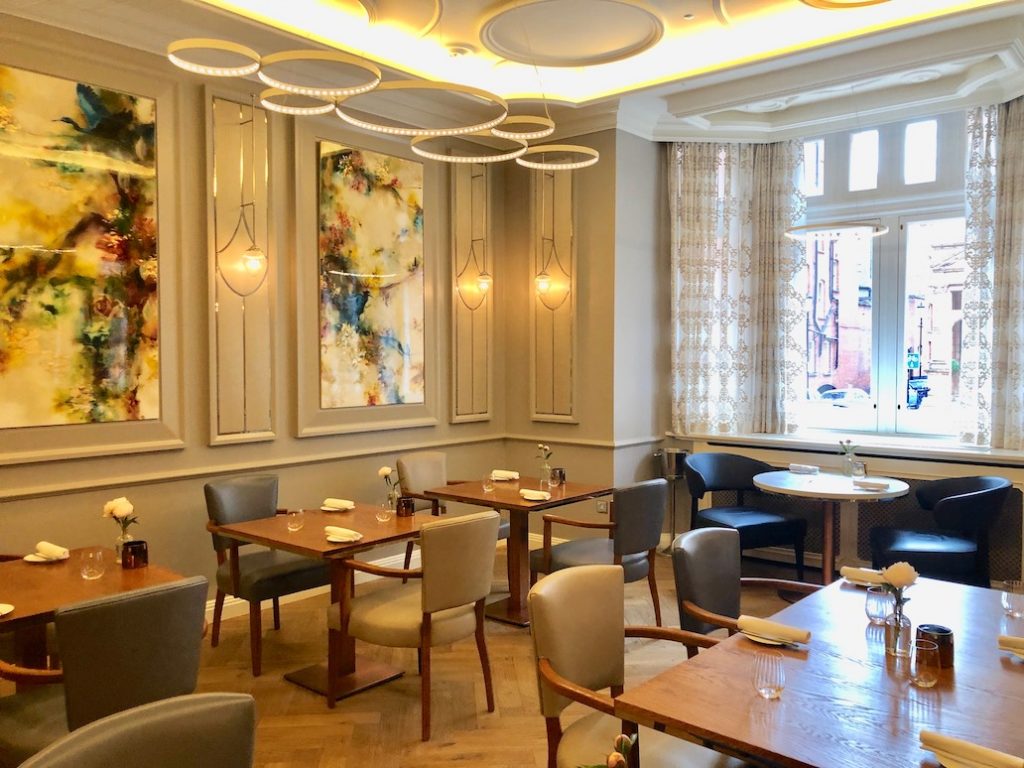 ACCOMMODATIONS
There are 39 suites and 15 rooms at the Belmond Cadogan, spread over four floors, most of them offering interconnecting options and a coveted handful with a working fireplace (ideal in winter!). As all but one room was occupied during my stay so I only was only able to see one of the 14 deluxe junior suites.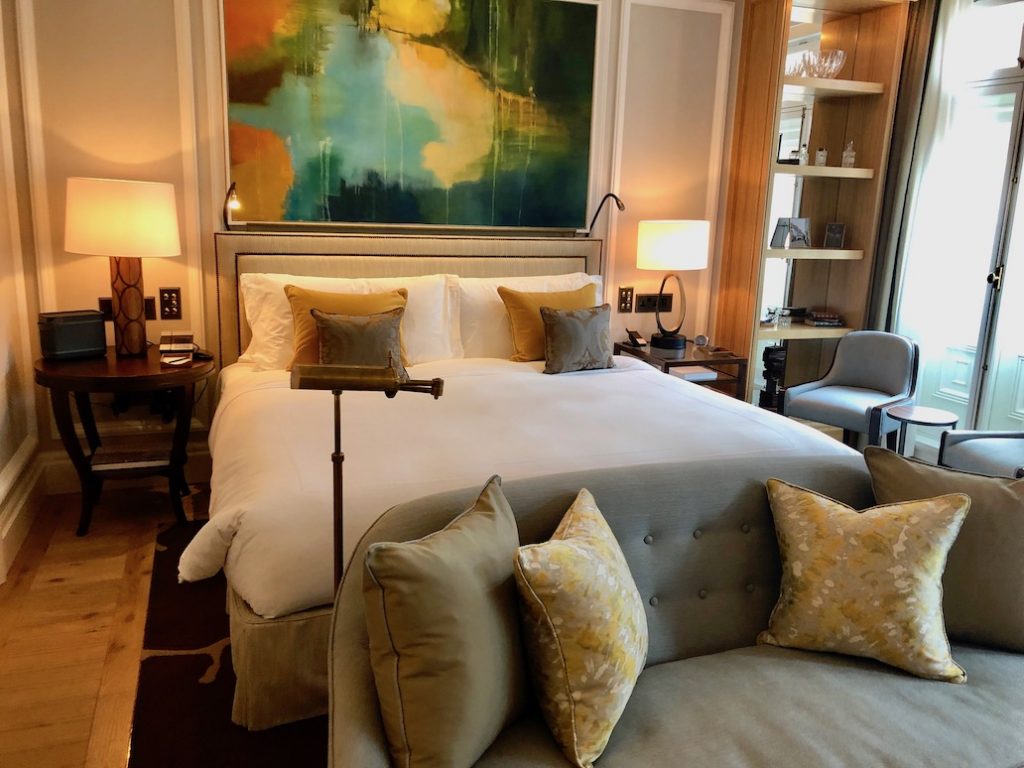 Most all rooms are inter-connecting, making the hotel ideal for families.  Junior Suites here make up most of  rooms (31 with 14 of them deluxe which are most spacious) The rooms and suites are beautifully appointed, combo of British classic design and modern style, with new technology, flat screen TVs, intelligent lighting systems and heated floors. The bathrooms are spacious (loved the heated Toto toilet!) with Bamford amenities. A nice perk is the luxurious slippers that guests are encouraged to take home with them after their stay.
I was quite impressed with the extra wide hallways, something you just don't see very often.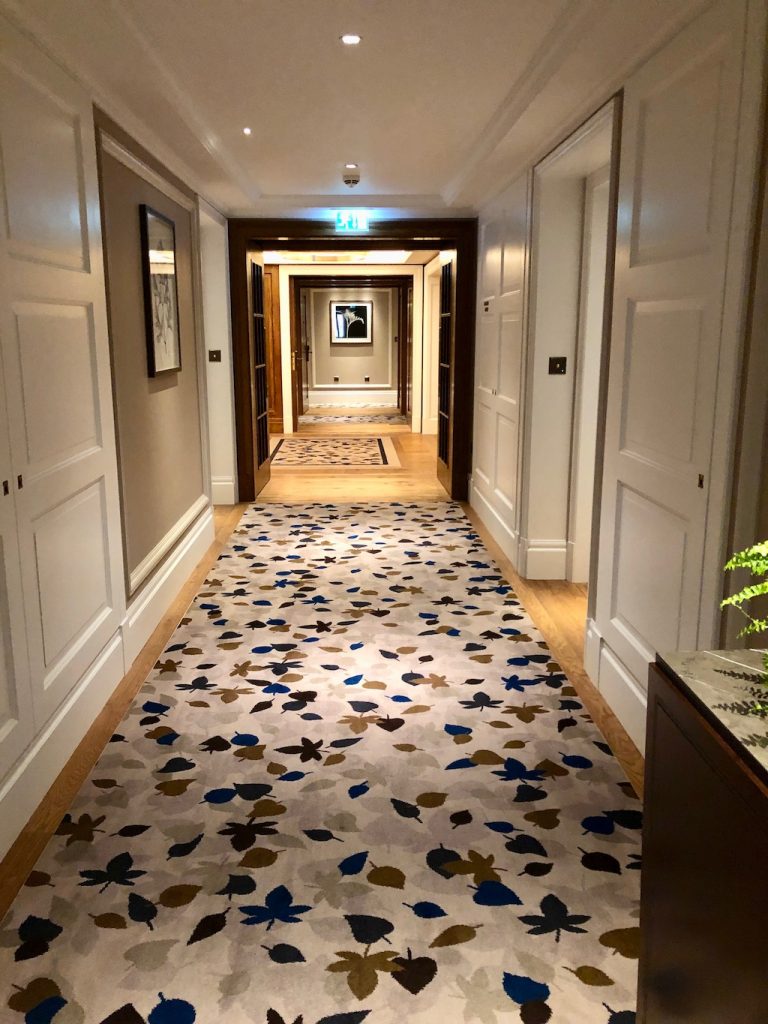 My own room, a Standard room on the 4th floor (#406), was a bit snug at 300 square feet but beautifully decorated. It is fine for a single person but would be too cramped for a couple. On this side and floor of the hotel, windows are smaller so I would recommend the second floor, facing the Cadogan Square Gardens.
Service
All the staff was friendly and attentive. The concierge here (all Clefs d'Or) are miracle workers as they swiftly snagged us coveted reservations at the Chiltern Firehouse and center seats at the sold-out show Betrayal with Tom Hiddleston (love) on a Saturday night.  The team of Tour, Jamie and Daniel all instantly earned my respect and admiration.
THE LAST WORD
The Belmond Cadogan is a sophisticated, quiet and smart luxury boutique hotel in a terrific London location where every guest is treated like a VIP. It is quintessentially British with a nod to the past yet it feels modern and stylish. A new favorite in my repertoire.
Loved
Didn't Love

The central location with access to artsy boutiques, great restaurants and Harvey Nichols.
Private keyed access of Cadogan Gardens
The historic elements intertwined with modernized details that results in a classic but fresh look.
The take home luxurious slippers in my room which I still wear around the house.
The extra-wide guest room hallways.
The tea salon and bar!
The concierge team rocks!

My classic room on the 4th floor felt too confining with small windows.

Don't Miss
Skip

The afternoon tea at the hotel's 

Cadogan Tea Lounge

with brightly knitted sweaters on the teapots and delicious scones.
Take advantage of keyed access to the Cadogan Square Gardens.
Check out the Aussie-based

Granger & Co

a few minutes walk from the hotel. They have the best brunch (try the ricotta pancakes) on 237 Pavilion Road.
If you love independent bookstores,

John Sandoe Books

is among one of my favorites anywhere.  Right off of Sloane Square on 10 Blacklands Terrace, it is crammed to the ceiling with every book imaginable.

Rooms to Get
Tips

The superior are the smallest rooms at the beginning category. I recommend Deluxe and above.

The 31 Junior Suites (14 are deluxe) are my favorites, many of them are interconnecting. 

There are six

 1-Bedroom Suites, plus a Royal Suite and Penthouse Suite. The Oscar Wilde Suite is where the playwright got arrested. 

Ask for a park view suite for the most light. The second 

floor has the larger windows. The 01 series face the Cadogan gardens.

There are only five rooms with a working fireplace so ask ahead if this is important to you.

There is not a big facility for spa or fitness center here. If that is what you are seeking, you are better off elsewhere.
Pets are welcome here!
Belmond Cadogan Hotel, London
Inviato is a Belmond Bellini Club member. When you book the Belmond Cadogan with Inviato, you have the option of Virtuoso or Bellini Club amenities and rates.
Belmond Bellini Club Exclusive Benefits Include:
Room upgrade (priority for room upgrades at check-in)
Buffet or Full Breakfast, Daily For 2
Hotel Credit ( up to $200, depending on room type)
VIP Recognition by property management and staff
Special In-Room VIP Welcome Amenity
Book This Hotel
Why book Virtuoso?
Personalized travel assistance
24/7 online booking
Special rates & exclusive offers
Guaranteed Room upgrade*
Complimentary full American breakfast
Early check-in, Late check-out*
Exclusive on-site amenities (varies by hotel)
* based on availability on time of arrival
Related Reviews