It was 20 years ago the first time I descended in Jackson Hole and the weather was so frigid,
I do not remember anything but how cold I was. Then, I returned a few years ago in the Fall for an event and stayed at the Amangani (see the review here). I was immediately entranced by the beauty of the area, the majesty of the Teton Mountains and Gros Ventre Range, and the low-key authentic Western vibe of the town.  I vowed then that I would return and share this place with my family – and hopefully get to see some of the amazing wildlife I didn't get the last time.

So, I made the decision that Jackson Hole was where we were going this last Spring Break. Not only would we bring the kids but I ambitiously decided to take our 13-year old Golden Retriever, Champ. Recently recovering from surgery, we didn't want to leave him behind (seriously, how cute is he?) and knew the mountain air would be good for him. A hotel was out of the question so we looked at our rental options.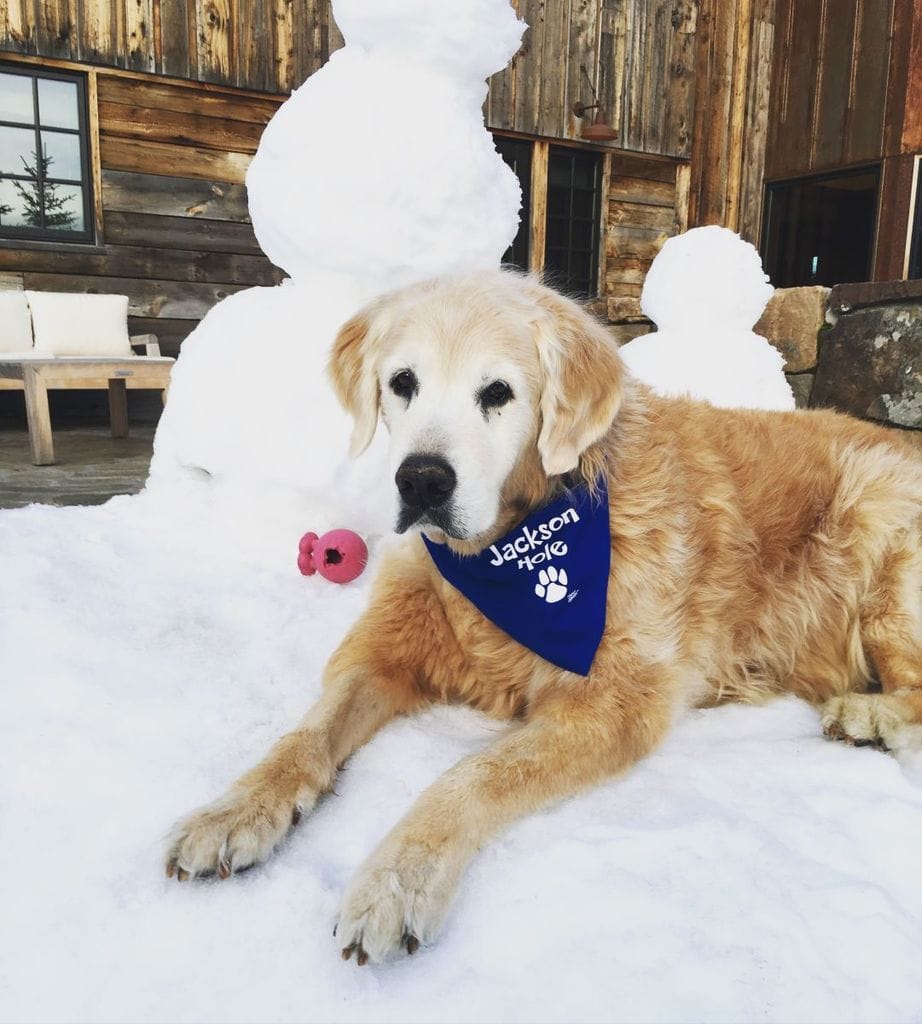 During my last visit, I had seen an advertisement about the Clear Creek Group – a local property management company that offers luxury property rentals and sales with full concierge services. The minute I checked out their website, I knew I was in the right place. I fell in love with every vacation rental offered.  Obviously, so did a lot of people as there were only a few left by the time we were ready to book but luckily one of the hand-hewn cabins at Shooting Star, a residential community right in Teton Village where the Jackson Hole Ski Resort is based, was available. After getting the approvals to bring Champ (owners may accept pets on a case by case basis), we were all set.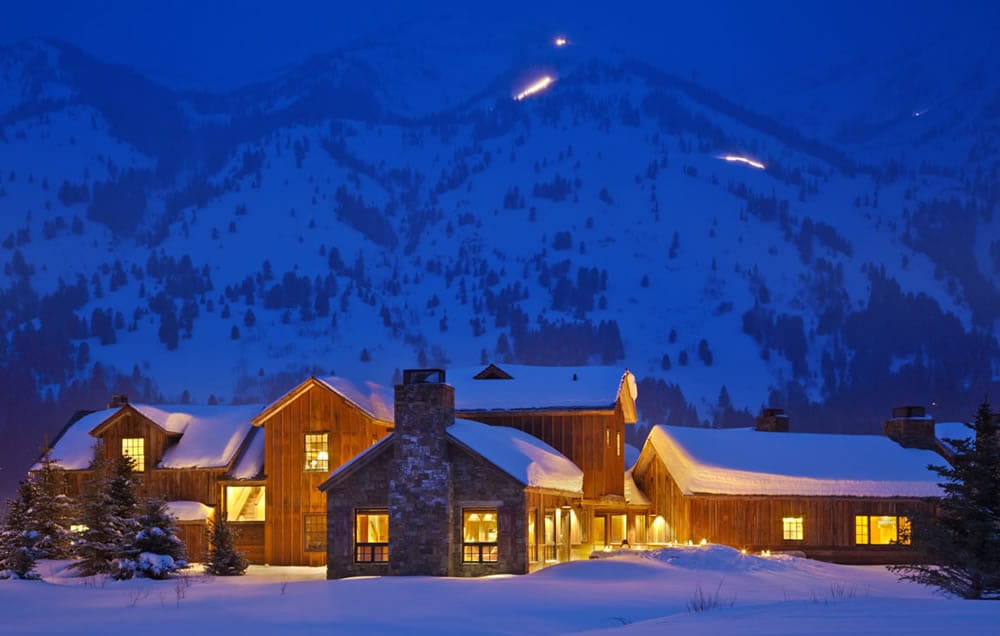 Shooting Star
Shooting Star was created by a multi-generational family who owns Snake River Ranch – a historic working cattle ranch founded in 1929 – and a desire to preserve thousands of acres from other development. Today the residential community consists of 100 single-family homes, 34 3-4 bedroom cabins and 48 townhouses – all built with reclaimed materials and old-world craftsmanship. Despite these many residences, most of the 1,800 acres is wide open spaces containing ponds, streams and lakes, allowing you to take in unobstructed views of the four mountain ranges and wide open skies (hence the name 'Shooting Star'). In the winter, you can ski the Nordic Trail around the property and in the summer you have a trout stream for fishing as well as a 18-hole Tom Fazio Golf Course.
As enticing as our home away from home appeared on the website, it was more luxurious than we could have ever imagined. Our 2-floor 3,400 square foot 'cabin' with 2-car garage and heated walkways could not have been more perfect. The first floor included a mudroom for all our ski equipment, laundry room, two spacious bedrooms (one with a gas fireplace) and a bunk room (4 bunks) and two full baths.  From this floor, we could access the large outdoor jacuzzi and patio.
Upstairs contained a spacious great room combining a kitchen, dining area and living room with fireplace along with a small office and massive master suite. We could have comfortably fitted 10 people in the house. All of the homes in the village, including ours, were built to enjoy the stupendous views and have large picture frame windows to enjoy the non-obstructed mountain views. Our cabin was renovated just recently after new owners purchased the home and everything was immaculate and tastefully decorated with a rustic but contemporary feel.
What we particularly loved about Shooting Star was its location. While not 'ski-in, ski-out' as the Four Seasons is, it was a 2-minute (if that) shuttle from our home to the mountain base. The door to door shuttle service was prompt – we never waited more than just a few minutes from our call – and the easy access from the mudroom to the extra door in the outdoor garage made it so simple to load our equipment on board. Only 20 minutes drive from the airport and 12 minutes from the town of Jackson Hole, Shooting Star's location really could not be more ideal.
The other wonderful feature about Shooting Star for prospective renters is the year-round Clubhouse. Only available to first-time renters, we took full advantage of all the privileges the Clubhouse provided such as the spa for amazing massages, a yoga/pilates studio, dinner and lunch (open on select days – the food was very good) and the Alpine Barn which features movies for the kids, candy and coffee all day and ski lockers for the owners. In the summer season, guests have access the lap pool, bonfire pit and renowned Tom Fazio 18-hole  golf course – it must be spectacular this time of year.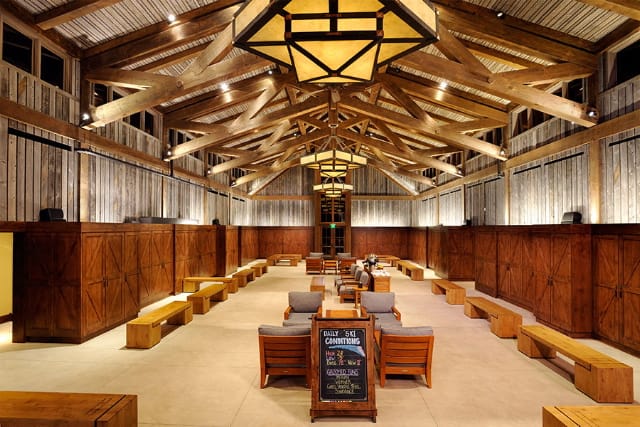 I would like to add that the concierge team (who provide full services as part of your rental) at Clear Creek was also excellent with a real aim to please. A representative was there to greet us when we arrived at our cabin and provide a quick tour of our home and services. Any extra items we needed and any minor glitches (we had an issue with one of the TVs) were taken care of instantly. Our ski lift tickets were waiting for us inside as was a wonderful welcome package of wine, dog treats and freshly baked cookies.
While I have always opted for full-service and amenity ski lodges for our ski vacations in the past, this experience changed our mindset. It was one of our favorite family vacations ever, thanks in large part to Clear Creek, Shooting Star and the charming Western town of Jackson Hole. Champ loved it too…
RENTING A HOUSE IN JACKSON HOLE: WHAT TO KNOW
Renting a house comes with its many benefits of course but you need to make a few preparations in advance. Clear Creek had a host of excellent recommendations of vendors and suppliers for us, which we used:
Stocking up your house. We loved the service, Mountain of Groceries, run by Ashley Watson, who purchases anything for you – from basics to prepared foods – and stocks them up in your fridge before you arrive. For additional items, there is a small grocery store next to the gas station on the 1-minute drive to Teton mountain. All the basics you need are there.
Ski rentals – You can of course rent your skis on the mountain or in town but we used

JH Skis

to order our skis ahead of time. Arriving at our home with our equipment and making instant adjustments, it could not have been any easier. At the end of the day, we left our equipment at the lockers at the ski resort and boots on the porch. I highly recommend Blake and his ski service.
Ski tickets and lessons can easily be booked on the

Jackson Hole

website.
Private Chefs – A vetted list is provided on the Clear Creek Group website. We hired Chef Tim at 307 Catering 

for a delicious private dinner for eight people.  

Petsitting – To say Jackson Hole is a dog town would be an understatement. It took only a few inquiries to find a petsitter during our stay. Malin, who does walks for pets at the Four Seasons, was the perfect companion for Champ, giving him lots of outdoor play time in the snow.
Excursions
Aside from the stupendous skiing, it is worth taking a day or two off to enjoy the stunning landscape of Jackson Hole area.  We took advantage of some alone time while the kids were skiing to soak in the beauty of the area and fulfilling my goal to finally see some moose!
Wildlife excursions – We used Scenic Safaris 

(who does snowmobile tours in the winter and ATV tours in the summer in Yellowstone and Grand Teton) 

 for a half-day wildlife tour. In two hours we saw coyote, moose and a herds upon herds of Elk (we also did the Elk Horse Sleigh Tour with the kids which is fun).  No bears though as they were still in hibernation but there are plenty of bear sightings in April when they are hungry.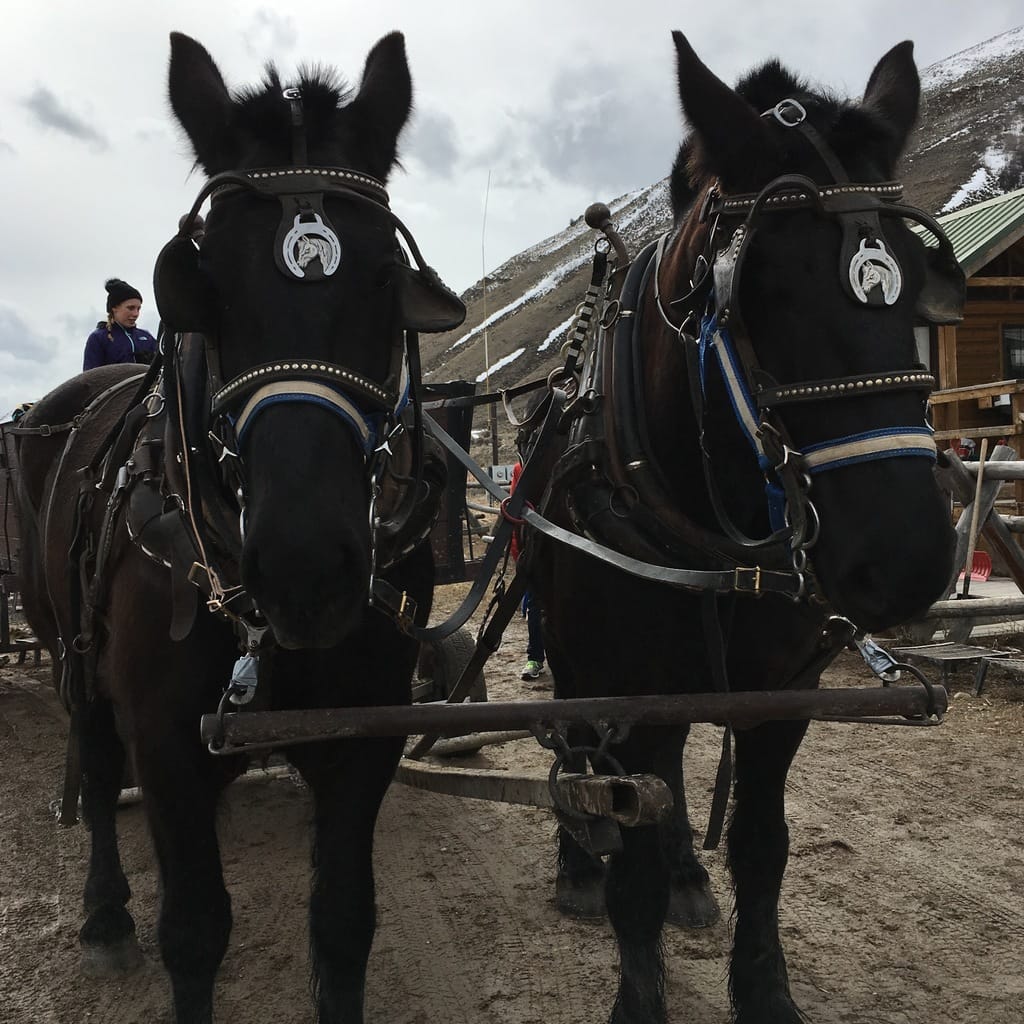 Snowshoeing – We highly recommend the outfitter,

Hole Hike

for a snowshoeing tour. We did a 3-hour introductory snow shoe group tour, which was more than enough. The scenery was just stunning  and our instructor very informative.
WHERE TO EAT IN JACKSON HOLE
There is no shortage of really good restaurants in Jackson Hole – these were the ones we checked out (we loved them all!):
Cafe Genevieve. A cozy cafe that is a local favorite in town (East Broadway). Stop by for great breakfasts and lunch. Locals. In good weather, you can sit outside on the dog-friendly patio.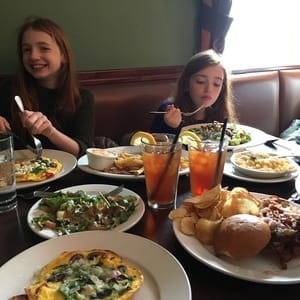 Nora's Fish Creek Inn. A must-visit at least once for down home breakfast in Wilson – Amazing pancakes!
Local Restaurant & Bar. 55 N. Cache Street. A modern steak house overlooking the town square. Nice, warm ambiance.
Million Dollar Cowboy Bar – An icon in town, you can not miss the neon cowboy sign on top of roof. Kids have to hang by door but a great stop for a beer, to play pool and take photos on saddle stools at the bar for your Instagram feed.
Silver Dollar Bar at the Wort Hotel – Around the corner from MDCB, the Silver Dollar Bar at the Wort Hotel has live music and 'Urban Cowboy'-style two-stepping on the dance floor. Worth a stop by.
Snake River Grill – Off the Town Square on 84 East Broadway, this is the one reservation you want to have during your stay. Book way ahead for a table at Jackson Hole's best restaurant – its worth it (make sure to get the brussel sprouts, onion rings, truffle fries and Eskimo Bars!).
Handle Bar – A popular slope-side casual restaurant for apres-ski or lunch at the Four Seasons Hotel.
Il Villaggio Osteria at the Terra Hotel in Teton Village. This always-packed restaurant books up quickly.  Fun, casual ambience and good Italian food.
Local Butcher's in town across from Skinny Skis provides wonderful catered meals as well as deli sandwiches for take-out.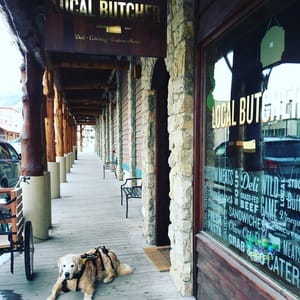 Teton Thai – Hole in the wall Thai restaurant in Teton Village right across the street from Shooting Star – serves delicious Thai food. Best for take-out.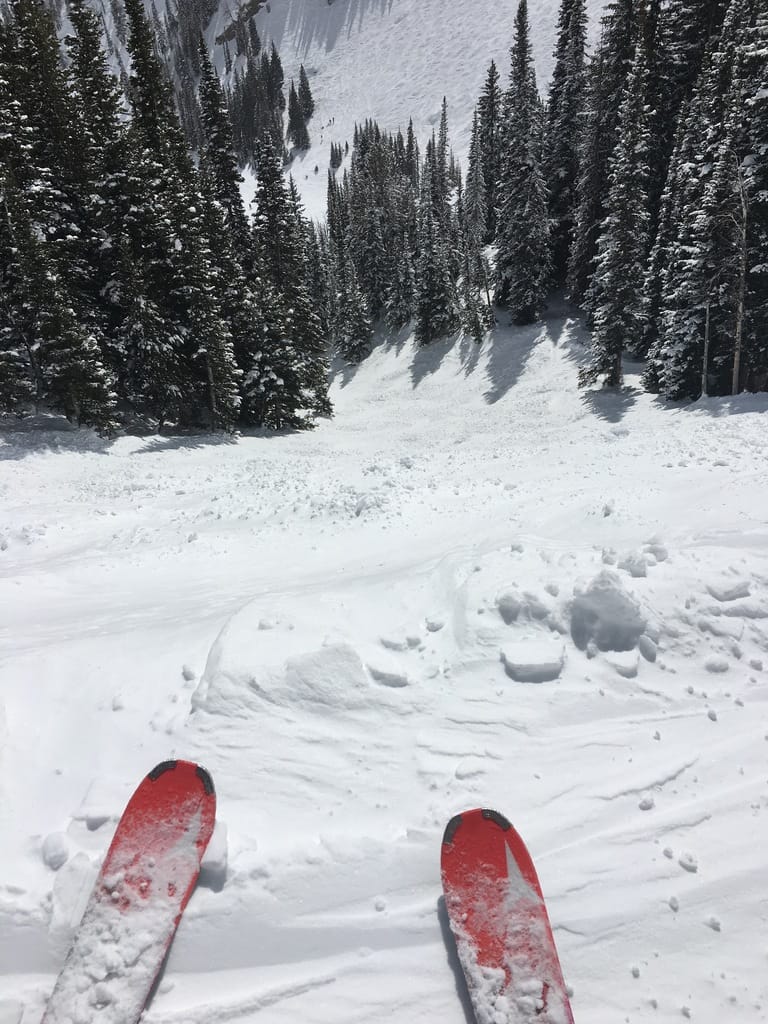 Loved
Didn't Love

Clear Creek management  – stellar experience from booking to making sure attended to. Accommodated all requests and welcomed us with…
Shooting Star – the clubhouse, locale and layout really made our stay idyllic. While not slope-side, the door- to-door shuttle service to the mountain, space and luxuriousness of our cabin outweighed this very minor inconvenience.
Our home – spacious, beautifully decorated with a Western but contemporary ambiance.
Jackson Hole – where else can you get such spectacular scenery, wildlife, world-class skiing, great restaurants and a low-key authentic vibe?

Our only minor grievance with our rental is that it was well stocked in some areas and not at all in another. It could have been better equipped with some basic necessities like saran wrap, tin foil, detergent and sponges, for example. This is usually left up to the owner and you have no way of knowing what is supplied at the house until you arrive.

Don't Miss
Skip

Take your kids to stop by and visit the dog patrol search and rescue team (at the Ski Patrols at the top of the mountain by the Gondola) where you can meet rescue dogs like

Justine and Josie Wales, a patrol dog

Josie Wales (pictured here). Go to the Guest Service Center and ask for photo cards of each of the dogs.

YIPPY-I-O Candy Store – A great old fashioned candy store located in town below Snake River Grill. Your kids will have a field day here.

Moo's Ice Cream Parlor

– Delicious ice cream made on premises. Worth stopping by at least once during your visit to Jackson Hole.

A visit to the Jackson Hole Hat Company in town (45 W. Deloney Avenue) which has custom and ready-to-wear high quality cowboy hats for the inner cowboy in you. I couldn't resist.

The Japanese restaurant Nikai in the town of Jackson Hole was a big disappointment. The sushi was limited and not very good quality.

Rooms to Get
Tips

Cabins vary in size and decor but many have uniform layouts. Ask for a map to see the location of the cabin and proximity to any construction that may be going on. Your views will be stupendous wherever your cabin is.
We liked having a cabin close to the Clubhouse – where the ski shuttle drops off and the spa and restaurant are located.

Know that there is some construction going on at Shooting Star Village. It didn't bother us at all but it might be be noisier in the summer. Ask Clear Creek Group what stage and where construction is. They were very forthcoming with information.
Access to the Clubhouse is really for homeowners. Access to Clubhouse privileges is allowed for first-time guests only for 5 out of 7 days.
We could not recommend ski instructors Don, Martha and June highly enough. All experienced veterans, with wonderful dispositions (particularly with the girls) and lots of great advice and tips!
Book restaurants (especially Snake River Grill, a hard-to-get reservation) ahead of time, especially in high season (most on Open Table). As it is a 15 minute drive into the town, it can be a tiring drive after a full day of skiing to select all your restaurants in town. It would be wise to balance out restaurants between town, Teton Village and neighboring Wilson (see restaurants above).
If you are bringing a pet and need veterinarian care, highly recommend Fish Creek Veterinary Clinic, a small but efficient office in Wilson run by DVM, Theo Schuff.  Our dog, who got sick the last day of our vacation, was provided with immediate and excellent care and after-care.
For a small extra fee, housekeeping service is provided. We opted for this service once during our stay although a laundry room is provided in homes.