There are some incredible sneaky hideaways in Mexico on the Pacific Coast that scream escape – places where you truly feel like you are getting away from it all – without having to really fly that far. I'm not talking about the mammoth hotel operations like the Four Seasons or St. Regis in Punta Mita, or Grand Velas in Riviera Maya that NY crowds descend upon during the holidays and competitively tip staff to reserve the best deck chairs. No, these are the more discreet gems where you don't have to worry (not yet anyway) about bumping into your neighbor or worry about making on-site dinner reservations for fear of being shut out. Places like Esencia on the Riviera Maya which I wrote about after my unforgettable stay.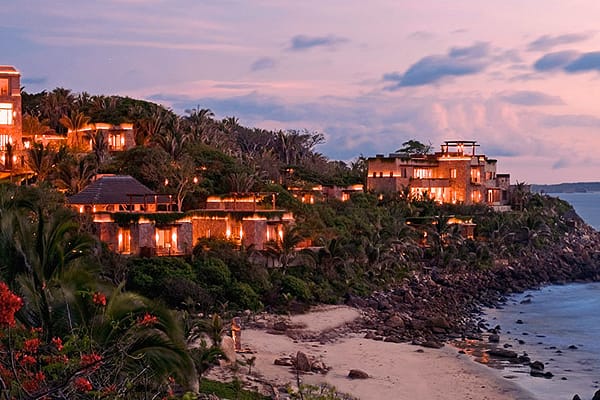 Last month, a few friends descended on places such as these that they raved about. One of these, Imanta, (not far from the Punta Mita properties mentioned above) was reserved for a 50th birthday celebration. More on that in my next post.
The others – Hacienda San Angel, Cuixmala, and Hacienda de San Antonio – were visited by a couple looking to do a sampling of these intimate properties:
Back From Mexico:
"This was the best of our 12 trips to Mexico. We visited four unique places. I can't compare them because each one is a gem of a different color. People have to ignore all the "danger" stories in the press. I'm not saying it doesn't exist, it's just a miniscule percentage of the population acting like barbarians. We felt safe and welcomed everywhere we went.
First Stop: Hacienda San Angel.
We started out in Puerto Vallarta at
Hacienda San Angel
. This is the hacienda Richard Burton bought for his wife Susan after shooting the film
Night of the Iguana
, and it retains its star quality. It's a magical oasis located up the cliffside
above the old town.
The rooms and suites at this boutique hotel are enchanting and filled with antiques and art, pressed bedding and wifi. Our suite, Angel's View, had a wall of glass doors that opened to a balcony overlooking the Bay of Banderas and domed rooftops.
The hotel's restaurant served very good Mexican food, but the highlights were the beautiful view of the city cascading down the hills and the 12-piece Mariachi orchestra that accompanied dinner. The tropical gardens are kept immaculate; fountains, angel statuary around every turn. At night, hundreds of candles and lanterns turned it into a magical, romantic setting.
The open-air reception area was a fun meet-and-greet area where the friendliest rescue pups hung out (the owner is an avid dog lover who rescued nine dogs). What we loved was the warm, gracious welcome every time we asked for anything. The open-air ambience of the place flowed throughout and anything you wanted, wherever you wanted to have it, no problem.
We stayed three short days navigating the steep San Francisco-like terrain of the old town. Puerto Vallarta is fabulous for restaurants, shopping, art, water sports and strolls along the beach promenade -a great city with easy airport access and so much to do and see. We were reluctant to leave but the anticipated highlight of our trip was next, Cuixmala.
Next Stop: Cuixmala
. We rented a car  and set out on a 3-hour road trip to
Cuixmala
. The drive is a workout. It's one continuous winding mountain road, interrupted by potholes and speed bumps when you come to local villages along the way. After two-and-a-half hours, we stopped for lunch at
Las Alamandas
, an exclusive resort (we had to go through an interview at the gate to have lunch) on the coast. We were escorted to the thatched dining palapa by 3 puttin-on-the-ritz people and enjoyed a lovely lunch surrounded by riotous color and gorgeous beach. As beautiful as it was, I have no desire to go back for a stay. First impression – too stuffy and isolated.
Thirty more minutes down the highway and we reached Cuixmala. No signage, just an orange building with auxiliary police vehicles and chains preventing entry. After a security chit-chat with the guard, we were escorted seven miles on a rugged dirt road through the jungle mountains to reach Cuixmala's reception. Being kidnapped and held for ransom crossed our minds but at arrival we received a wonderful welcome, cool towels and marguerites. No check-in routine. We were escorted up… up… and up to Casita Gardenia overlooking acres of coconut plantation and the sea. Our  three-room casita with open-air veranda was beautify – stark white walls with bursts of bright-colored accents. Every detail was meticulously thoughout, from ipod music to complimentary hand-made tote bag and wooden cat sculpture.
Our  three night visit was perfectly timed, in between large groups who usually rent out the entire place (casitas, villas and La Loma). The best description would be to compare it to an African adventure. You need to have a car to get around the 25,000 acres that comprise the place. Animals roam freely, zebra, caribou, crocodiles. Boating the lagoons, birds chirp and caw endlessly. Organic food and fruit is grown on the land and orchards and is served fresh in Casa Gomez restaurant. The inviting kitchen prepared delicious, unpretentious meals that were enjoyed at every meal. No menus necessary. The daily meal plan offered is the way to go.
Highlights included our private beach (15 minutes away through rugged jungle terrain) where four-course lunches were prepared just for us. What amazed us was the privacy we were offered.
Another was  La Loma, no longer the private estate of Sir James Goldsmith and open to the public. This villa was a sight to behold – a Morroccan-inspired architectural gem set on a cliff overlooking the Pacific Ocean. Elite and luxurious down to every detail, especially the library. An exceptional destination wedding/party venue.
The Tortuga Preservation Program provided a great education. We learned about turtle life and their nesting habits. We participated by digging up baby turtle nests and returning at night to set them free into the ocean. An awesome feeling! (
Inviato Note:
The Turtle program is available July through March; eight beach front villas are planned for development).
Next Stop:  Hacienda de San Antonio, in Colima
, sister property of Cuixmala. The 3-hr scenic drive to the hacienda is complimentary if you are a guest at both places. Since both properties have private airstrips, we left our rental car at Cuixmala, and decided to fly back after spending two nights at the hacienda. The two properties couldn't be more different.
Hacienda de San Antonio
is also located off the beaten track. When you arrive, after another jungle journey, you are greeted by an amazing, colossal pink colonial hacienda dating back to the 17th century (it is a former coffee factory). We were wowed immediately.
After check-in, we were escorted to our beautiful suite (1,400 sq ft) with a perfect patio view of Volcano de Fuego and an ancient aqueduct. We felt miniature in comparison to the scale of the antique-filled, artfully-decorated room (no tv). The formal gardens were inspired by Alhambra Palace in Spain. The pool was exceptional with exquisite tile work, and the cabana served delicious food at lunch. Every element and detail about the place was spectacular.
The next day we opted for a private tour of the property. The grounds consist of volcano, lakes, orchards, coffee plantation, organic vegetable gardens and stables. We decided to embellish our day with a horseback ride through the bamboo forest and coffee plantation. At an hour's end, we were welcomed to our private 5-course (including cheeses made on site) lakeside picnic, set up underneath ancient mango trees. We overindulged on the delicious food and took a nap.
Last day, time to fly back to Cuixmala, a 45-minute flight on 4-seat propeller plane, started jaw-clenching. Fortunately, it was a great day for flying. The view over mountains and up the Pacific coastline was awesome. At the end of a smooth landing on a grassy airstrip was our Cuixmala friend waiting with our car and some edibles for the next segment of our journey. We were all smiles.
Overall, both properties were extraordinary in every way. An adventurous spirit is all that's needed.
Last Stop: Four Seasons, Punta Mita:  Since I'm a Four Seasons junkie and they have a property in Punta Mita, that was our final destination. Upon arrival, I was totally disappointed. There were too many demanding people and it had the environment of a first-class resort catering to Americans. Boring! But not as boring as St. Regis.