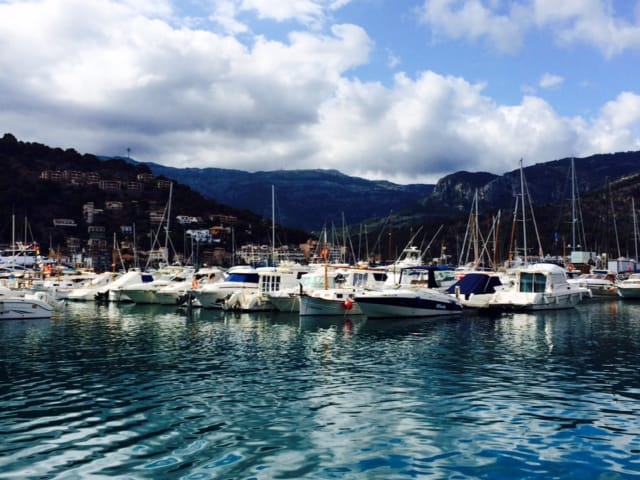 Where:    Belmond La Residencia in Deia Mallorca
What:        A luxury hotel housed in a 36-room manor among the citrus groves of charming artist town, Deia
When:      June 28th to July 4th
Why:         Summer escape while kids in sleep away camp
WHAT WE LOVED
The relaxing, peaceful enclave that has spectacular and dramatic views of
the mountains and the sea.
ROOMS TO GET
The junior suites in the main house were very spacious and appointed with
Mallorcan antiques. The linens were divine!
DON'T MISS
The nightly sunset cocktails on the terrace while listening to Damien
(been there for several years) play the Steinway piano and sing anything from
Frank Sinatra to Amy Winehouse. We looked forward to our pre dinner
cocktails here every day. The setting while the sun is setting is BEYOND.
Visit the in-house local artist and sculptor. Special people!
Breakfast – Elegantly served on another outdoor patio overlooking the
STUNNING views of the mountains. Was very easy to linger at breakfast
indefinitely!
El Olivo – their formal restaurant. Very romantic and elegant, tucked
away on another outdoor patio at the hotel with more sick views.
Mediterranean food – we dined here twice.

Sa Foradada

– whole in the wall place serving only paella cooked by open
fire. BEST EXPERIENCE of the whole trip. You can only access the
restaurant by boat (no dock – old school) or by taking a 45minute
hike down a donkey trail to arrive to this stunning location. WORLD CLASS
VIEWS. The drunken hike back up was another story…
TIPS
Take the two hour complimentary sail boat excursion which departs from the
neighboring town of Solier and tours the coastline and coves. Book it as
soon as you arrive, as they only take about six guests at a time and can
book up quickly.
Hike to the nearby beach Cala Deia  – a small beach but VERY
picturesque setting. The beach is pebbles and rocks but the sea is so
clear. There are two casual but VERY good restaurants with fresh fish. We
ate at the restaurant to the left when you approach the beach (don't
remember the name) twice and would have gone again had we stayed longer.
Stroll the very small town of Deia which has a few cool boutiques. Just
across the street from the hotel is Ceramics by Joanna. She makes unique
pieces for La Residencia – we were thrilled to meet her and purchase a few
pieces to secure our special memories of Deia.
Stroll through the neighboring town of Valldemosa. We happened upon the
Hotel Valldemosa which was an old monastery set in the mountains amidst
an olive grove and had their 'music lunch' on their terrace. I think we
stayed for about 3 hours.
Aaaaah….I want to go back!
Belmond La Residencia, Mallorca
Son Canals S/N,
Mallorca, Spain
Book This Hotel
Why book Virtuoso?
Personalized travel assistance
24/7 online booking
Special rates & exclusive offers
Guaranteed Room upgrade*
Complimentary full American breakfast
Early check-in, Late check-out*
Exclusive on-site amenities (varies by hotel)
* based on availability on time of arrival