It would be hard to find a more devoted fan of Kit Kemp – interior designer extraordinaire and co-owner of the Firmdale Hotels – than me. Over the course of the last few years, I have visited each one of their ten hotels in London and New York. Each luxury hotel has its own unique personality, style, and loyal clientele but all possess the same signature design aesthetic: vibrant prints and colors overlaid with unique antique and modern pieces that Kit Kemp personally discovers or creates.
The Ham Yard Hotel, their most recent hotel in London and flagship property is one of my favorite places to stay (it will be my fourth time this summer. You can read my reviews here and here) – l love its energy, 'urban village' concept and prime Soho location. And as a New Yorker, I always make a point to drop in at Crosby Street Hotel in Soho for breakfast and lunch any chance I get.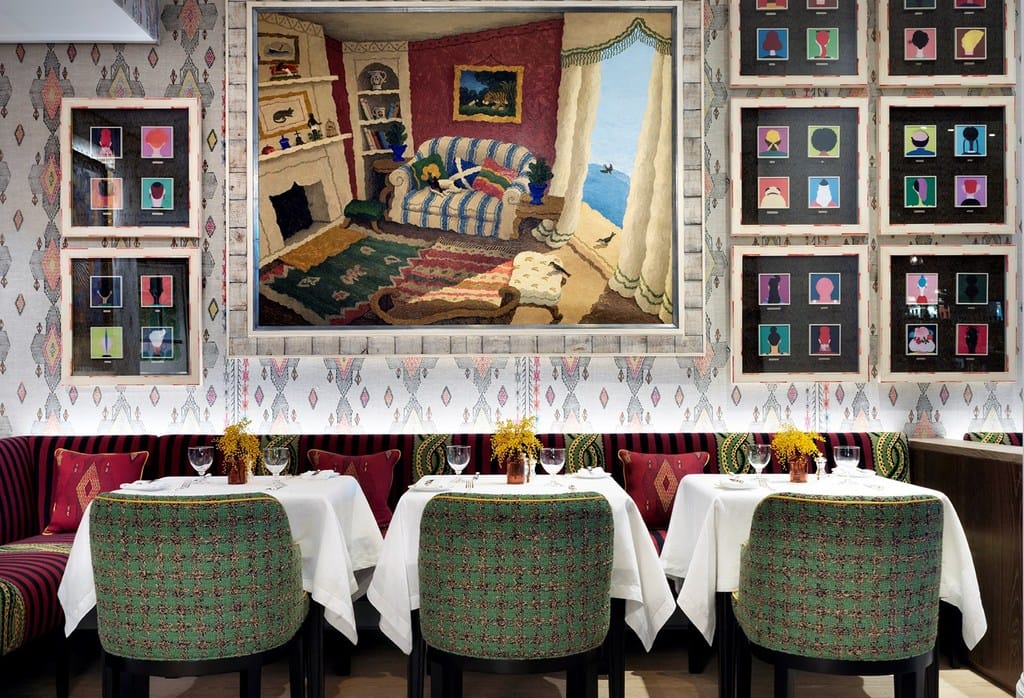 The opening of the latest Firmdale hotel (its tenth in the portfolio and second in New York), The Whitby Hotel, has been highly anticipated since the announcement it was being developed. Located on prime real estate Midtown on 18 West 56th Street, The Whitby opened two weeks ago on March 1st.  I was fortunate to get a private walk-through two days later. The main restaurant, The Orangery, and adjoining bar, The Whitby Bar, are not open yet (they will open March 20th) and some of the rooms are still being finished.  But I saw enough to be once again blown away by Kemp's creative design mastery.
I recognized many of the same trademark items at the Whitby as other Firmdale hotels: floor-to-ceiling windows in the guest rooms, mannequins, Rik Rak products and so forth.  But The Whitby Hotel, like each and every other sister properties, has its own distinct personality. I definitely saw touches from the Ham Yard (the back lit vessels on the walls, long bar and hanging baskets in The Orangery, for example) and Crosby Street (the cinema and event spaces in particular). YetI also detected a host of new botanical and floral influences throughout the hotel.  l was particularly enchanted by the whimsical Wedgwood "mythical creatures' china (a Kit Kemp design you can purchase here) in The Orangery, the fantastic Christopher Farr and Chelsea Textiles fabrics used on the guest room headboards, cushions and pillows and pretty much everything I saw in the downstairs Reading Room.
Whatever it is, it works beautifully. I instantly felt uplifted the minute I walked in the front entrance. And walked out wanting to completely redecorate my apartment!
I look forward to returning to The Whitby Hotel for tea, on that wonderful china of course, at the end of March!
Public Spaces
On the street level, you will find the main public spaces: reception (below), guest-only Drawing Room and The Orangery and the Whitby Bar.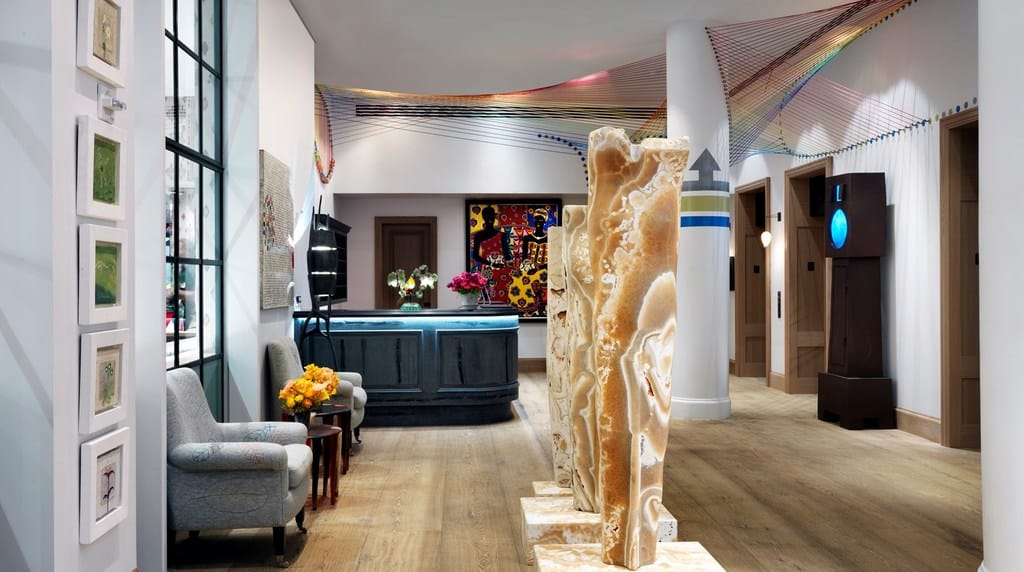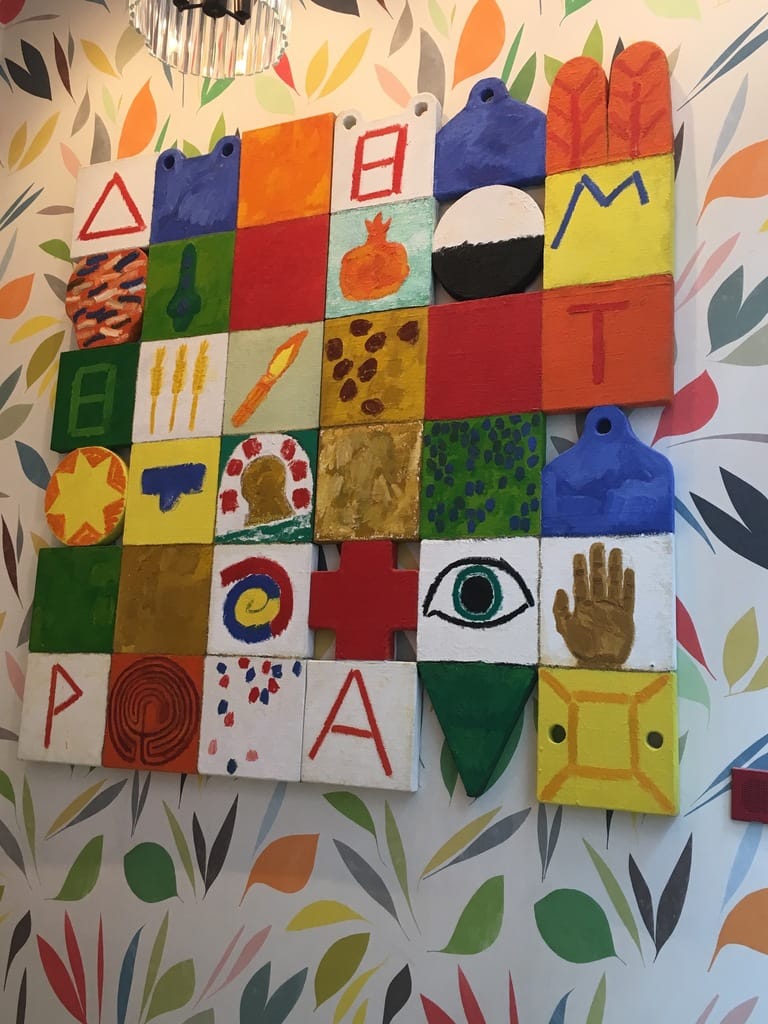 The Drawing Room below is for guests only and a lovely place for guests to sit by the fireplace, grab a drink at the honesty bar or have a classic English tea.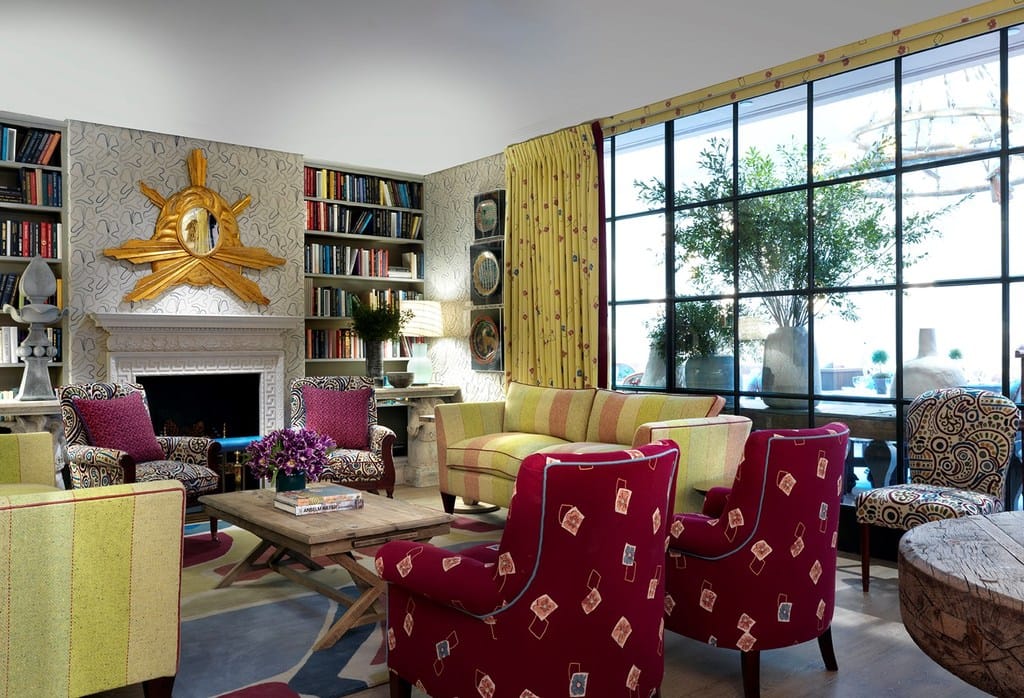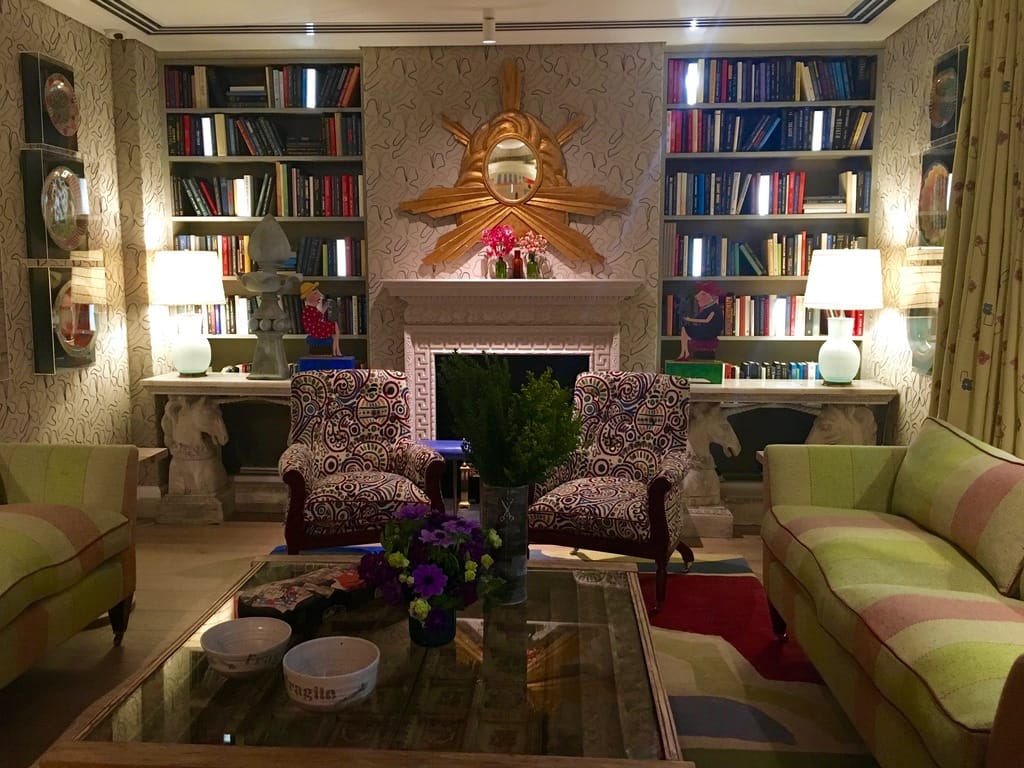 The Whitby Bar is simply a gorgeous space with beautiful upholstered banquettes, colorful hanging baskets and a captivating collection of vintage china plates that Kit Kemp collected from her travels – each has a different story.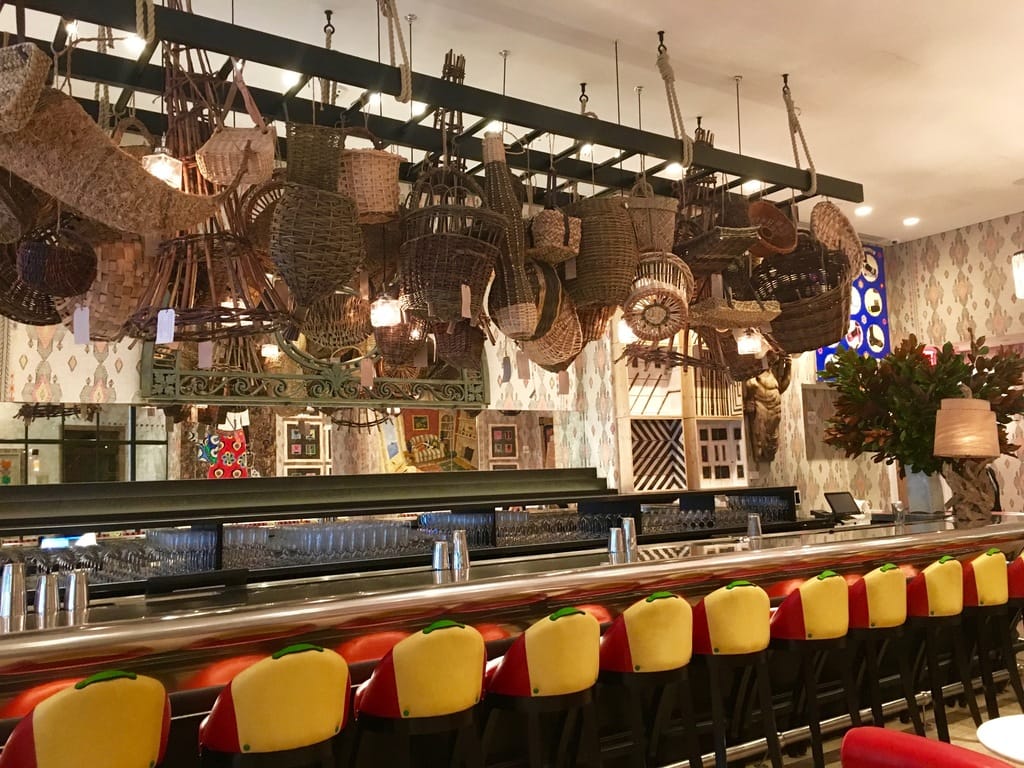 The impressive 30-foot pewter bar has a collection of hanging baskets originating from different areas of England, Wales, Scotland and Ireland. The Orangery, reserved for hotel guests, has vaulted ceilings and skylights that bring in natural light. A spectacular wall of 40 beautifully crafted vessels are lit from within.  A similar aesthetic to the Ham Yard, yet here each vessel features a different landmark New York building or bridges etched into it.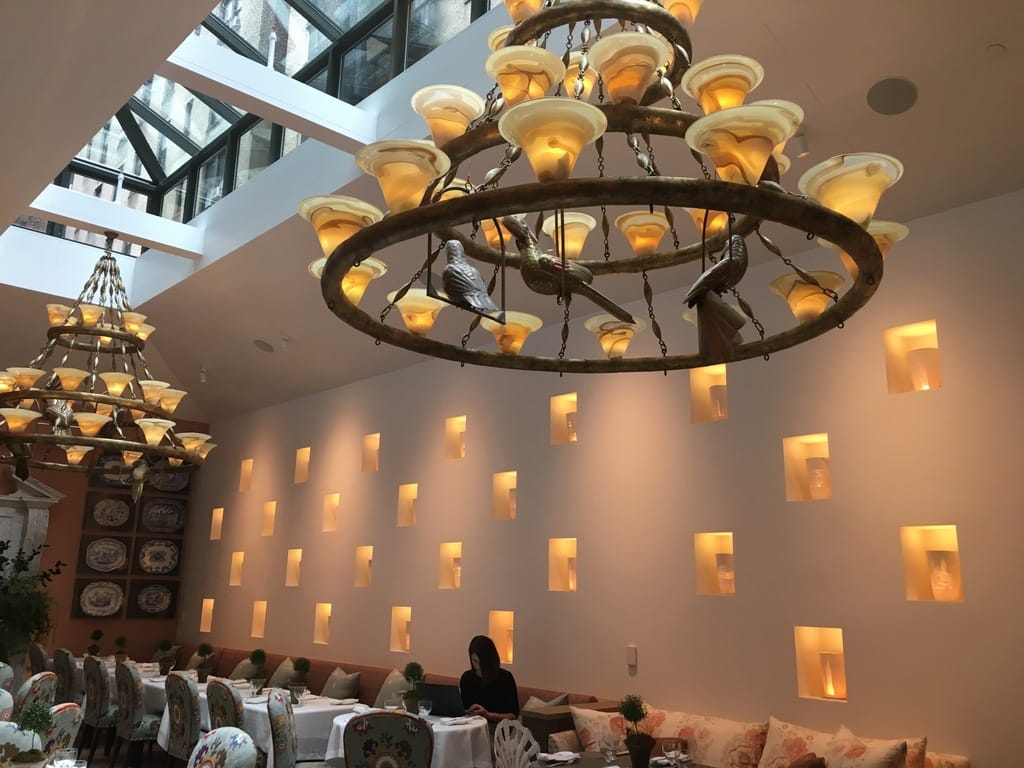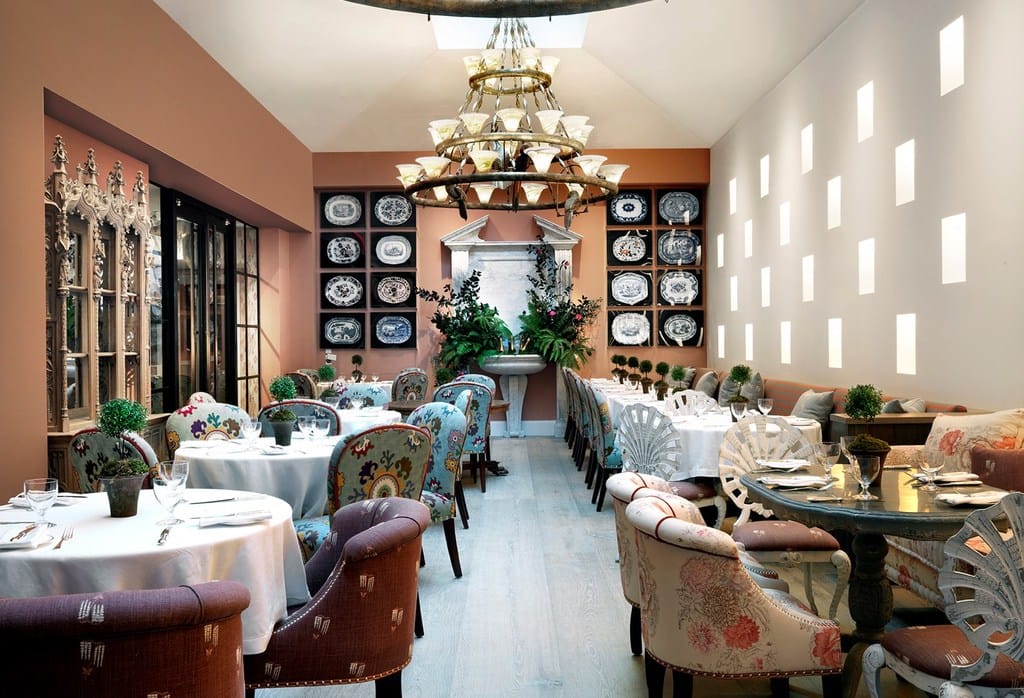 The Guest Rooms
There are 86 rooms and suites on 16 floors, each with their own design and color scheme. No two rooms are alike although you will find the trademark mannequin, granite and marble baths with double basins in each along with Kemp's line of Rik Rak products (I'm addicted to the lavender, eucalyptus pillow, linen and room mists. I bought a few at The Ham Yard). The Whitby Suite – a 2,000 square foot 2-bedroom suite occupying the entire top floor will be the crowning glory. Disappointingly, I was unable to view it as it is not yet ready.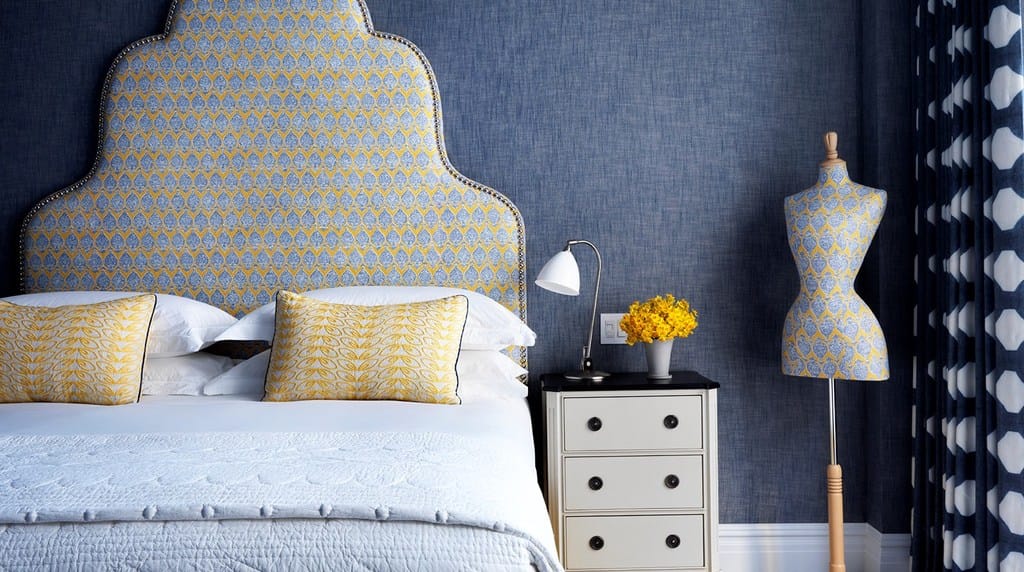 (I love these headboards, especially those that are embroidered! Each one is different and exclusively for The Whitby Hotel.)
During my visit I was able to visit several of the Junior Terrace suites and Deluxe Rooms. Rooms start at the Superior Room level – these rooms are located on the 2nd floor and are about 330 square feet.  Luxury Rooms are slightly larger at 350 square feet. Deluxe Rooms are located on the 9th and 10th floors.
The suites begin at the Junior Suite level which provide a larger seating area at 450 square feet.  I was able to view a few of the six junior terrace suites on the 12th and 14th floors. These are spacious airy rooms with corner terraces, an open plan sitting area and king size bed. My particular favorite was #1408, a corner junior terrace suite that is especially nice for views and light.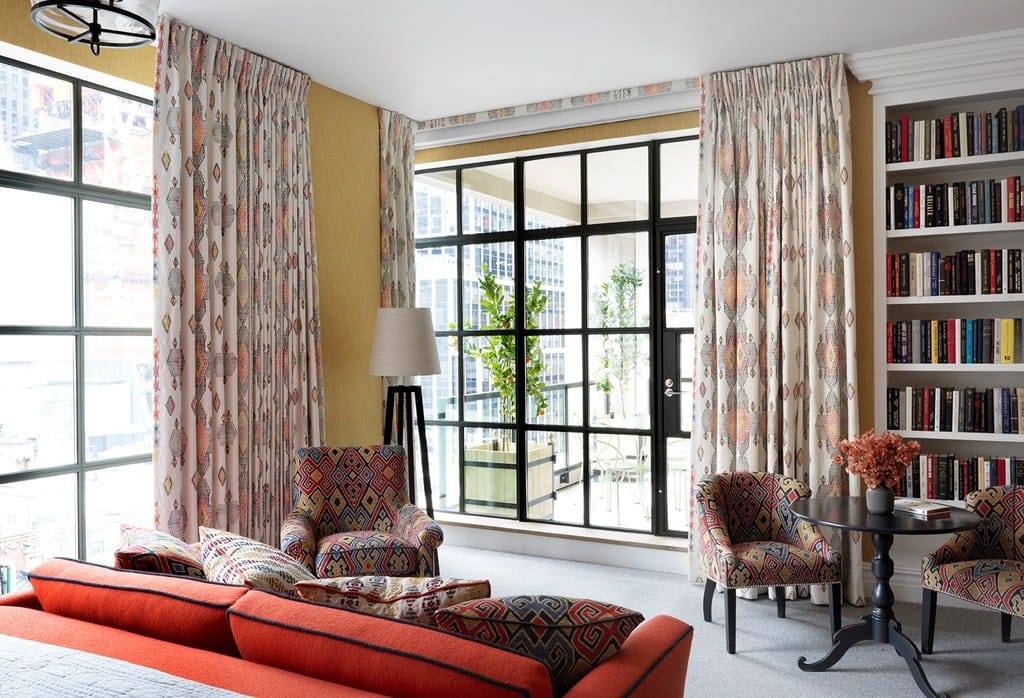 Event Spaces
Beginning in April the private event space, comprising of two floors below street level, will be open for private events, meetings and screenings (reservations are open now). 
The 130-seat state of the art theater is available for private screenings.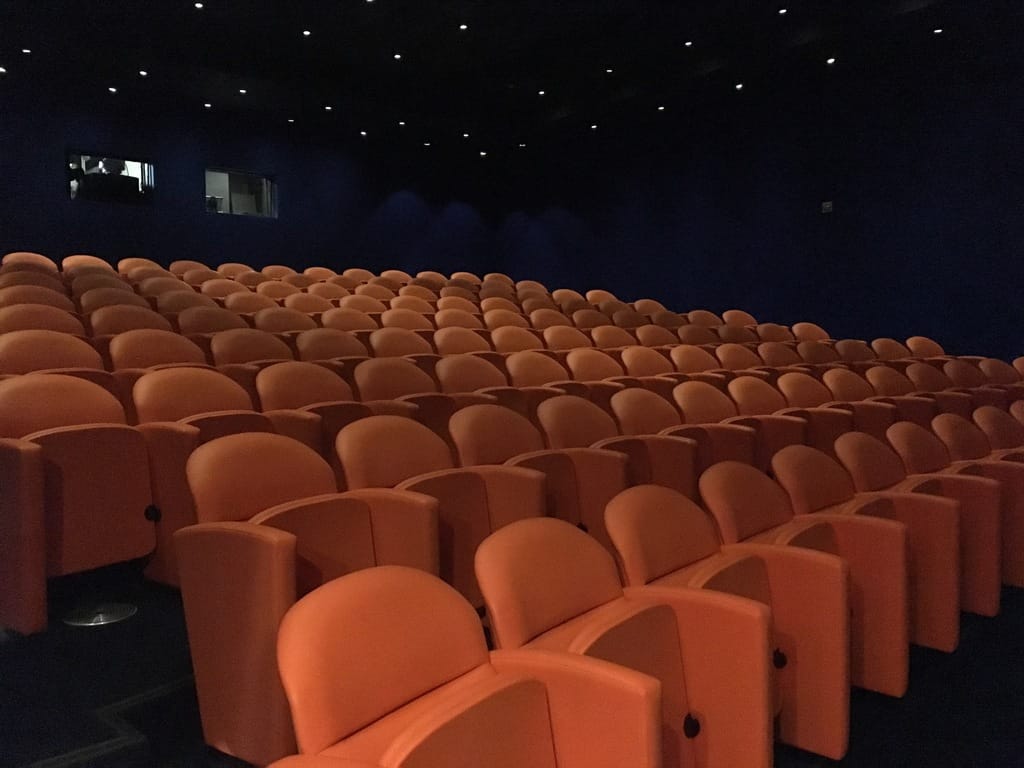 There are three private event rooms – Araminta, Anrep and The Reading Room. The Araminta and Anrep rooms can be combined for one beautiful party or event.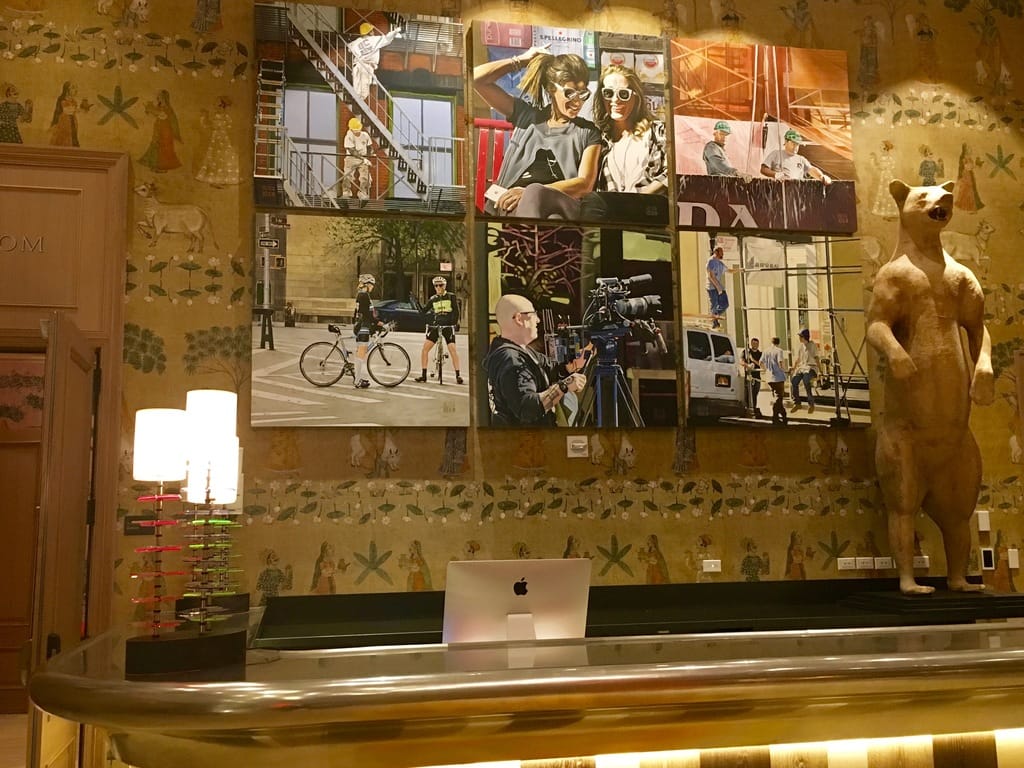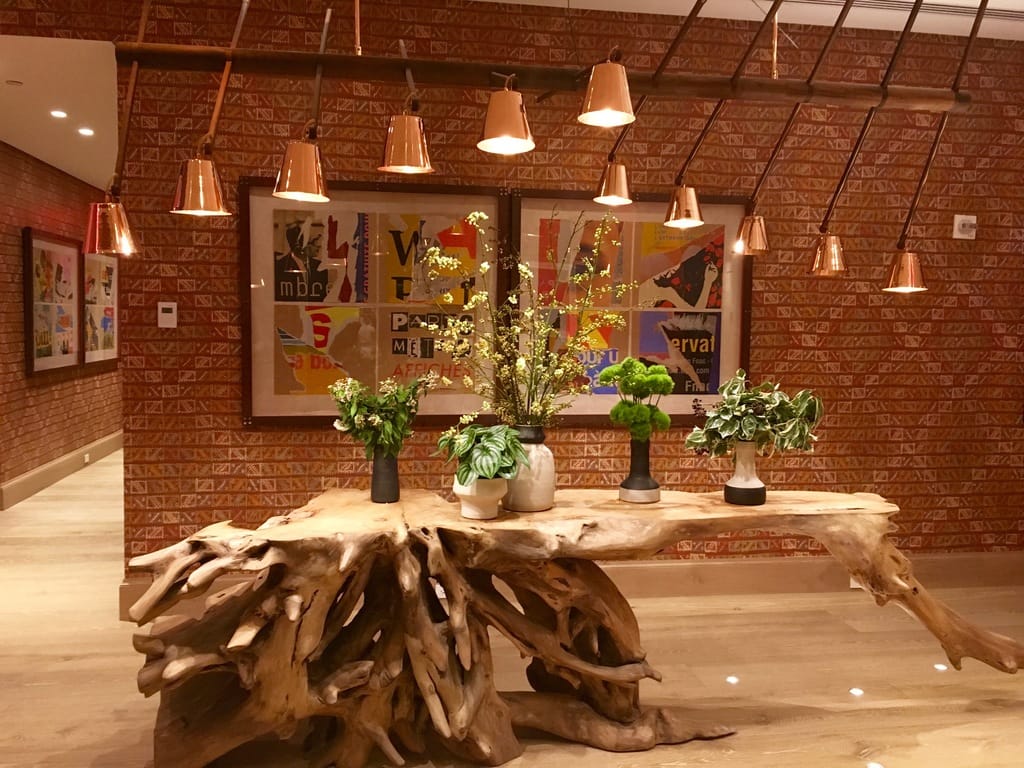 Above, the Araminta Room features a fantastical wallpaper mural on its walls by Melissa White, a British designer and painter of decorative interiors.
Below, the Anrep Room is named after Boris Anrep, the late Russian artist known for his mosaic prints featured in the National Gallery and Westminster Gallery. The prints of his mosaics adorn the walls of this room (the originals can be found in the National Gallery)
My favorite room though is the Reading Room, a stunning 832-square foot room with hundreds of carefully curated books, organized by genre. The space fits about 48 people perfectly for an elegant sit down dinner or 100 people for a reception.  I am just going to have to find a reason to do a private event here.