Hotel Review: The Pig, New Forest. Just a one and half hour drive from London is some of the most beautiful countryside you will see in England. No, I am not talking about the Cotswolds although I must admit I completely fell in love with the area when I spent a few nights at the Soho Farmhouse last summer.  The place I am referring to is Hampshire, an gorgeous area in southwest England home to a fairy-tale like thousand-year old forest, a stunning coastline with steep cliffs (very Wuthering Heights), quaint country towns with pubs, inns, and of course Winchester Cathedral, one of the largest cathedrals in Europe.
Incidentally, Hampshire also considered one of the best places to live in Britain in addition to being a go-to weekend getaway for chic Londoners. Think of it as the Hamptons or Dutchess County of England, but with free-roaming wild ponies, a few witch shops (really! see for yourself below), nicer people with beautiful accents and less traffic.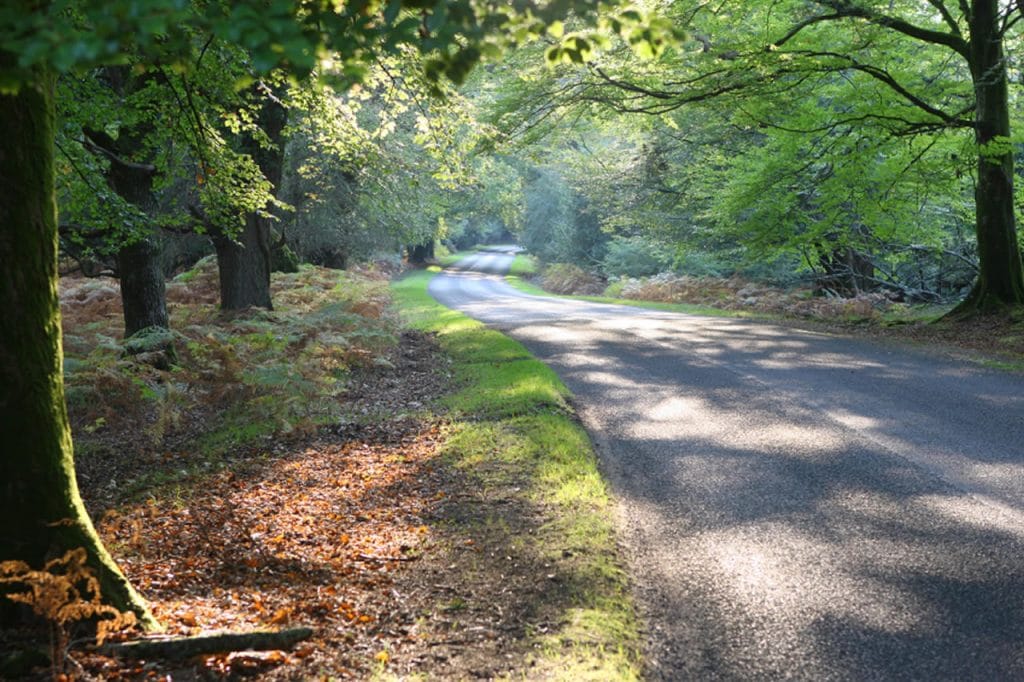 I mean, you literally feel like you are living in the middle of a Jane Austen novel in Hampshire – you can visualize Mark Darcy (Colin Firth or Matthew MacFayden, take your pick) sauntering around the corner in his breeches from any corner. But this should come as no surprise as this is where Miss Austen lived most of her life (she is buried in Winchester Cathedral) and many of her novels are based here.
I traveled through New Forest several years ago for a long weekend, staying at Chewton Glen (ranked by Conde NastTraveller this month as the 3rd best vacation resort in England after Gleneagles and Soho Farmhouse – which just happen to be my two of my favorite places).  This time, after a few fast-paced days in Amsterdam, a return to the English countryside and Chewton Glen sounded like an excellent idea for a mother-daughter jaunt. The short 45-minute shuttle from Amsterdam to the Southampton airport was an extra incentive. On our drive back to London, I would also get to tick off two places I have been longing to visit, Stonehenge and Highclere Castle (otherwise known as Downtown Abbey).
But another place high on my list which happened to be on the way from the airport to our hotel was The Pig, a cool country house hotel smack in the middle of New Forest in the village of Brockenhurst that I have written about before. Open since 2011 in a converted Georgian hunting lodge and recipient of many travel awards and accolades, this not so little piggy is the first of a litter of five other unique 'Pigs' dotting the English countryside in quaint towns such as Devon, Bath, and Dorset.  The parent company, Home Grown Hotels, is expanding the litter to eight by the end of 2019 as it seems to have found a winning formula of rustic luxury, excellent cuisine, and quirky personality that travelers just can't get enough of.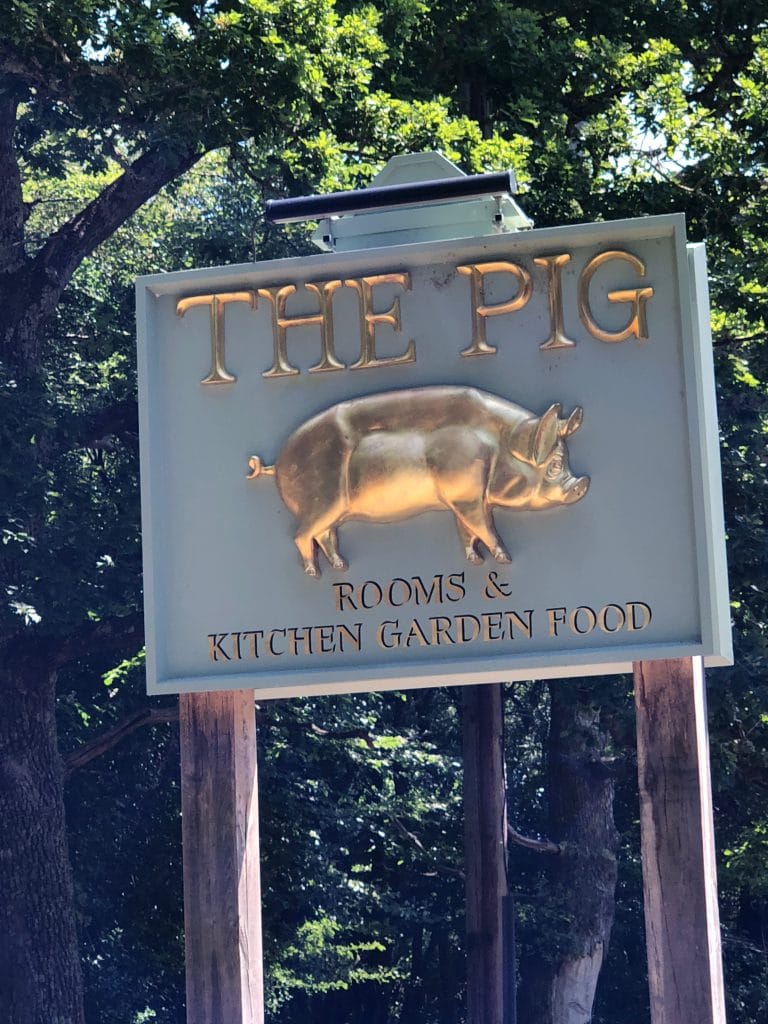 FIRST IMPRESSIONS
I stopped at The Pig, making a lunch reservation at the popular restaurant well in advance, on my drive from the airport for a leisurely lunch and some snooping around. Driving through the New Forest, you can not miss the distinct signage that welcomes you to The Pig and points you to the long gravel road ahead to the ivy-covered country house.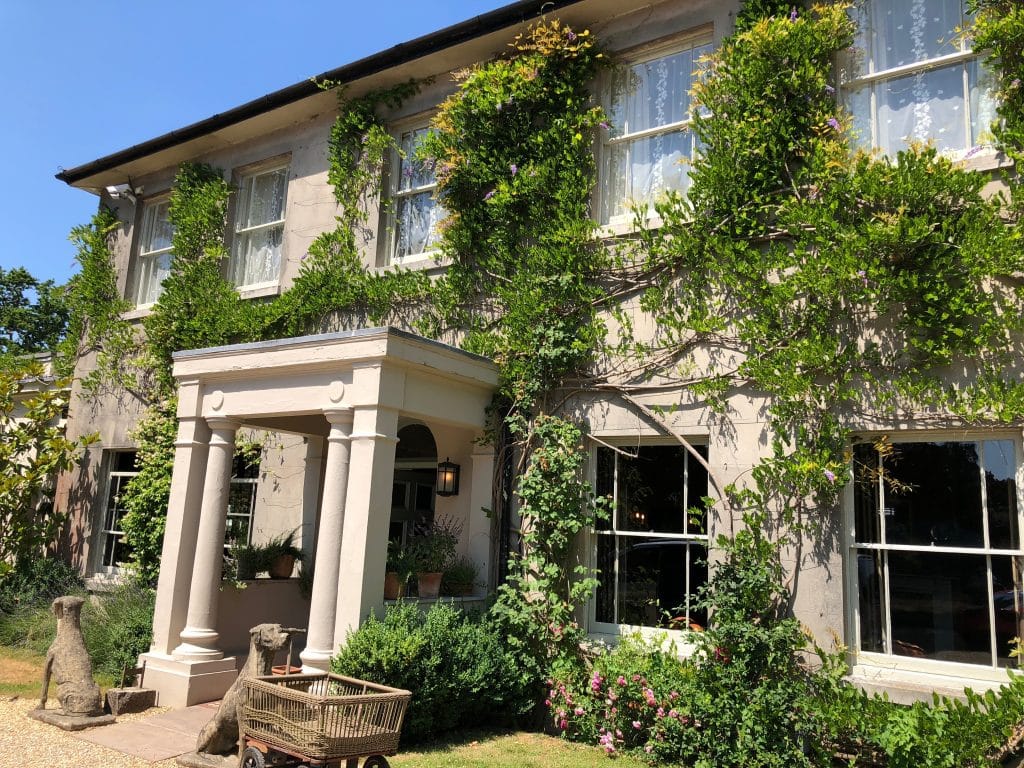 The minute you walk in the entrance, you have the feeling as if you are walking into someone's country home, a rich friend's home that is, who just happens to have a lot of guests mulling about. An English country/shabby chic design style prevails here from strategically placed Hunter rain boots for guests to use by the staircase to deep well-worn leather chairs and taxidermy (that poor boar!) on the walls.  I was impressed by the attention to detail (expertly designed by Judy Huston, co-owner and designer of The Pig hotels) in all the spaces, from the cozy bar and drawing room to the library and private dining room.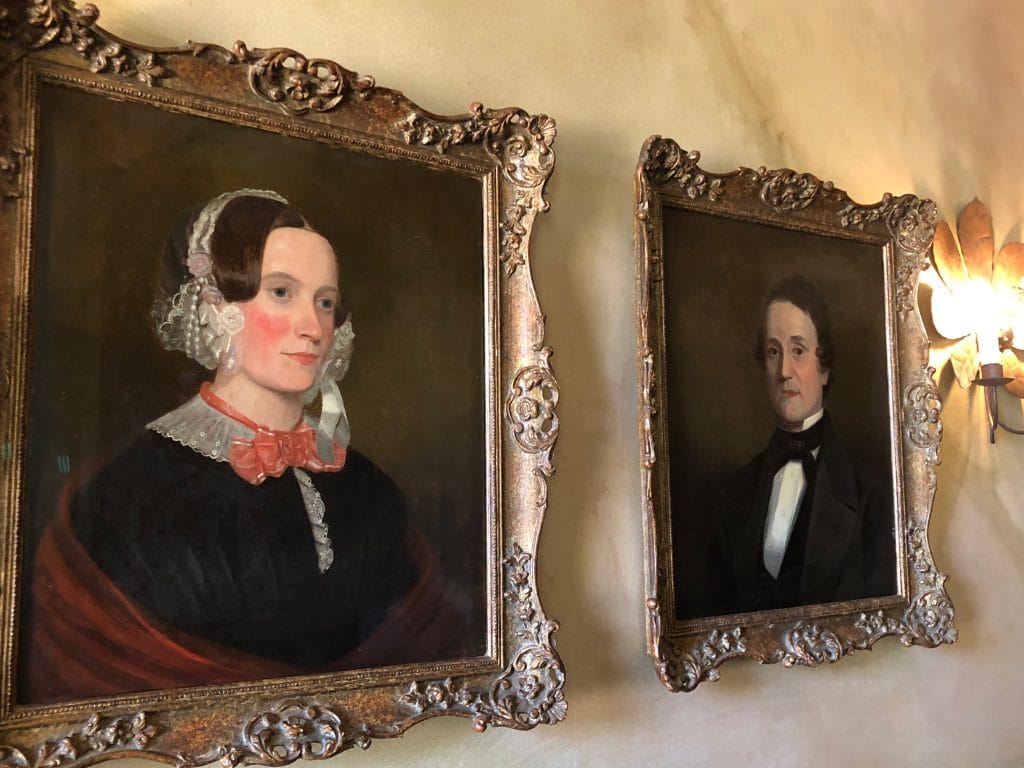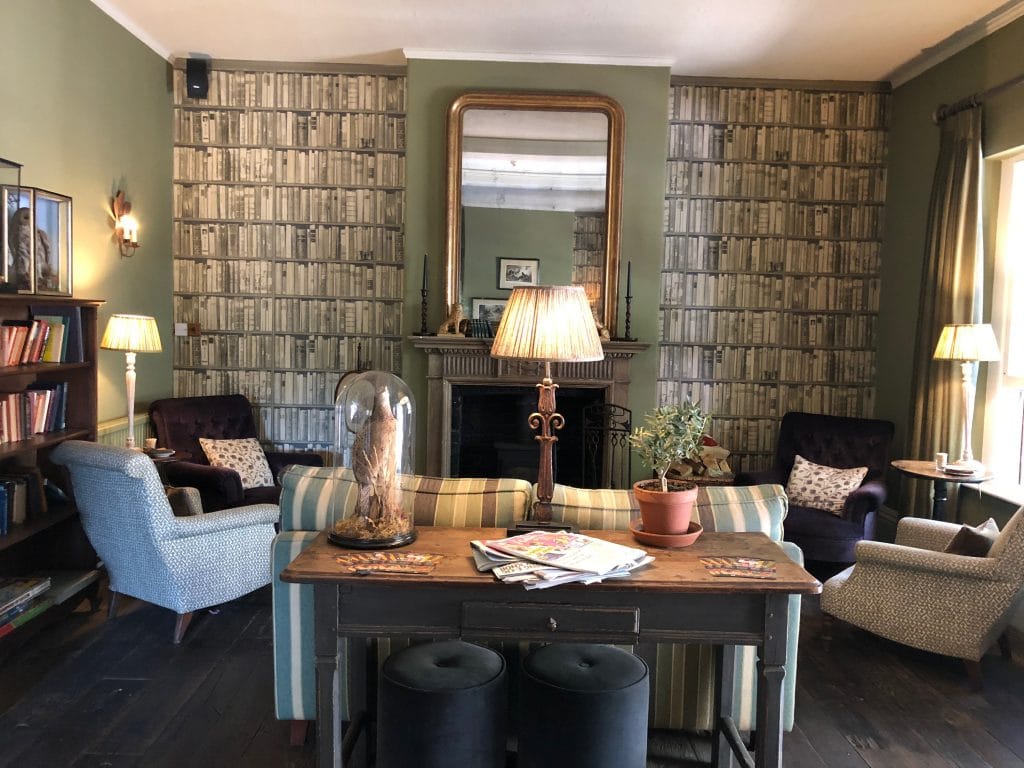 Just the array of vintage glassware, olive oils and cigars alone can keep you fascinated. The Pig takes care not to be taken too seriously though and shows its humorous side with features like a wallpaper-lined wall of books and oddities throughout the hotel – there is nothing stuffy about this hotel and you will not find one piece of chintz, I promise you!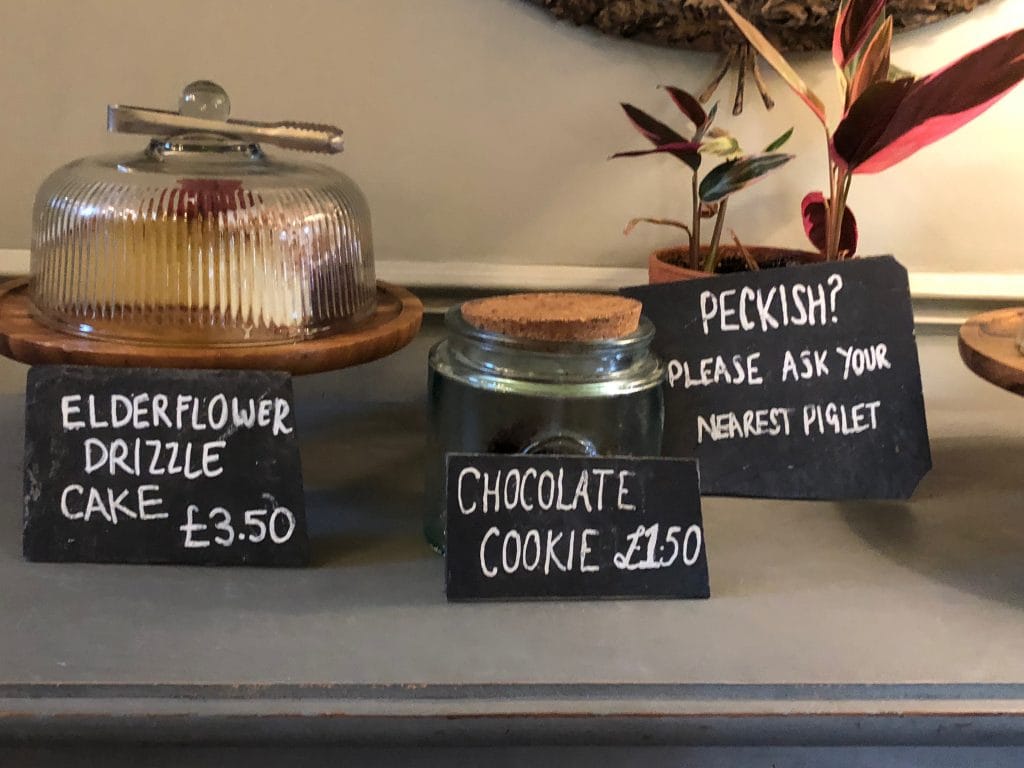 Rooms
There are 31 accommodations at The Pig (16 rooms in the main house and 15 converted barns in the stable yard and property with apt names like Pig Hut, Pig Shed and Hen House) are equipped with all the modern comforts you could ask for. Two new additions this year are the The Hut and Bert's Box, which offer even more privacy in a 'Hansel and Gretel-like' setting. These environmentally-friendly retro-chic cabins, a short walk from the other garden cottages, feature a master bedroom, spacious en-suite bathroom with free-standing tub and outdoor deck.  Unfortunately, I was not able to inspect any rooms during my visit as they were all fully occupied. Darn!
FOOD
But lets get to the restaurant which is the real draw here as well as at the other Pig hotels.  Overseen by talented Head Chef James Golding (formerly of The Savoy Hotel, Soho House and The Ivy), the restaurant's menu changes by the minute depending on what the culinary team or Head Gardener forages. All of the ingredients are fresh and grown on the premises or locally as evident from the restaurant's menu, which is split under headers like "piggy bits," "forest bits," and "mostly picked this morning".
The restaurant, housed in an indoor atrium full of tables adorned with potted plants, wooden school chairs and colorful mosaic floors, was completely packed for lunch. So was the outdoor courtyard with brick oven pizza oven on a VERY hot day. Honestly, other than the delicious appetizers of garden tomatoes, and clams, I don't remember what we else we ate, mostly because I was busy poking around the different rooms.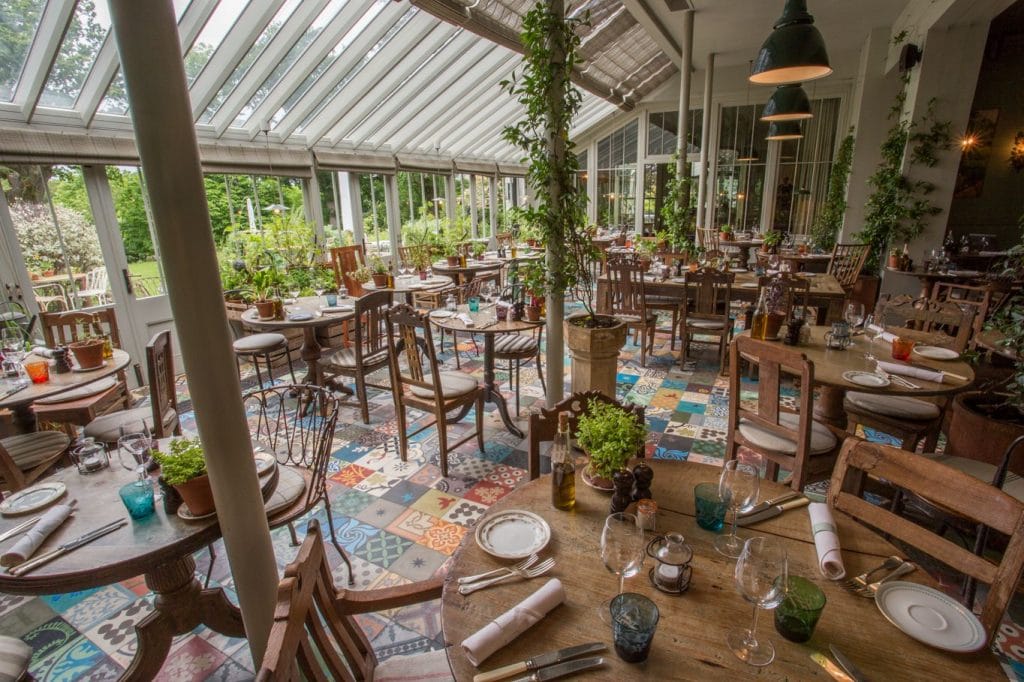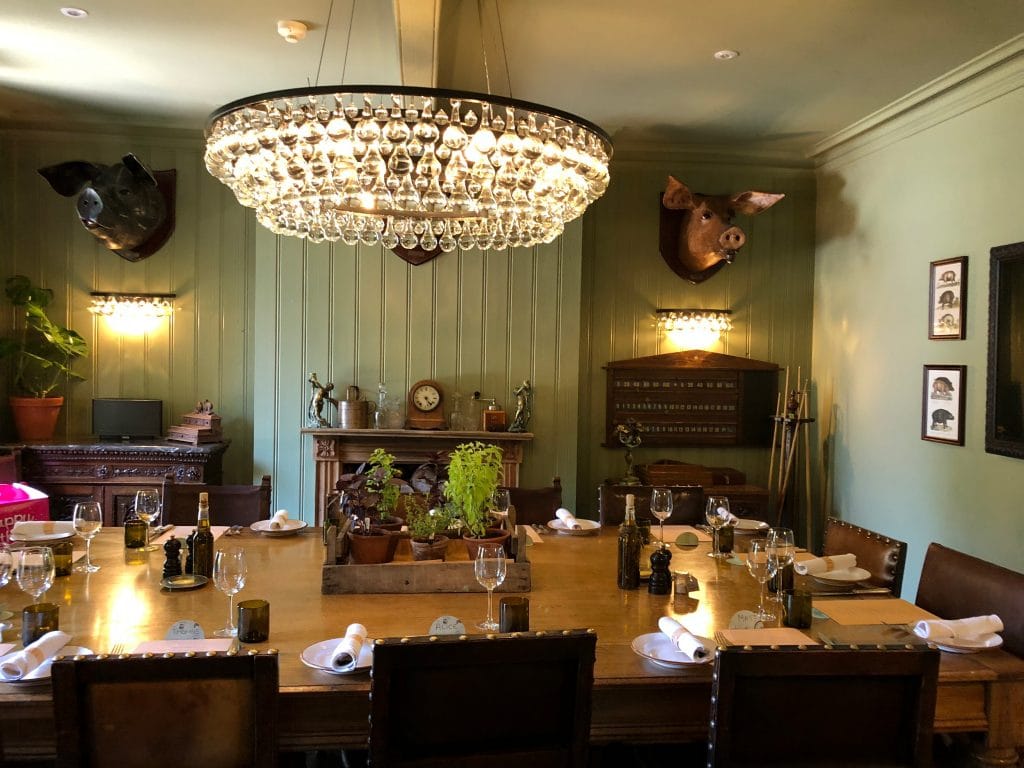 After our lunch, we enjoyed visiting the kitchen gardens, the chickens and of course the pigs. I was reluctant to leave this enchanting place.
While there are now single treatment rooms in the sheds, you won't find a full spa here, pool or fitness center. For that you can opt to visit the Pig's big sister, the glamorous 5-star hotel Lime Wood down the road (which I featured here on Inviato in 2010) or the Chewton Glen 15 minutes away where we were headed off to next.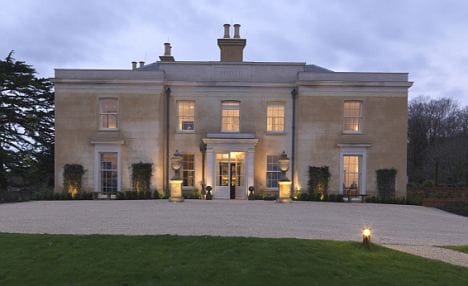 If you are, however, looking for a casually luxurious adult weekend escape (although it is kid-friendly) that features a stunning setting, delicious farm-to-table cuisine, and not too precious aesthetic, look no further than here. This self-touted 'restaurant with rooms' made a lasting impression on me and I definitely plan to stay at one of the Pigs in the future. If this is what luxury country living is all about, goodbye city life!