As we looked at Castello Banfi Il Borgo from a distance on a lone hill (more like a mountain), my husband stopped the car and promptly said "no f'ing way I'm driving up there". (Real curses were used in this conversation.)
I should mention right here and now that my husband has a fear of open heights, not ideal, as we learned, for traveling in the hills of Tuscany. "Yes you are", I replied. "No, I'm f*ing not" – so our conversation went for about 10 minutes. Thirty minutes later around winding hills and expletives from the driver, we arrived at the Castle. Needless to say, the drive to Banfi is not for the faint-hearted (having a stick-shift didn't help because there was NO WAY I was going to drive a stick up ANY hill – Italian or not).
When looking for a second place to stay in Tuscany, there were a handful of places I had narrowed down to but really I couldn't choose one because they all looked so damn good. We ultimately booked our stay at Banfi based upon feedback from my friend who is a writer for a travel magazine and we are glad we did. This is a very special place, an 11th-century castle with luxurious accommodations, incredible food and wine and 360-degree jaw-dropping views. It was worth the drive to get there but needless to say we did not venture far from the property during our stay there.
The hilltop towns of Montalcino and Pienza are not far away for day tripping but a scary drive to attempt at night on the winding, open roads, in my view. The actual castle is not open to the public – it is a private residence of the American Mariani family who started out running a large wine exporting business and created the Banfi winery 30 years ago to turn it into the largest Brunello producer in the region (7,000 acres!). And if that is not enough to impress you, they also grow their own plums, figs, and olives.
Guests stay in the former work quarters of the original castle (but behind a private gate which you receive a special electronic key) which have been transformed into luxurious suites. Our accommodation (#35) was spacious, with a large bedroom and bathroom, sitting room and gifts of complimentary wine and chocolate covered grapes (both which we happily indulged in) and olive oil made all on the property. Breakfasts outdoors on the patio in the Tuscan sun were fresh and delicious with many options other than typical coffee, fruit, and pastries found at other properties we stayed at.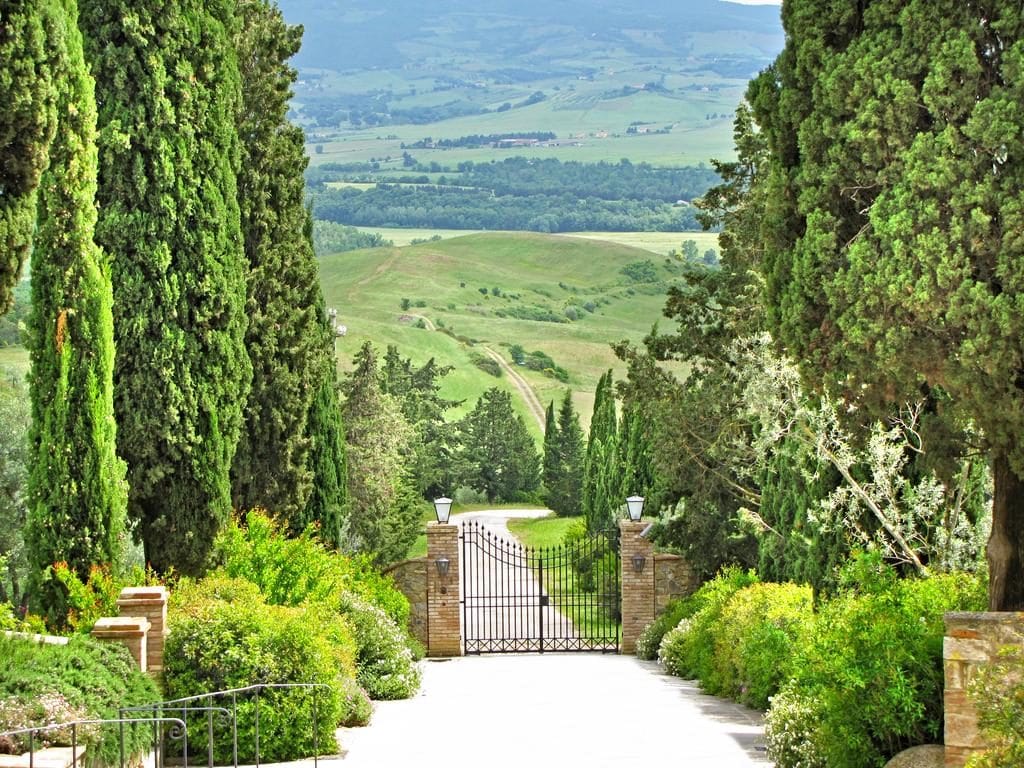 There is a wonderful wine tasting room, the "Enoteca",  and a rustic wood-beamed tavern where you can have lunch or dinner all on the property. The evening we ate there, every table was occupied, with both guests and tourists exploring the area. It is a full-on gourmet affair that left us stumbling back to our suites extremely satisfied but stuffed (you can work it off the next day in the pool or jogging in the hills). There also used to be a more formal restaurant on the property but they closed it down recently – a sign that the recession has hit Italy. In many respects, the property is reminiscent of a tiny hamlet and I'm sure it was designed with that in mind.
Most of the other guests during our stay were Americans, many New Yorkers, on their way to or from other locations such as Cinque Terre, Lake Como, and Florence. Banfi is an ideal pit stop when you're traveling from North to South or vice versa.
TIP: Banfi offers lots of special packages (ours included a wine tour and 5-course tasting dinner) so make sure to check the website for offers – most are combinable with our Virtuoso special amenities and rates.
We bought several Banfi wines at the Enoteca after our tour. It is quite expensive with taxes to ship wines to the U.S. so I would advise buying wines that are limited in export to the States (stay with reds). The employees are very helpful in this regard.
THE LAST WORD: Wine heaven!
Loved
Didn't Love

The chocolate covered grapes (yumm!)
The 5-course tasting dinner with 6 wine pairings that left us in a food and wine coma.

Other than the location being a little too remote and having to leave after 2 nights, nothing.

Don't Miss
Skip

The on-site glass museum which has the largest collection of glass ranging from the 4th century to present day.
The nearby abbey (forgot the name) where monks sing gregorian chants on the hour.
The complimentary one-hour tour of the Banfi winery – it's a huge and impressive operation!

Rooms to Get
Tips

All the accommodations are former workers quarters turned into luxurious suites. Our accommodation (#35) was spacious, with a large bedroom and bathroom and sitting room.

Banfi offers lots of special packages (ours included wine tour and 5-course tasting dinner) so make sure to check the web site and Classic Travel for Virtuoso specials and offers.
Castello Banfi Il Borgo
Castello di Poggio alle Mura,
Montalcino, Italy
Book This Hotel
Why book Virtuoso?
Personalized travel assistance
24/7 online booking
Special rates & exclusive offers
Guaranteed Room upgrade*
Complimentary full American breakfast
Early check-in, Late check-out*
Exclusive on-site amenities (varies by hotel)
* based on availability on time of arrival