Over my many times in Paris, I have often strolled through St. Germain passing the Relais Christine, a boutique hotel tucked away from the street via a beautiful courtyard. One winter, I could not resist peeking inside the cozy lobby with its roaring fireplace and vowed to stay there. I had that chance nine years ago when I checked into the Relais Christine for a girls Paris getaway in December. As it was a last minute booking, not that many rooms were left. We stayed in a Deluxe duplex that unfortunately was a bit dark (as it faced the back) and cramped to our liking. Still, I loved location and ambiance of this charming Left Bank hotel .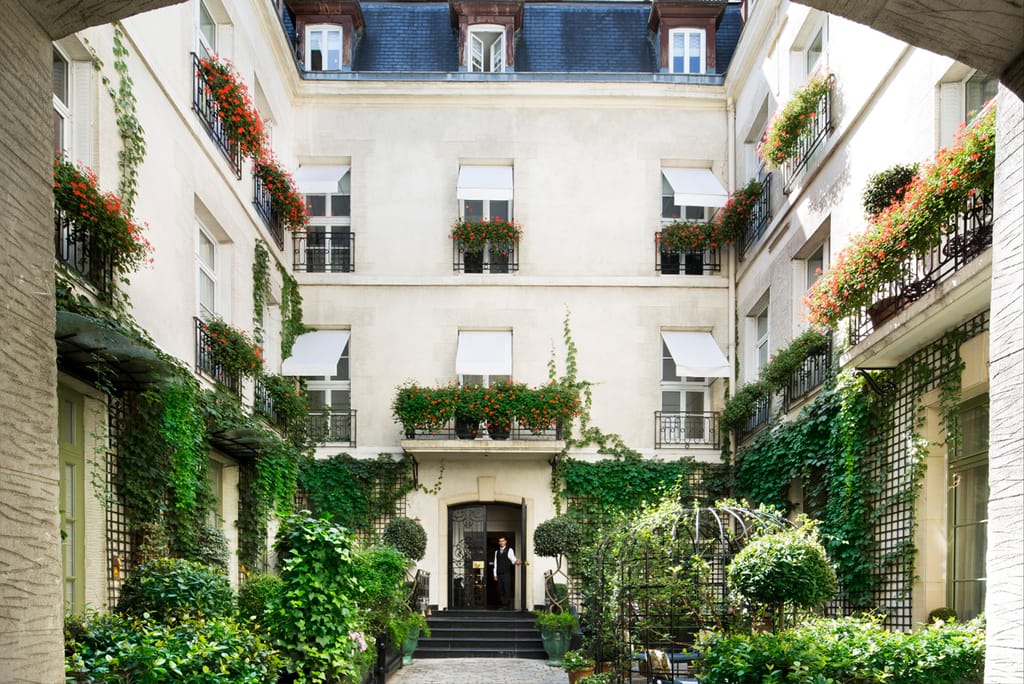 Formerly an Augustine Monastery and then a 16th century private residence housed in a hôtel particulier, the Relais Christine (named after King Henri IV's daughter) opened as a hotel in 1979.  Owned by the Bertrand family (who incidentally own the Brasserie Lipp and Angelina), the Relais Christine remains one of the few 5-star properties on the Left Bank. Known to many as the quintessential discreet hideaway – Parisian to its core – it is located on a quiet side street in the heart of the Left Bank, steps away from some of the best cafes, bistros and galleries as well as the Seine. The hotel finished a Anand I am excited to unveil the updates they have made to the property without sacrificing its distinct personality.
Parisian designer Laura Gonzalez was charged with redesigning the property while retaining the French style guests love. Ms. Gonzalez drew inspiration from old stones of the College of the Austin Friars Abbey upon which the hotel was built. She mixed influences from various periods – including trimmings and velvets that evoke British chic; French style chandeliers and furniture gathered from design markets and antique shops; and 18th-century Chinoiserie porcelain.  The result, as you can see below in the guest rooms, is a wonderful balance of modern with traditional period design.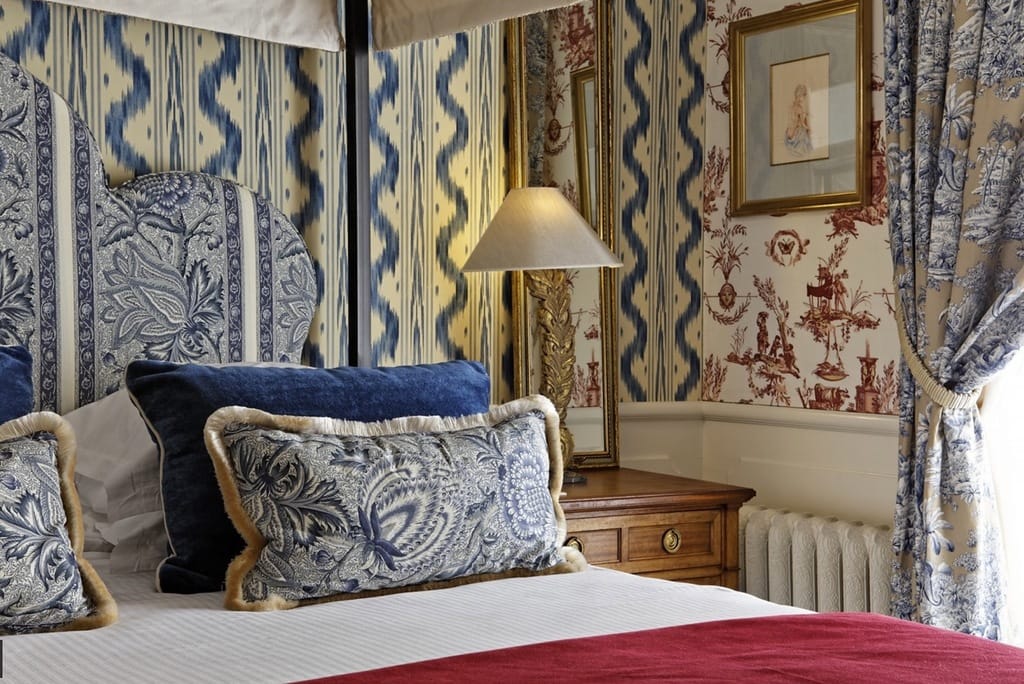 Each of the 48 room and suites has been redesigned thoughtfully over a period of four years in a chic intimate style using the finest French luxury fabrics such as Pierre Frey and Hermès along with contemporary materials such as brass and marble.  No two rooms are alike.  I love the use of her brilliant fabrics and contrasts mixing multiple patterns (it reminds me of a more traditional version of Kit Kemp's brilliant style in the Firmdale Hotel properties in London and New York).
Most of the Carrera marble bathrooms have walk-in showers, a rarity in Paris. It is worth splurging for larger rooms and those facing the street or the courtyard for the most light. My preference is the one of the four suites (large enough to accommodate large families) on the ground floor that open up to the courtyard garden. Request these way ahead of time as they tend to go fast.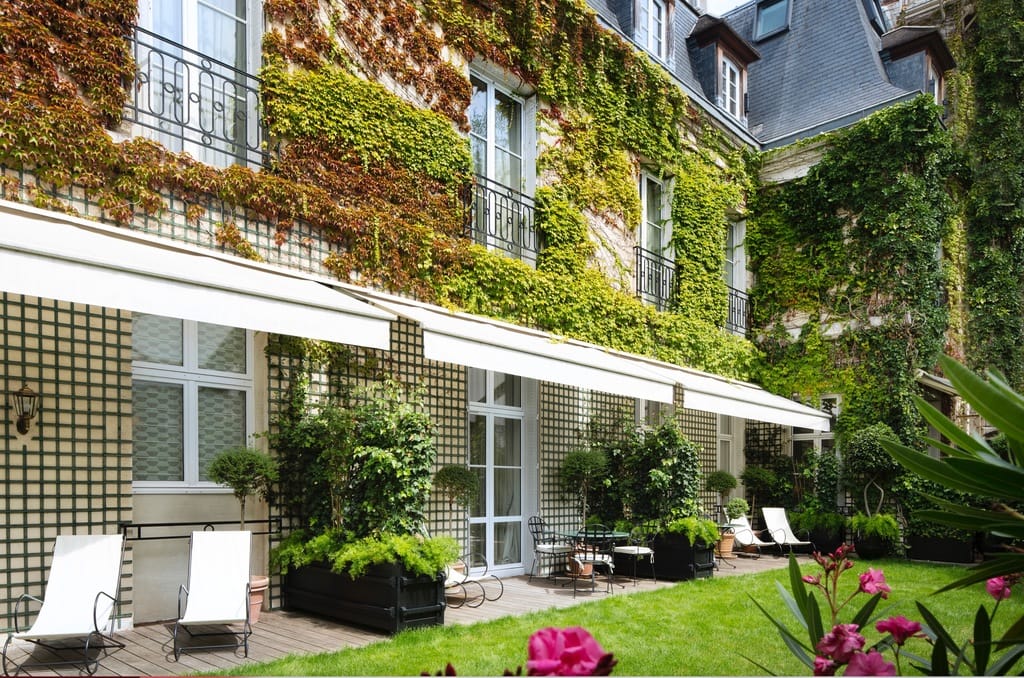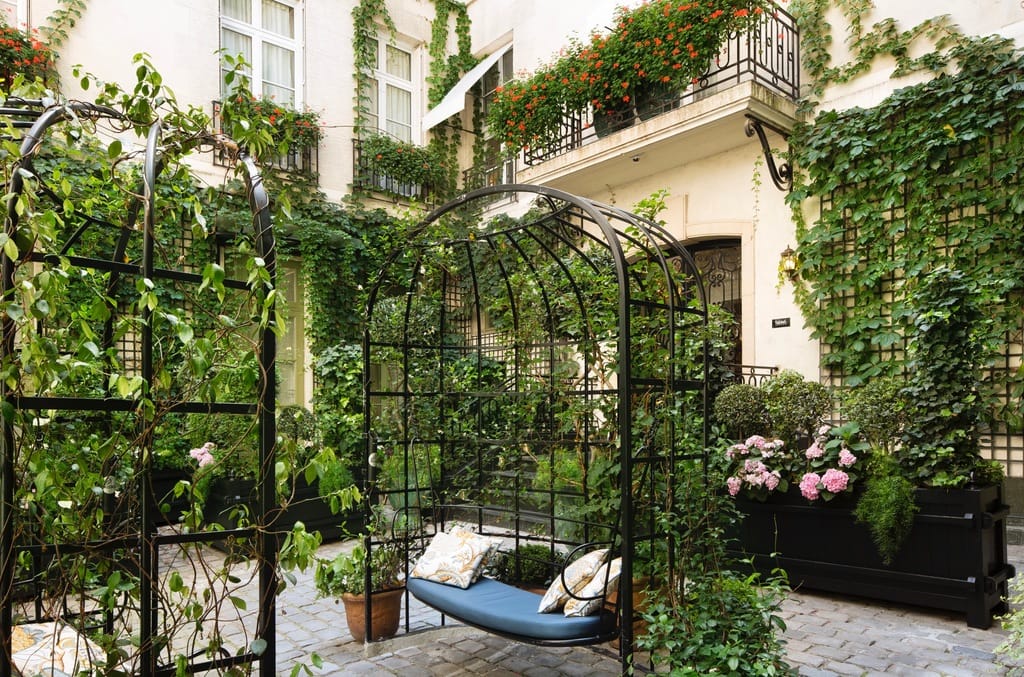 Also part of the renovation is the newly expanded Guerlain Spa, housed under 13th century vaulted ceilings that date from the Middle Ages.  The spa now includes a sauna, jacuzzi, small but modern exercise room and two treatment rooms.
I was excited to see the lobby and drawing room was lightened up while still retaining its warmth when I was there. There are various clusters for places to lounge – in front of the fireplace (ideal during winter), paneled nooks for reading books newly purchased from Shakespeare & Co. or for tea or a snack and at the hotel's honor bar. During spring and summer, the private flowered garden and courtyard is a delightful respite.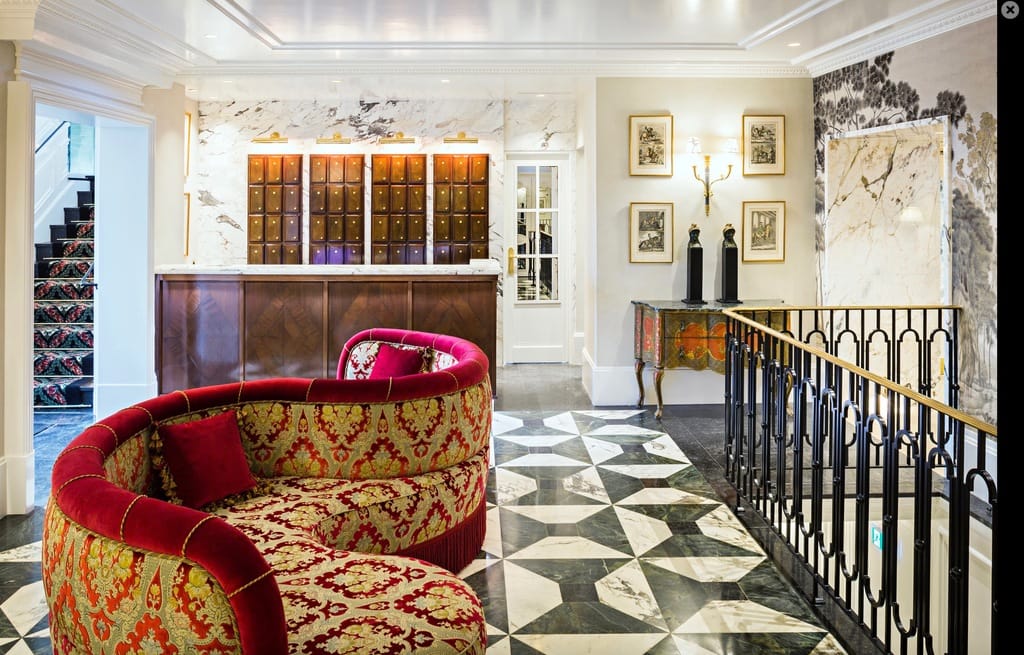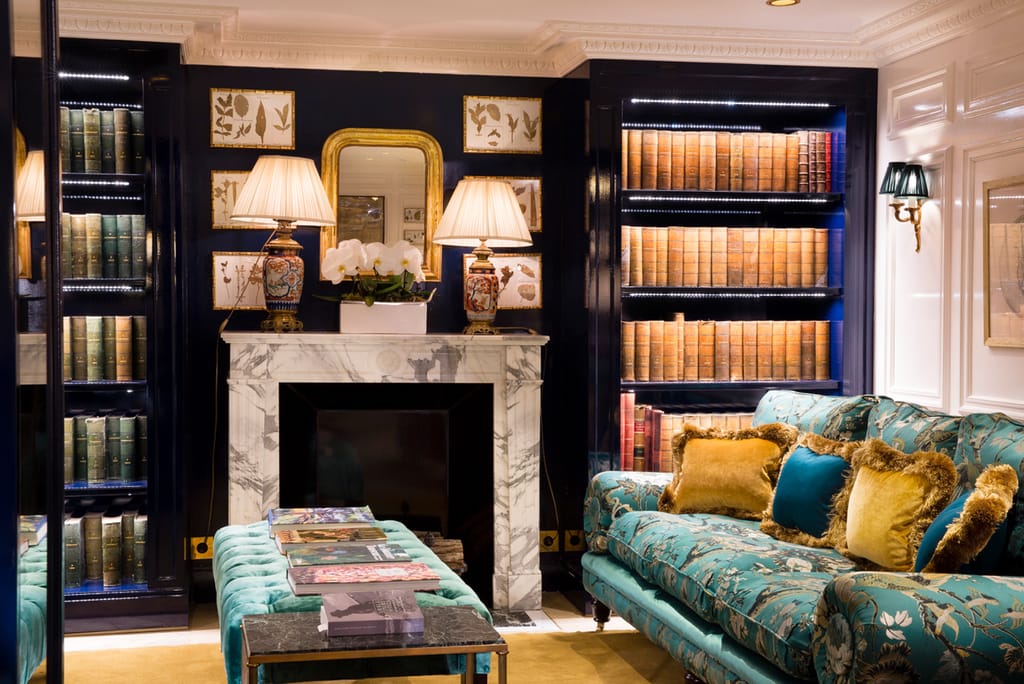 It's worth noting that Relais Christine is a sister hotel to the 49 room St. James Hotel and Club, a 5-star hotel housed in a chateau in the 16th arrondissement. Relais Christine is not a Virtuoso property but it is a member of Small Luxury Hotels of the World. Relais Christine currently has a few specials on offer including a Winter Treats offer from 355 Euro per night in a Cosy room or 545 Euro per night in a Duplex Junior Suite from November 1st 2018 to March 31st 2019, for stays of 2 nights or more. Amenities in each of the rooms include free wifi, Bluetooth speakers, Fragonard amenities (bien sûr), Nespresso coffee makers, 24/7 room service, and complimentary bicycle rentals.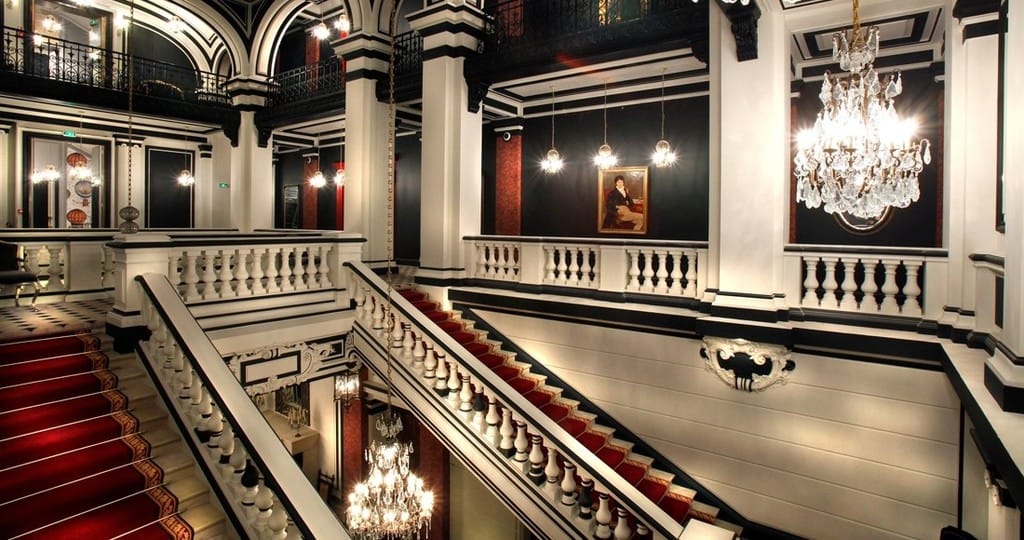 Why book Virtuoso?
Personalized travel assistance
24/7 online booking
Special rates & exclusive offers
Guaranteed Room upgrade*
Complimentary full American breakfast
Early check-in, Late check-out*
Exclusive on-site amenities (varies by hotel)
* based on availability on time of arrival